Review of Peter Sedufia's Aloe Vera Film: A Case Against Tribalism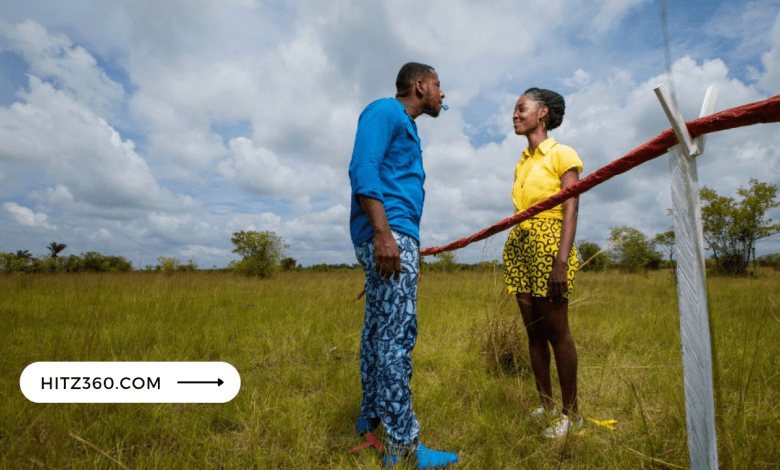 Peter Sedufia's movie "Aloe Vera," held the torch as the largest film released in Ghanaian theaters in 2020, owing to the backing of the Ghanaian cinema-going audience, which felt like the genuine success for the film in a dysfunctional creative environment. The fact that the picture was mostly decent was the frosting on the cake but still critics had a thing or two to point out.
About The Aloe Vera Film
The film, directed by Peter Sedufia and produced by Manaa Abdallah and Anny Araba Adams, features cinematography by Richard Kelly Doe and Isaac A. Mensah, editing by Afra Marley and Peter Sedufia, and music by Reynolds Addow, better known by his stage name Worlasi. The film is set in a town where people have been split for a long time owing to a long-ago conflict but regardless of all these conflicts, a man and woman from opposite sides fall in love. Despite their family's best efforts to keep them apart, they eventually become the reason the town reunites.
For many, this is a story you might have seen before or probably, too many times. Several people were quick to point out the closest in semblance to the 2013 released South African short film titled KanyeKanye. Which according to its maker was also inspired by a Dr Seuss children's book titled The Sneetches. Anny Araba Sedufia, Associate Producer for AloeVera revealed that the film was inspired by the animation Gnomeo and Juliet (2011). It shouldn't be an issue at all since every creative piece can be traced back to a source of inspiration.
Although there are some semblances in both films and the inspiration is evident, fortunately the films are not word for word, scene for scene the same. Peter's film is certainly loosely also based on the ever so popular Romeo and Juliet story but like every fairy tale or fantasy he makes it his own and has added a unique touch that will appeal to many Ghanaians.
The cast for this film was fantastic, and everyone was excited about it from the time the teaser premiered. It did not disappoint, receiving a 7.4/10 rating on IMDb. The film's original budget of $150,000 was unable to survive the test of time, as torrential rains and other issues pushed it above $200,000 with 7 to 8 more days of production.
Cast Of The Aloe Vera Film
Aaron Adatsi
Ngozi Viola Adikwu
Benjamin Adaletey
Kofi Adjorlolo
Ben Affat
Eric Agyemfra
Kobina Amissah-Sam
Rhoda Okobea Ampene
Fred Nii Amugi
Adjetey Anang
Akofa Edjeani Asiedu
Edinam Atatsi
Mawuko Awumah
Alexandra Ayirebi-Acquah
Grace Omaboe
Nana Ama Mcbrown
Peter Ritchie
Priscilla Opoku Agyemang
Fiifi Coleman
Gloria Safo
Roselyn Ngissah
Beverly Afaglo
Naa Ashorkor
Solomon Fixon Owoo
Adamu Zaaki
Collective Review Of The Aloe Vera Film
'Aloe Vera,' a love fable with strong satirical undertones, depicts the story of a fictitious commune with a deep-seated rift that goes back an unspecified number of years to a humorous fight between two youngsters in an argument. The town has been separated by a seemingly unending crimson ribbon, with the sky-blue clothed Aloes on one side and the bright yellows of the Veras on the other.
As the smallest sights of one's presence encroaches on the other side, conflict was likely to erupt as the two sides preached sermons of hate into the hearts of their children which is exactly how the cycle continues and it could be likely that if these young kids knew about the source of their dispute, they wouldn't bother listening to their parents. This is in light of tribalism and everything, and it is a well-known truth that everyone begins as a child with a pure heart until society corrupts them.
the band only comes down for duels between the picked champions of the two sides. We receive our first taste of this when Aloe players lose their ball in Vera territory. The Veras' commander, his nostrils continually flaring, rallies up the soldiers, as does his counterpart on the opposing side.
The Aloes and Veras are physically and ideologically two sides of the same coin, reflecting each other's preconceptions. Their schools and stores are adjacent. Even the daily omnipresent propaganda seems to be going off on both sides of the divide at the same time. Nevertheless, a fracture appears in the mirror.
The attention is focused on the two youngsters and the relationship that is developing between them, drowning out everything else. The relationship between the two characters onscreen seems real, and it helps to keep the storyline together. A spark ignites between the two community leaders' children. Aloewin (Aaron Adatsi) and Veraline (Alexandra Ayirebi-Acquah) begin to fall for one other with the sweet innocence of four-year-olds. It's a connection that transcends taboo to bloom into something that challenges the way the community thinks about each other.
Over the border, glances are stolen, paper aircraft flutter about with probing messages, and musical sequences are staged on bizarre landscapes. Yet Aloewin and Verlaine must be alert as their parents (more like dads) rummage about for a way to stop their supposedly forbidden love. Even under the careful eye of their parents, the leaders of the two factions, they are prepared to breach the rules simply to be together. When they are forbidden to talk to one another, they find a means to connect as their love for each other grows, and here is when things go wrong. As their moms enter the picture, streams of empathy provide hope.
Although we have some positive things to say about the  Aloe Vera film, there are numerous flaws that we would like to bring out. The near-perfect art direction and production design have to be the film's strongest points in our opinion. The setting and village were constructed from the ground up on-site in the Volta Region, and it was a modest setup with lovely wooden cottages that dazzled with delicate blues and yellows. Aloes are blue, Veras is yellow, and everything in between is how nature intended. The combination of blues and yellows is visual candy that you can't get enough of in this picture. The cinematography enhances the art direction to the point where you notice the contrast that both hues give and how they contribute to the picture.
The humor in this comedy is more clever than aggressive and direct. You must pay close attention to understand the puns and their relevance to the action. The instinctive curiosity to see how it ends is what ties this picture together. It concentrates too much on the two youngsters and their budding relationship, cutting out anything else as we failed to locate and connect any symbolisms or creative inferences to the scenarios or aspects in this picture. Not that it matters to the typical spectator, but we believe it would have been better if this picture, with all the attention it would get over time, found a way to cut a little deeper into the brains of the public. Particularly for people who want to be cognitively stimulated while still being amused.
The plot of Aloe Vera is straightforward and presents a fairy tale romance, nothing more and nothing less. If you expect anything more than that, you will almost certainly be disappointed. The one message it sends out loud and clear is that love will always find a way to bring us together.
The writer does a good job of keeping the plot of Aloe Vera inside the constraints of the neighborhood in which the Aloes and Veras find themselves. The conversation makes no mention of, or even hints at, an outside world or any life outside their limits. You are immersed in the village and the lives of its residents. Nonetheless, you are left pondering various topics that are likely to divert your attention. How do they stay alive? What exactly do they do for a living? Are they traders or farmers? Is this a contemporary dystopian society? Is it true that they are entirely shut off from the rest of mankind, and if so, why? Yet, the novel does not give solutions to these issues, leaving it entirely up to your imagination and how far you may take it.
Do You Wish To Upload or Promote Your Song on Our Website?. Call Us 020 531 2345 or email us at Info@hitz360.com