Series Review: YOLO (You Only Live Once)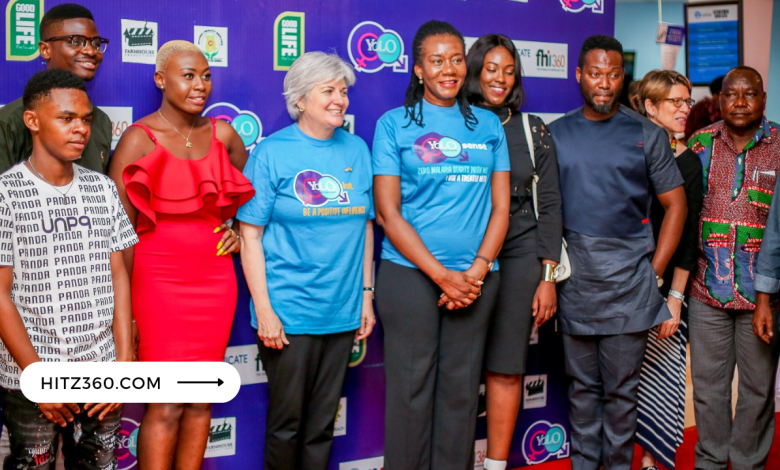 Yolo (You Only Live Once) is a Ghanaian adolescent television show that focuses to educate the youth on several societal challenges mainly underlooked. The show is a continuation of the Ghanaian TV show Things We Do for Love and it counsels and guides adolescents through the struggles of adolescence. Ivan Quashigah developed and directed this television series which have gone a long way to become one of the most succesful shows not only in Ghana but Africa as a whole. Yolo, a Farm House Production, debuted in 2016. It is broadcast on TV3 Ghana and Africa Magic.
Together with the previous characters, Farmhouse Production added several new ones, including Kelvin Bruun as Mark Anthony, Ama Ampofo Ababio as Ariana, Akosua Asare Brewu as Tilly, and Joseph Delove August as Odenkyem. Selassie Yao wrote the screenplay, while Ivan Quashigah directed it as usual.
The YOLO TV Series is a National Population Council program in collaboration with Ghana Health Service, Ghana Education Service, and National Youth Authority (Ghana), and is supported by USAID. Farm House Production said that episode 13 will be the last episode of the fifth season in August 2019, but Season 6 would continue to be funded by the Ghanaian Ministry of Health.
Because of the program's enormous popularity, various actors and actresses have had their debut, including Fela Makafui, who rose to fame after appearing as a bread vendor in previous seasons of the show. Given the show's ongoing popularity, it's extremely likely that additional actors and actresses will break through to higher positions.
Cyril is a senior high school graduate who lives in a low- to the middle-income neighborhood. In comparison to the other males, he is the darling of the neighborhood, but his pals in the area, particularly the primary influencer, Drogba, are tugging his strings. Drogba takes on the role of Cyril's relationship "coach," instilling in him such confidence that it is just a matter of time until Cyril falls from a good example to a poor one. Emily is a newbie to the neighborhood whose attractive appearance makes her a frequent target.
Cyril is ready to take his newly gained talents to the next level, but gaining Emily's heart will not be easy. Cyril seemed set to go all out in a frantic search of love and adventure, with the support of the swashbuckling Drogba and the plans of another neighborhood acquaintance, George. As Cyril's life continues to unfold with one adventure after another, his mother, Enyonam (Jackie Appiah from Things We Do for Love), begins to take notice, blaming it on his struggling father, Pusher (Adjetey Annan, also from Things We Do for Love), who is concerned that his own escapades from the past may be affecting Cyril now.
As the neighborhood bad-boy band marches on, the parents are mostly naive or half-informed. Yet, severe and terrible retribution looms, with stories of pregnancy, STIs, and abortions making the rounds. At the conclusion of each episode, questions are presented to spark conversations about the topics at home as well as on social media sites. In Season three (3), the production used the YOLO cast to publish the topics and raise various perspectives on the problems, encouraging the public to debate them while asking them to live the Good Life.
The emphasis of the series seems to be turning back to the younger generation with the publication of Season 6 this year 2023, with the attention now resting on Mark Anthony and his colleague Odenkyem. The two young high school kids resemble Cyril and Drogba and seem to have comparable tale arcs. While Mark Anthony is being raised by a strict single father in the same way that Cyril was raised by a single mother, Mark Anthony is not given much freedom for fear of going astray; however, Odenkyem, who is no different than Drogba, appears to be pulling these strings for Mark Anthony in his quest to explore what the world has to offer from the inside.
As Cyril takes a new stand as an intern teacher in one of the northern city Tamale's high schools, the latest season 6 also brings the spotlight to the underdeveloped northern parts of Ghana and the problems associated with teenage pregnancy and girlchild education, among other notable issues affecting the development of the northern part of Ghana. As Cyril is coping with a clever envious instructor and pupils who are interested in him, he still manages to make an influence on his new community.
According to the World Health Organization (WHO), mass media campaigns have been effective in addressing a broad variety of health attitudes and behaviors, including eating healthily and exercising, quitting smoking, practicing safe sex, lowering alcohol intake, and reducing drink-driving. A meta-analysis of 48 health behavior initiatives found that, on average, 9% more individuals engaged in healthy behavior after a campaign than before.
Even while the Internet opens up a universe of options for themes, television remains a strong, productive, and entertaining storytelling engine. It provides tales about the political, cultural, and social environments in which we live. It enhances people's desires in order to attract such individuals. Even if it does not directly influence their behavior, it has an effect on consumer systems, fashion, trends, and so on. The media has a huge influence on society (Herds, 2003; Marsh and Melville quoted in Wolferman, 2010).
Although YOLO is an enjoyable work of art on its own, it is also a highly informative piece, and comments from fans of the program are nothing short of incredible testimony of how the show has changed their lives and drawn them to certain realizations they didn't really pay much attention to. Although the program has aided in the education of the young, it has also pushed the elderly to abandon certain preconceptions and embrace change in the interests of the country's progress.
The Show's Addressed Problems
Unprotected sex
The main issue the show intended to address was unprotected intercourse, which might be defined as having sex without a condom. The condom is seen as a protective "kit" to prevent the three principal risks associated with unprotected intercourse. Sexually Transmitted Infections (STIs), unplanned/unwanted/teenage pregnancy, and unsafe abortion are the key challenges. Drogba, after seducing Serwaa to have sex with him, did not feel the need to wear a condom when Serwaa inquired whether he had one in season one (1) episode two (2).
He said he was clean and hence didn't need to use one. "Condom, see, me I be clean like a clean sheet," Drogba stated. They had unprotected intercourse as a result. Drogba had unprotected intercourse with Jane, a woman he met not long ago, and she got pregnant as a consequence. Rubby had unprotected intercourse with her lover and got pregnant as a result.
In season three (3) episode (12), Naa said in a dispute with Jane, who was pregnant for Drogba, that she is more concerned with her life and health than Jane, since Jane had unprotected sex with Drogba and became pregnant. YOLO featured three prominent subgroups under unprotected sex from the tele-drama series, which were unwanted/unplanned/teenage pregnancy, unsafe abortion, and Sexually Transmitted Diseases (STIs). Several of the tales revolved on having protected sex or refraining in order to avoid the three primary societal difficulties associated with having unprotected sex.
Sexually Transmitted Infections (STIs) are one of the key societal concerns addressed by YOLO under unprotected sex. Serwaa was also having sex with everyone at first; she had STI, had to be thrown out of the home, went back to the village, was cured, returned, and chose to attend to church with Mrs Wiafe.
Drogba also got STI as a result of unsafe sex. He asked, "condom? Me? I be clean like clean sheet". That was his reasoning for not having sex protection. Serwaa, who was ignorant of her STI, infected Kelly during unprotected intercourse. The message was obvious and consistent throughout the episode: unprotected intercourse may lead to STI infection.
Unwanted/unplanned/teenage pregnancy is another important problem that comes under the category of unprotected sex. Jane fell pregnant after unprotected intercourse with Drogba. Rubby too fell pregnant but had an abortion. Kelly observed a teenage pregnancy situation in season three (3) episode ten (10) as well. He went to see Serwaa but was met by Serwaa's young companion who was in labor, so he had to run in to get a taxi and take the girl to the hospital. Kelly provided some words of wisdom for the audience.
The third concern under unprotected sex that YOLO addresses is unsafe abortion. Rubby's partner encouraged her to terminate an unwelcome pregnancy. This made her fearful that it might have an impact on her. As a result, she sought assistance by seeing a doctor. Maame Yaa, Emily's friend, then presented a compelling argument that abortion might happen to anybody. "Once you're in a relationship, anything may happen," she said. You can never be too cautious."
In this sense, we can all appreciate Drogba and Jane's decision to retain the baby rather than get an abortion when presented with a pregnancy problem. Many in our culture would get rid of such pregnancies, but the fact that Jane retained hers was something he picked up on and was urging his other brothers and sisters to do the same.
Abstinence
Another element that emerged from the shows was abstinence. It is defined as the act of refraining from sexual intercourse. Abstinence is another essential concept addressed by YOLO. This is related to unprotected sex in the sense that the teledrama delivers the message that abstinence is preferable than having unprotected sex, which would lead to the three societal difficulties addressed under unprotected sex. All difficulties with unprotected sex are intertwined with abstinence.
To have unprotected intercourse, which would lead to the three societal difficulties addressed under unprotected sex. All difficulties with unprotected sex are intertwined with abstinence. Obed Kyei Baffour confirms this is benefit-oriented by posting his thoughts on Facebook about what he learned from the training.
Parental Guidance
The investigation also revealed how parents ensure their children stay on course and do not stray by keeping an eye on them, disciplining them for wrongdoing as a deterrent, and praising or rewarding them for doing something good. Enyonam (Jackie Appiah), the single mom caring for her son Cyril, did all she could to keep her kid on the correct track.
Even when she saw Cyril use his father's photo as his desktop, she got enraged because she worried that her son would consider his father as a role model, something she strongly opposed. "Why do you have that photo on your phone?" she said. Please do me a favor and remove it right now." Cyril was born via unprotected sex and rape when his father Pusher raped his mother Enyonam. Enyonma did not want her baby to have any contact with his father since he raped her. She was concerned that his father might be a detrimental impact on him since Pusher was a Bullying type when he was younger.
Enyonam found her son sneaking in with the purpose of having sex with Nana Adwoa (Enyonam's sales girl), who had spent the night over at their residence in season one (1) episodes three (3) and four (4). She grew enraged since she had been a victim of rape herself. Enyonam's brother saw her kid nude in bed with Antoinette after they had sex in season two (2) episode five (5). In light of this, Enyonam decided to take him to the village as a deterrent and to keep him away from Drogba, whose peer pressure on Cyril was increasing.
Even when Drogba succeeded to get Cyril away from the community, she went in pursuit of her son to bring him back home because she really cared for him, and Cyril was treated like the prodigal son when he returned. Most parents in our countries and communities would abandon their children to their destiny if they saw them acting inappropriately, and this was the problem YOLO was addressing. Cyril's mother's teenage experiences were certainly the basis for her severe limitations on Cyril, since she did not want him to make any errors.
When Jane's grandma returned home with an unwanted/unplanned pregnancy, she took on all of her duties. When she arrived in the community, she did not reject her or send her packing. When Drogba and his sister met with Jane's family in season three (3) episode nine (9) she welcomed them openly but did not rebuke them because the deed had already been done and they needed to find a suitable solution, the family, unlike what is normally the norm in our societies, did not agree to let Jane move in with Drogba.
They chose to keep Jane in the village with her grandmother so that the baby might be properly cared for. When Drogba and Psycho came to his home in pursuit of his daughter, Naa's father drove them away. The father believed his daughter was too young to be seen with boys under the guise of being her friend. This is a problem that occurs in most societies: when parents fail to take control of their children, the risk of them becoming misbehaving increases. The sequence was intended to convey the idea that parents should be cautious about the people their children associate with. Particularly if it involves the opposing gender.
Good Life
The show yielded the slogan "Good Life," which is also a theme advertising message. In YOLO, living a good life means eating healthily (balanced foods and fruits), exercising, and remaining fit. The YOLO good living promotion focuses on exercise and fitness, as well as cleanliness. Antoinette and Naa paid Jane a visit in the hamlet and told her about what was going on in Accra.
They advised her to wash her hands with soap and water before eating and after using the restroom. This was how the messages were interwoven into the teledrama to educate the target audience about personal hygiene. They discussed some of the consequences of doing otherwise, stating that if personal cleanliness is not taken properly, one might easily have cholera or diarrhea.
Good health, fitness, and exercising was a significant theme that ran across all of the chosen episodes of season three (3). Drogba and George were spotted consuming a lot of fruits in season three (3) episode eleven (11). As Naa entered, she exclaimed, "You guys are having a wonderful life," emphasizing the fruits they were eating. "Well, you no say every morning, you for cut fruits, and in the afternoon, you chop veggies," Drogba said. You fit because of your ego. Then you may work out."
Positive Role Models
Another element that arose from the examination of YOLO is positive role models. Several of the characters in the series were depicted as good role models for the audience. They demonstrated behaviors that were deemed acceptable in society. Kids in towns, locations, or surroundings where individuals as dynamic as Drogba are present sometimes consider them as role models after whom they model their life.
In episode eleven (11), Nana Kwame and Harry Potter, two local youths, were modeling their life after Psycho and Drogba. "I am daring, like Drogba," Harry Potter remarked. "I am not afraid of any female." Nana Kwame, on the other side, said, "I, like Psyc. "All the females are terrified of me." Harry Potter then retorted by stating, "Well, Psyco paa, the one who is even frightened to speak to ladies."
This debate arose when the two fourteen-year-old boys noticed Debbie coming and Harry Potter was telling Nana Kwame he could call her and make overtures towards her. Mrs Wiafe, who happened to be around, recommended the boys to look up to Cyril rather than Drogba and Psyco as role models. This was due to the fact that Cyril had excelled in the WASSCE and was on his way to study overseas.
Health of adolescents
Adolescent health corners was also identified as a motif in the investigation. These youth nooks were areas where viewers may go if they had any questions concerning teenage reproductive health. Rubby was brave enough to go to the gynecologist in reference to an attempted abortion in episodes seven (7) and eight (8). Maame Yaa went her sister to visit a health specialist in season three (3) episode 12 to address all of her sister Maame Fosua's queries about her menstrual cycle.
"Maame Yaa, I am extremely pleased of you for bringing your sister here," the Doctor said. Maame Fosua, the commencement of your monthly cycle marks the beginning of a very exciting phase in your life. Just know that we're all rooting for you." This was sending a strong message that it is important for teenagers to consult with health professionals when they begin experiencing their menstrual cycle in order to be informed and have all of their concerns about that stage of their life addressed.
The doctor also underlined that there are youth nooks at major hospitals around the country, which is a step in the right way since it allows the kids to just go in and ask any of the health experts any question about teenage reproductive health concerns. This is consistent with the points in the Sabido Methodology that discuss Service-Linked.
One part of YOLO that is service-related is the epilogues, which are a unique feature of Sabido-style programs that tell the audience about available services (such as clinics, locations, phone numbers, addresses, and hotlines.) In this case, the service linked was the doctor alerting Maame Fosuah about youth nooks at major health centers where she might attend.
Several people were completely unaware of the teen health corner. "Wow truly, I had no idea large hospitals in Ghana had youth areas," Jennifer replied. I plan to go there shortly. YOLO!!" Jennifer has also benefitted from the program since she has been exposed to something she was previously unaware of.
Peer influence
Drogba seemed to be leading the young men in the neighborhood when it comes to who appeared to be more aware and up to date with females and was therefore teaching the ropes in terms of pursuing girls. Cyril seemed to be out of his mind, definitely influenced by his more vivacious and daring buddy, Drogba, as he went out to pursue Emily.
Drogba persuaded Cyril that it was a good idea to go around pursuing females. Drogba urged Cyril to go after Emily in season one episode one. "Charley, the girl come sef, you no fit move am, Jon," Drogba remarked, implying that Cyril is a fool since he couldn't speak to Emily when she came out. Drogba was even prepared to get Monster to drive his mother's vehicle so Cyril could go and masquerade as a youngster from a wealthy family (Deebee).
Cyril seemed naive in all of this, but he was being directed by Drogba to pursue his plan of going for Emily. Drogba even coached him on what to say to get Emily to embrace him. Drogba persisted and persuaded Cyril to accompany him to Emily's place. Drogba was encouraging the men to be mischievous, and they believed everything he said since he was older than them and they looked up to him as an elder brother.
Even when Cyril's mother discovered some written love letters in his room and intended to get him back on track, Drogba advised him to disregard his mother, and he agreed and joined him to meet Jane, a woman Drogba had met the day before. Following his arrival, Drogba introduced Cyril to Jane's friend, Antoinette, with the intention of having sex with her. Drogba pressured Cyril into having sex with a 'call lady' after he managed to convince him to flee the hamlet after his mother Enyonam had sent him there as punishment for having sex with Antoinette. Cyril had progressively grown rebellious as a result of Drogba's influence.
Drogba attempted to get George to phone Betty and tell her he loves her instead of sending her texts in season three (3) episode nine (9). Once George had talked to Betty over the phone, Drogba says "charley you be yawa boy pass. What exactly is this? So they're ron women? Bro, call me and tell me you love me. That's all." Diana, Drogba's sister, was with George and Drogba at the moment, and she advised George not to let Drogba influence him.
Pornography viewing
In the third (3) episode of season three (3), Max discovered Kelly and Abrantie viewing pornography at the hospital (12). Max chastised them and warned them to avoid pornography. While he said that adolescence is the time in which young people aspire to learn, explore, and be adventurous, he only mentioned a portion of the stage. He also said that it was an important time for young people to address their physical and reproductive health.
He also warned them that pornography may be incredibly addictive, filling their brains with all kinds of thoughts that might lead to unplanned pregnancies and other problems. Kumi Kwame "Max found Kelly and Abrantie watching pono de3 yawa o. Let's quit watching pono way, brothers and sisters. "I'm removing my 1 gigabyte pono koraa." This suggested that Kwame had been sorry and even felt shame for having pornographic films on his computer and was recommending others to refrain from viewing pornography as well.
Prostitution among Adolescents
George uncovered a prostitution ring with girls as young as thirteen engaged in season three (3) episode twelve (12). Kwame, who was an agency for these prostitutes, introduced him to these juvenile prostitutes. "Are you aware you're putting those kids in danger?" George asked Kwame. "Have you ever heard of STIs?" He then warned Kwame to stop or he would report him to the police. These things are occurring in our communities, rural and urban regions alike, and YOLO was created to solve them.
Conclusion Of The Review
The motivation behind the creation of YOLO was to aid in the promotion of social change. It attempted to do so by addressing adolescent reproductive health issues in the first two seasons before moving on to other social issues and talking more about how to live a good and healthy life.
YOLO was a benefit-focused campaign. This is because viewers see an obvious advantage in heeding the tele-drama series' message. As a result, people who saw could testify to the fact that they had learned something from it in some manner. It was also a service-related show in that it urged viewers to seek assistance or medical treatment when needed.
They also discussed with the audience where they might receive attention for the concerns they presented. YOLO also generated a lot of attention. They mentioned having Youth Corners at every major hospital, among other things. It also acted as a channel for bringing in specialists as needed. That is why it had doctors and nurses, or more broadly, health workers, as performers or characters to provide factual or accurate information.
Do You Wish To Upload or Promote Your Song on Our Website?. Call Us 020 531 2345 or email us at Info@hitz360.com