TheNonfaList: these Ghanaian musicians really disturbed our ears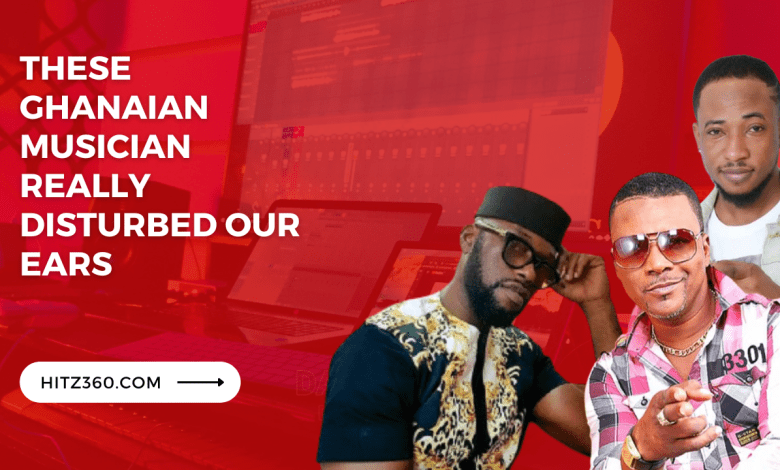 To be honest these Ghanaian musicians really disturbed our ears. If you asked me about my worst Ghanaian artists, I would completely pretend as if there are no terrible musicians in Ghana because music is music, and if it's not for you, it's not only for you, and there are those who enjoy it despite. We can't possibly enjoy every song or performer since we all have preferences, and as the adage goes, one man's meat is another man's poison, but in this case, the meat happened to be everyone's poison.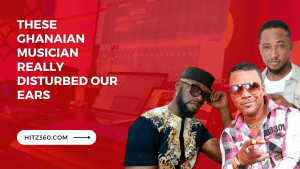 Like, I'll honestly label a music as horrible, and virtually everyone will agree. There are certain songs that do not merit our sympathy, but rather our angry insult. Some may be poorly constructed, while others may be packed with straight-up foolishness from head to toe, yet they all have that feel that you can't help but love, which is rather annoying.
Sometimes a song starts out wonderfully, but then something out of nowhere wrecks the entire thing, and you can't even get furious at them since it's their song. We realize it's not ours, but we would have preferred if it had never been produced, or if the bit that spoils the whole song had never been included. It's incredibly unfortunate when a wonderful song like Odo sisi me by Akatakyie has to be skipped after a few seconds since the other man chooses to trash it so badly.
Let's take a look at some of the singers that have truly tortured our ears with some of their songs by focusing on the worst aspect of those tunes. Nothing personal, so before you start calling me names, please keep in mind that this is my opinionated list, but believe me, a lot of music fans will agree, and it may be sad if you don't fit into the "a lot of music lovers" group.
Atom
As long as we are taling about "these Ghanaian musicians really disturbed our ears" So we have no idea where this guy came from, he just stormed in on the block and is making it big with his hit single, "Ye Wo Krom" like out of nowhere. Like he used the instrumentals of "Telemo" by Gasmilla which was a massive song back then and started riding the waves. It was really hard to figure out what was so exceptional about the song besides the catchy title "Ye Wo Krom" which is constantly chanted in the song. This song never stopped playing and it was frustrating to be honest. You could hear it almost everywhere you go but yh at last the craze cooled down and he disappeared into thin air and never returned again despite his many attempts to make a comeback into the music scenes.
Deeba
Unless you are a staunch member of the indomie generation, you will never know the pain and agony of hearing this guy try to rap. He had a hit of course and it was thanks to the intro and the hook perfectly done by one lady with that angelic voice and vibes. I doubt there was anyone who really enjoyed listening to his verse on his hit song dubbed "Deeba". And when you take a listen, you coukd tell why he didn't last in the industry and his second single, "Abenkwan", made it worst. Deeba just didn't have those captivating punchlines that is needed in a rap, he just jumbled words together to form whatever he believed could be call rap. He definitely owes his success to Hammer of the Last 2, because it was his beat that saved him and propelled him to make a hit.
Czar
Someone literally said Listening to Czar rap is like cutting onions, it brings tears to your eyes but this dude surprisingly always made hits that you just couldn't fathom. You know what? I agree with whoever this someone is. I prefer not to talk about his songs because you might go ahead and spin them and get depressed as to how he made hits out of those weak bars. On one of his songs, he was quoted rapping something which to this day makes absolutely no sense
"Fly fly oo fly, this girl wanna make me fly, fantastic bombastic edibly chopiastic lovable, chopable, that's how adey find her beauty her name is Mercy loko, mine mine oo mine"
Slim Buster
Well at least this one made us happy with his dance moves but going back to watch them again today will just give you frustrating vibes because those dance moves are no different from the songs he made. Slim Buster did make a lot of hits in his heydays but let's be frank here, he wasn't that good at music and time proved us right. We believe he should have just stuck with dancing instead of continuously bombarding us with those whistles on a beat which wasn't fair.
OD4
Just in case you've heard that popular tune dubbed Gye Gye me so by Ewura Ama or is it Ewura Esi? That's a good definition of people being at the wrong place at the right time. I have no idea how he sneaked his way unto such a nice song to ruin it and now I'm stuck with either cropping his part out or skipping the entire song when it's his turn. This is one man who seems to have tried his hands on dancehall at the time Samini and co were reigning but it was clear he wasn't cut for it and he should have just realized earlier and stayed away.
Sony Achiba
Alright let's continue our discussion regarding these Ghanaian musicians really disturbed our ears. Many of you may not remember him but Sony Achiba was trying to invent a new genre in Ghana called "Hip Dia" meaning Hiplife in India. Shockingly Ghanaians accepted Sony Achibaa's new genre until there was not enough songs to come from the genre. Like for real our Man here returned from a trip to India and figured he could start his own genre of music and then propel it. He did one song where he kept muttering some strange words and concluded it with "sony, Sony maba" and to this day we have no idea what he was trying to achieve. Bro thought he could be the next Reggie Rockstone.
Pharaoh of Akatakyie
"Me pharaoh ma ba
me de rap no be ye mo atuu
Obaa yi y3 fr3 no Akos
Me hyia no na wahy3 ne mok
3n3 ne mok,3ne ne mok"
I sobbed hard when I realized bro had gone to a studio to record a great song and this was the finest stuff he could create and spit. The last time we heard from him was in 2015, when he claimed to be better than several so-called rappers, but only rapper bro was better than himself..
"Rose wo D) nti me fri Abeka k))
Adabraka, tu mirika k) faa car……k)) Nsuta, Tarkwa Bolgatanga…wa b) mi ka n'so 3ny3 ka ka…k) Atinga ma no nkyi kyinkyinga"
Do You Wish To Upload or Promote Your Song on Our Website?. Call Us 020 531 2345 or email us at Info@hitz360.com