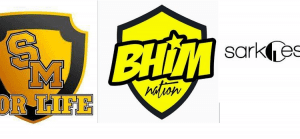 The Emergence Of Fan Bases Was The Fall Of The Ghana Music Industry. If we may recall, the Ghana music industry is rather sinking than sailing. one will think we are bigger than ever, but the bigger picture is that we have gotten absolutely nowhere even though we got big sails pinned on our ship over the past decade. we seem to be floating at one spot forever.
We can boldly brag about our musicians clinching international awards but the truth is that it's only an individual win-win for them and a big loss for us. Sarkodie and Stonebwoy going further to win BET awards is worth celebratory but that's where the story ends for Ghana. the only act to have gotten close was Kwesi Arthur and even that I won't forget to mention he was only nominated for a backstage award.
Several factors influence the decline of our music industry, and the most worthy of discussion is how fan bases are crippling everything. We can recall Kelvin Boy getting roasted front and back for passing out comments about the hard truth. " How many nations must we create in a small nation like Ghana? ". A harmless deep sad truth and all he won was more enemies and the cancellation of his contract with his record label.
Are we even ready to see the bigger picture or do we love going with the wave of ignorance and stupidity? The emergence of fan bases has successfully created more divisions and favouritism than any other factor hindering the growth of our little pathetic music industry. Bhim nation, Sark Nation, Shatta Movement For life, this and that nation. what's next? Every Musician proceeds to form his or her fan base once they churn out a hit song.
It's sadder to know that all these fan bases consider themselves bitter rivals and will have nothing doing with the other. Using the rivalry between Bhim nation and SM as a case study, It's clearly evident how much progress we have hindered. Sm fans have nothing to do with that of Bhim nation so does Bhim nation consider Sm fans humans .bhim natives will never stream music from the camp of Sm so will Sm have anything to do with music from the camp of Bhim nation. Both only indulged in Thugs of war and trashing whatever came out of each other's camps.
Just Imagine life on Alternative earth where there was no Bhim nation nor Sm for life . Alternative earth where there was only Shatta wale and Stonebwoy .where there was nothing but music fans and lovers. imagine the numbers these two big acts will be pulling off. none would be rejoicing over getting a million views on YouTube but would rather be celebrating Their Gold and Platinum certifications. The same goes out for Sark Nation and any other pathetic unwashed stinking tiny fan base out there. we would be winning together but here we are losing in pairs.
A case study of the late Queen of Ghana music Ebony Reigns shows that she was the biggest because she had no specific fan base. her wave was rallied on those who loved her and those who did not. No matter what you would check her music out. had it not been for her unfortunate demises she would have grown horns and heading straight up to GOAT status.
Another case study is R2bees and VVIP as well as 4×4. These music duos date from the golden ages and it's evident why they thrived at times like these . aside 4×4 both music duos have won artiste of the year once or twice and would have gone further to clinch Grammy's or BETs but the emergence of fan bases crippled that dream with strict favouritism to individual acts.
Another Case study is the golden ages .2000 to 2008. the exact decade where the Ghanaian music industry gained its solid foundations. In times like these everyone could come out on top because the industry wasn't one-sided on individuals and there was nothing like fan bases. Whoever puts out good music would have a feel of absolute stardom and sales .it's hard to recall the stars of that era because everyone was a star and there was music lovers and nothing else.
Sadly we can't say the same for today. once you are the man of the people so be it. the very same factor that made Stonebwoy boldly claim it will take decades for his type to emerge even though there was a current crop of acts doing better than him. He's the people's favourite, and he got all the freedom to think his kind is yet to be born.
The only thing this whole fan base thing brought to the industry was bringing divisions that sprung nothing but hate. One fan base will do everything possible to make sure the other fail in all its endeavours and the sad part is how the other fan base feel so offended when the other wins big. Congratulations fly but behind those keyboards are teary gangsters wishing it never got to that.
Let's all pretend like Sarknation doesn't rejoice whenever the other fan bases like SM or Bhim nation take an L. ruining reputation is all you can see them share among themselves and it is no secret. After someone successfully ruined the hard built reputation shatta wale had with Popcaan by claiming popcaan begged shatta wale for a feature. today the heat is on Sarkodie as social media also accused Sarkodie of claiming he made American rapper Wale popular.
Before we scrap the idea of fan bases and learn to give everyone equal attention, love and support, we will forever be left behind. As ranked by billboard in 2020, No Ghanaian act cut the top 15 most streamed acts in Africa. That was this year and it's likely to continue forever so far as we don't have a change of mind.
Facebook Comments