Ofori Amponsah Breaks Silence On His "Wo Ho Kyere" Album Controversy With Daddy Lumba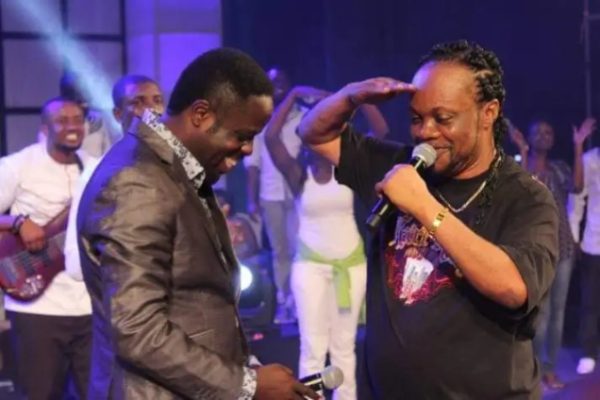 Ofori Amponsah Finally Speaks Out About His "Wo Ho Kyere" Album Controversy With Daddy Lumba. Decades have passed, and we still have many unanswered questions. The contentious Daddy Lumba/Ofori Amponsah collaboration album "Wo Ho Kyere" is still a mystery, but it appears that Ofori Amponsah has come out to clear the air.
After more than 20 years, the truth is finally out, and what people assumed was a theft has finally been cleared, and the peace has been maintained. We can also finally be at ease and enjoy the great songs on the album without any stigma. There were reports that Ofori Amponsah was disappointed with Daddy Lumba because the latter had supposedly stolen songs the former had worked on.
According to reports, the singer claimed that the 1999 album 'Wo Ho Kyere' was entirely his work but was credited to Daddy Lumba. However, speaking on Joy Prime's Prime Morning on Tuesday, Ofori Amponsah stated that the reports are not entirely accurate, pointing out that the album was a collaboration.
The album cover features images of both Daddy Lumba and Ofori Amponsah. He stated that he wrote all of the songs on the album, sang all of them, with Daddy Lumba appearing on about three of them, and also served as Executive Producer. Ofori Amponsah told the story, saying that he began working on the album Wo Ho Kyere with Daddy Lumba in 1992 after hearing his demo.
Mr. Amponsah shelved it after the duo split up for a few years to focus on the church. However, after six years, Ofori Amponsah stated that he was given the opportunity to work in the Despite studios. They collaborated to finish the album.
"A day before I released the songs Daddy Lumba also came from Germany to the same studio. He passed by and my songs were being played and he was impressed. When I went back to the studio the next day, Daddy Lumba's voice was on the music, that is what happened," he said on Joy Prime.
The release of the album was then delayed and he, Ofori Amponsah, also travelled to Germany, the singer said. But, on his return, Ofori Amponsah said he found out in the office of Despite that the album would be marketed as Daddy Lumba's even though the latter was featured on about three songs. He revealed that he initially cried because he felt the album he spent years working on had gone to someone else.
"I cried when I saw it (the cover) at Despite's office. As a young man coming up, I felt I had recorded my first album and it was coming out. I suffered for six years but it's released and another person's name instead of mine is there. I was embittered but I had to let it go."
Ofori Amponsah explained that the initial surprise, pain, and other emotions he felt were what propelled him to do an even better job in the music industry. He stated that had an extended discussion with both Despite and Daddy Lumba. Because the beloved singer also produced some of the songs it was safe to market it as a collaboration.
This discussion saw them agree to sign a contract where Daddy Lumba owned 70% of the work and 30% remains his, Ofori Amponsah explained. However, following the album's popularity, he revealed that Daddy Lumba wanted to reach another settlement where he gets to own 100%.
Ofori Amponsah said he learned to grow beyond it and pursue music as a full-time career. He explained that he had nothing but love for the legendary musician.
"I felt like if I wrote Anti Atta then I can do more. It was an opportunity for me. I had tried my best to get a producer, and so even if someone gives me just a piece of a song at that time, I will take it. So it's all good," he stated.
The singer believes that because he was not popular, having Daddy Lumba on the 'Wo Ho Kyere' project pushed him into the limelight. This, he believes, gave him the needed attention for a subsequently successful career. "I can't forget what Daddy Lumba did for me, the words he spoke into my life," he said. Ofori Amponsah added that he is open to recording the songs once again with Daddy Lumba.
Do You Wish To Upload or Promote Your Song on Our Website?. Call Us 020 531 2345 or email us at [email protected]