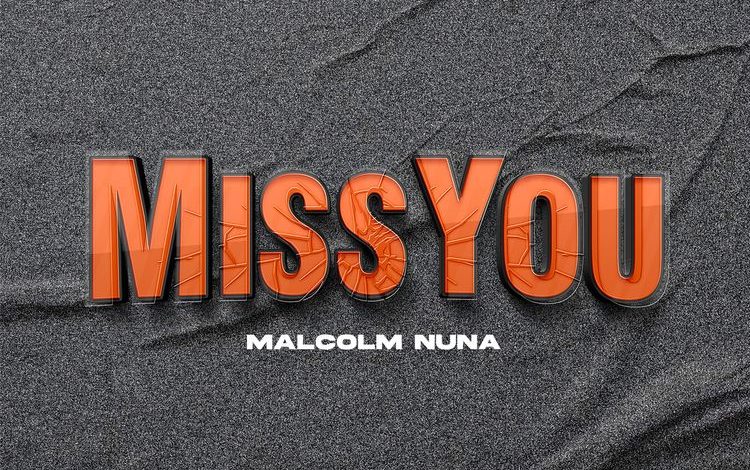 Ghanaian artist and prolific songwriter, Malcolm Nuna, has once again captured the hearts of music enthusiasts with his latest release, "Miss You." This highly anticipated single showcases Nuna's exceptional talent and versatility, solidifying his position as one of the most promising young artists in the Ghanaian music scene.
"Miss You" is a song that strikes a chord with listeners, evoking a sense of nostalgia and emotion. With its captivating melody and heartfelt lyrics, the track creates an instant connection with the audience, making it a must-listen for anyone who appreciates soulful and relatable music.
Nuna's ability to convey emotions through his music is truly a testament to his artistry. The song delves into the theme of longing and the complexities of missing someone dear. The artist's distinctive vocal prowess breathes life into the lyrics, transporting listeners into a realm of heartfelt emotions.
One of the most striking aspects of Malcolm Nuna's music is his innate talent for storytelling. In "Miss You," he skillfully weaves a narrative that resonates with audiences from all walks of life. This relatability is what sets Nuna apart as a gifted songwriter, capable of touching the hearts of many through his craft.
As we delve deeper into the song's composition, the carefully curated instrumentals deserve special mention. The music perfectly complements Nuna's emotive vocals, enhancing the overall impact of the track. The seamless blend of various elements showcases the artist's dedication to producing music of the highest quality.
With "Miss You," Malcolm Nuna once again demonstrates his ability to create music that transcends borders and connects with a diverse audience. The song's universal appeal is a testament to Nuna's musical prowess, hinting at a bright and promising future for the young artist.
For fans of Malcolm Nuna, "Miss You" undoubtedly lives up to the high expectations set by his previous releases. However, even for those who are new to his music, this single serves as the perfect introduction to his impressive talent.
As the song continues to resonate with listeners worldwide, it is only a matter of time before "Miss You" becomes a staple on playlists and radio stations alike. Its potential to be an anthem of heartfelt emotions is undeniable, making it a song that will stand the test of time.
Malcolm Nuna's "Miss You" is a touching and soul-stirring track that showcases the artist's exceptional talent and ability to connect with his audience. Through heartfelt lyrics, emotive vocals, and carefully curated instrumentals, Nuna delivers a musical masterpiece that leaves a lasting impression on anyone who listens.
As we eagerly await more from this gifted artist, "Miss You" will undoubtedly continue to touch the hearts of music lovers, solidifying Malcolm Nuna's position as one of Ghana's most promising musical exports.
Listen to "Miss You" today and experience the raw emotion and brilliance that only Malcolm Nuna can deliver. Share this gem with your loved ones and let the magic of his music spread far and wide.
Do You Wish To Upload or Promote Your Song on Our Website?. Call Us 020 531 2345 or email us at Info@hitz360.com