Hitz360 Exclusive: Top Ten Asakaa Songs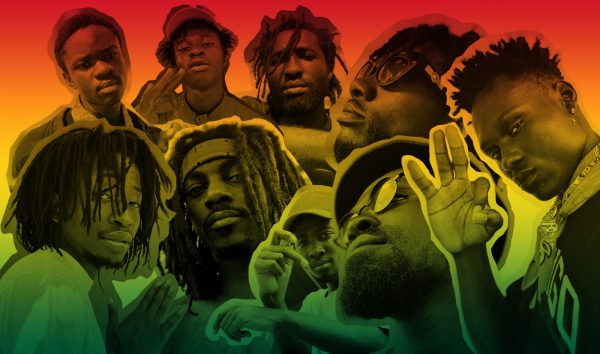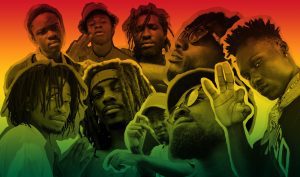 Hitz360 Exclusive: Top Ten Asakaa Songs . After Pop Smoke debuted his single "Dor", drill music gained universal recognition and today this day, the genre is still red hot. The American rapper who was gunned down on February 19th, 2020 n what seemed like a robbery was a pioneer of the genre as he helped bring Drill music to the mainstream hip hop scenes.
Drill music is somewhat defined by t's dark, violent, nihilistic lyrical content and its ominous trap-influenced beats. According to Wikipedia, drill music is a trap style of music that originated from the south side of Chicago in the USA during the year 2010. A regional subgenre named UK drill also emerged in London particularly n the district of Brixton in the year 2012. The UK drill gained prominence and inspired the emergence of other sub-genres like the Irish drill, Australian drill, and so on.
The spread also landed in Ghana where a Ghanaian sub-genre was also birthed and named "ASAKAA". After the emergence of the ASAKAA genre, it gradually swept through the music scenes despite its rawness and at the moment, it's one of the most sought-after genres in Ghana. The Asakaa music genre emerged in The garden city of Ghana Kumasi where it was mainly started by the young generation of rappers.
The exact period this began is unknown but can be estimated to early 2017 to 2018. The genre gained recognition after the release of Dead Peepol's street anthem "Otan Hunu" but was widely introduced to the general public after Kawabanga's smash hit AKATAFUO. The genre was pioneered by the general public after Kawabanga's smash hit AKATAFUO. The genre was pioneered by Reggie, Jay Bhad, Yaw Tog, Kawabanga, Kwaku DMC, Kenneth, Rich Kent,Sean lifer. these rappers have adopted the drill sound, adding their own style – fashion, lingua, lifestyle – into the overall emerging music culture.
After the massive success of Akatafuo, more mind-blowing tunes from the genre hijacked our radio waves and streaming platforms. The genre became a leading powerhouse and several mainstream artists began tapping into the wave. As of today, the genre is a leading powerhouse and has successfully churned out several back-to-back hits but we will keep asking which of these songs stands out? Let's take a tour of the Top 10 Asakaa songs.
OKESE 1- YIE YIE
When this song came out, it felt really new. the sounds were different from what we normally hear and it took a while to realize it's a new thing in town. It became an instant bager as you couldn't stop hopping here and there on one leg after it hits you. It was a massive breakthrough for the rapper himself and even to this day we still jamming.
MEDIKAL – LA HUSTLE (REMIX)
Medikal went n hard on this one if we are, to be honest. It walks straight into his personal top 5. recruiting the AMG boss Criss Waddle and the old-school bad boy Joey B on this joint also goes down as his top 10 best life decisions. The song was just a reminder that we should work hard to achieve our dreams or get left behind but on the other hand, it provided lots of thrills.
SEAN LIFER – MA DRIP
You know that when the Pioneers themself drop a joint, all they do is deliver. This song is just another one of their classics and we already know the rest that followed. Sean Life led his gang just to remind us that they are all about the drip life and everything else turned into pure entertainment.
YAW TOG – SORE (REMIX)
There was enough controversy surrounding the release of this song but it came out hot and further pulled off more numbers than its original. The involvement of the UK rap heavyweight Stormzy was its biggest highlight not forgetting that Yaw Tog was wild enough to add Kwesi Arthur to spice it even more as he roared on the beats alongside the two giants.
DEAD PEEPLE X RICH KENT- OTAN HUNU(REMIX)
Fameye, Medikal, Kuami Eugene, Tulenkey, DeonB, MalcolmN, and BosomP-Yung? Looking at the lineup, it would be sad to think this song wouldn't walk straight into your playlists. It got everything you could ever think of and it didn't disappoint of course.
KOFI JAMAR – EKORSO
No one even saw this one coming. It just came out of nowhere to become our favorites without our consent. Kofi Jamar together with Yaw Tog and Ypee teamed up to deliver nothing but a street classic.
ITZLIFIC – YAGYE SIKA
If the conditions of entering heaven were singing the hook of this song then I can boldly say every Ghanaian is probably making heaven. This is a song that forever gets stuck in your head and refuses to get out no matter what. ITZLIFIC did good work on this one alongside his Kumerican brothers Ypee and Osiekrom Sikanii.
JAY BHAD – CONDEMN
As I said, the Asakaa boys are built differently. They only deliver smash hot bangers and this song was just them overdoing what they do best. congrats to you if you managed to get it out of your head.
YAW TOG – SORE
The don of all street bangers. This song kept crossing borders upon borders until the world itself became insufficient cos Yaw Tog did some magic on it with his brothers. There are no words to describe the song so it better be left alone as we continue jamming.
Kawabanga – AKATAFOC
They say, show gratitude in the presence of dominance. If you will ask me what dominance looks like, I will humbly play you this song. Not only did this song just raise the standards off the Asakaa genre, but It also set the bar so high that one could only appreciate Kawabanga and his Asakaa boys gang.