Heartman Lali & Friends Concert Scheduled For 19th of November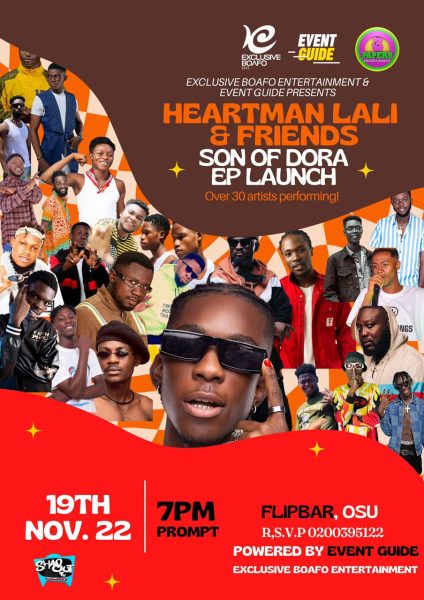 Ghanaian musician, HeartMan Lali is set to brighten up Osu in Accra on the 19th of November 2022 at Flipbar at exactly 7 pm.
The event dubbed "Heartman Lali & Friends Concert is expected to be one of the biggest patronized musical concerts this November.
This is going to be the artiste's first ever headline show which has several artists billed to perform at the "Heartman Lali & Friends concert".
The concert aims at officially launching his Son Of Dora EP' which was released on the 14th of October as well as to connect with his fans.
Among the artists billed to perform are M2, Jhay Deezy, BPM BOSS, Yungtuff, Jhaykhidoo, King Dirus, Jhay deezy, Mrr Cloudy, GILLY CRAINE, SMILING BOSSPure Vybz, Micky Jay, Billy Melton, Genuis Deyaa, Yorb, Jah Burna, Nana Sei, Levels, Brooks, Xeven, Sleek Bwoy, Awatchiman, Da Ghost DJ, Xlimkid. Several surprise artists are billed to also perform.
The official DJ for the night will be "Da Ghost DJ".
The event is a partnership between Exclusive Boafo Entertainment, 3paper Entertainment & Events Guide in collaboration with Flipbar Osu.
Don't miss out.