Empress Ayeola & The Legends Release a Long-Awaited 'Roots Reggae Album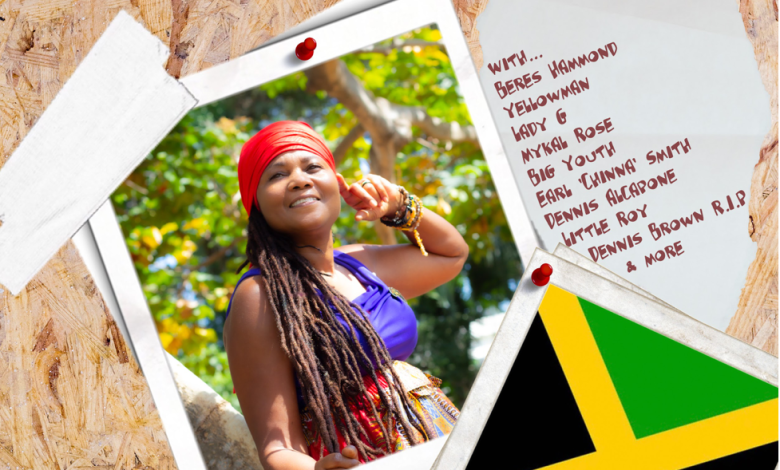 London, August 25, 2023 – Empress Ayeola, the talented reggae artist known for her soul-stirring vocals and captivating stage presence, is thrilled to announce the official release of her latest album, "Empress Ayeola & The Legends." This highly anticipated album, which hit the airwaves today, promises to be a timeless masterpiece that pays homage to the legends of reggae music.

"Empress Ayeola & The Legends" captures the essence of classic roots reggae, a genre that has deeply influenced Empress Ayeola throughout her life. The album consists of fourteen tracks that showcase her artistry and passion for the music. Each song on the album carries a unique message of love, equality, peace, and unity, serving as a powerful reminder that reggae music is the universal key to resolving conflicts and bringing joy to the hearts of the oppressed.

This album is not only a testament to Empress Ayeola's musical prowess but also a tribute to the reggae music legends who have paved the way for future artists. With notable collaborations and guest appearances from legendary figures such as Beres Hammond, Dennis Brown, Yellowman, Big Youth, Lady G, Mykal 'Grammy' Rose, Dennis Alcapone, Little Roy, and Earl 'Chinna' Smith, "Empress Ayeola & The Legends" is a true masterpiece that showcases the talent and contributions of these revered musicians.

The production on the album is top-notch, with a focus on capturing the classic roots reggae sound that nurtured Empress Ayeola's interest in music during her formative years in Jamaica. The album combines traditional reggae elements with modern production techniques, creating a timeless sonic experience that will resonate with listeners worldwide.

Behind the scenes, over sixty musicians, including more than forty reggae music legends, have contributed their immense talent to this project. The recording process was filled with fascinating stories and anecdotes, highlighting the rich history and camaraderie within the reggae music community.

To celebrate the release of "Empress Ayeola & The Legends," Empress Ayeola has already held a successful pre-album launch, drawing a massive crowd in London. Fans can expect more live performances and tour dates in the near future, as Empress Ayeola brings her uplifting music to audiences around the world.

"Empress Ayeola & The Legends" is now available on all major digital platforms, including Spotify, Apple Music, and more. Limited edition vinyl and CD versions of the album, including credits for everyone involved, will also be released soon.

For media inquiries, interview requests, or further information, please contact Empress Ayeola's management at watercoloursent@gmail.com. You can also connect with Empress Ayeola on social media at @empressayeola on Instagram and TikTok, @EmpressAyeolaTV on YouTube, and @empressayeola / @jannettereid on Facebook.

Empress Ayeola expresses her gratitude to the Most High Jah, the reggae music legends, musicians, engineers, producers, backing vocalists, and her dedicated fans for their unwavering support throughout her journey. She extends a special thanks to her daughter Arielle Haynes, Miss Mervis Walsh, and Clive Allick for their invaluable advice and guidance.

To listen to "Empress Ayeola & The Legends," please visit your preferred digital platform or follow the links below:

Album Links:

https://open.spotify.com/album/41eTWW4caVJDv82THErxTx?si=cpaBmFCCTcOvxeMo1NY8jg

https://open.spotify.com/album/4suoHaVLJexJeFKe43jQj2?si=u2Wa2m_bRDq6Bpi2nmU7eg

https://open.spotify.com/album/1rOmIHE79TOtKOwIATUHmA?si=rqXegBjuTfCzU1vwgIrgRg
https://open.spotify.com/album/614uzfHcN0yi06DupwlBV8?si=agxfs1XxRAusBrhXBK5NkA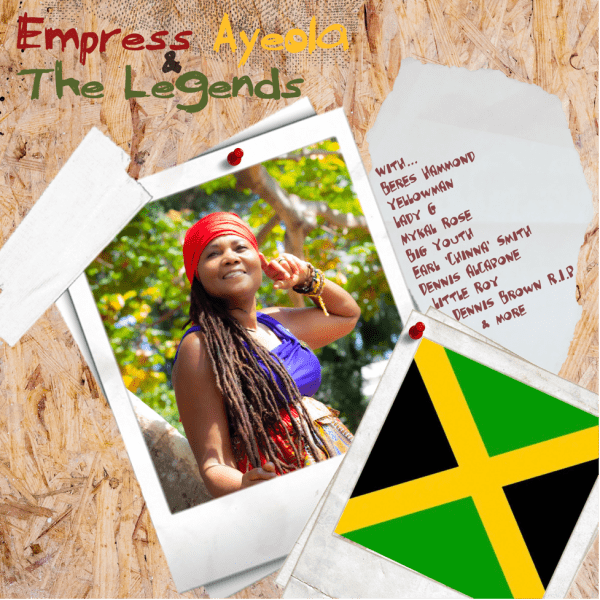 About Empress Ayeola (Biography):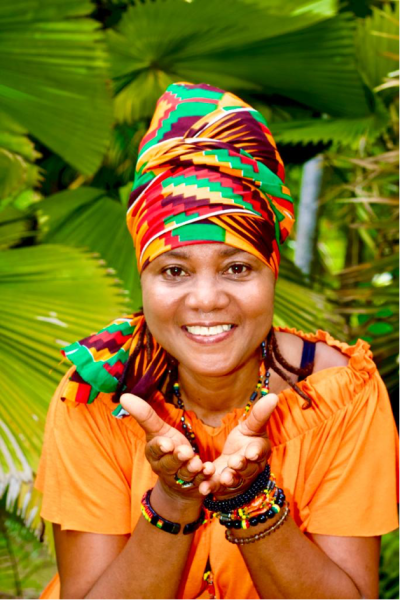 Empress Ayeola, hailed as a Musical Warrioress, made her debut in 2005 with the release of her album "ISATINNAT." Born in England and raised in Jamaica since the age of two, she attended Primary and Secondary School in the parish of Manchester.

During her high school years at Cross Keys Secondary, her music teacher, the late Sonia Spence, recognized her singing potential. Sonia, known for her seventies hits "Leaving On A Jet Plane" and "No Charge," introduced Empress to the music industry as a backing vocalist. She gained experience performing live sessions and shows before stepping into the spotlight.

Empress Ayeola is renowned for her lyrical prowess, fearlessly addressing contemporary issues through her songs. She delivers a message of truth, advocating for rights and showing a special interest in the development of the next generation.

In the early 90s, under her given name, Empress Ayeola recorded for Ossie Thomas' Rhino Record Label. She collaborated with notable session musicians like the FireHouse Crew. From 2001 to 2011, Empress released several singles on various record labels, including hits like "Edge Of Life," "Hold On To Rasta Love," "Sweet Reggae Music," "Step Into My World," and "Live Good." Her song "Don't Be Resentful" on Pharos Records in 2005 led to a live recording on BBC Radio 1xtra. Currently, Empress Ayeola is collaborating with other artists while working on her next album.

Her recordings span across the UK and Jamaica, working with producers and labels such as Bobby Digital, Acoustic Vibes, Riverbank Records, Stingray, Pecking's, Mikey Melody, and Reggae Wave, among others.

With the success of her album "ISATINNAT" and her captivating live performances, Empress Ayeola is establishing a solid reputation in the industry. She has shared the stage with renowned artists like Beres Hammond, Marcia Griffiths, Kymani Marley, Capleton, Ijahman Levi, Midnite Band, Bunny Wailer, and Desmond Dekker. Empress Ayeola's explosive stage presence was first witnessed in 2001 at the Gibus "Jamaican Royal Festival" in France, and she has since performed at various international venues and festivals.

Her journey continues with a focus on her distinctive Binghi style and revolutionary lyrics. Empress Ayeola's fiery performances have captivated audiences across Switzerland, Austria, Jamaica, France, Belgium, and the USA. She has appeared at notable events such as "Rebel Salute" in Jamaica and the "UNICEF Humanitarian Reggae Festival" in Cannes, France.

Empress Ayeola's commitment to her craft remains unwavering. She has released singles like "Jah Jah Ah Di Mastah" and "US AGAINST THE WORLD," showcasing her talents as a singer and songwriter. In recent years, she has performed at Jamaica's renowned "Reggae Sumfest" and other local venues alongside esteemed artists like Dennis Alcapone and Lady G.

Currently, Empress Ayeola is working on her upcoming album titled 'Empress Ayeola & The Legends.' This highly anticipated project features collaborations with legendary figures in Jamaican reggae such as Beres Hammond, the late Dennis Brown, Yellowman, Big Youth, Mykal Rose, Little Roy, Dennis Alcapone, Earl 'Chinna' Smith, and many more. With over sixty contributors, including renowned artists, musicians, producers, engineers, and background vocalists, this album is set to make a significant impact on the reggae music industry.

In addition to her ongoing collaborations, Empress Ayeola continues to record for independent labels, with recent releases from Wayne Lyrics' Reggae Wave Records label, including the track 'Respect Yourself.' Her dedication and talent are poised to illuminate the reggae music scene under the Water Colours Entertainment Label with her forthcoming album."

Empress Ayeola's work is driven by a deep commitment to champion the rights of the Motherless and Fatherless, as well as the well-being of Babes and Suckling. As a warrior Empress, she upholds the Order established by Rastafari, embracing the principles of Universal love that are integral to His Imperial Majesty's (H.I.M) way of life. Her music and actions reflect her dedication to these ideals, as she uses her platform to advocate for love, justice, and equality for all.
Do You Wish To Upload or Promote Your Song on Our Website?. Call Us 020 531 2345 or email us at Info@hitz360.com