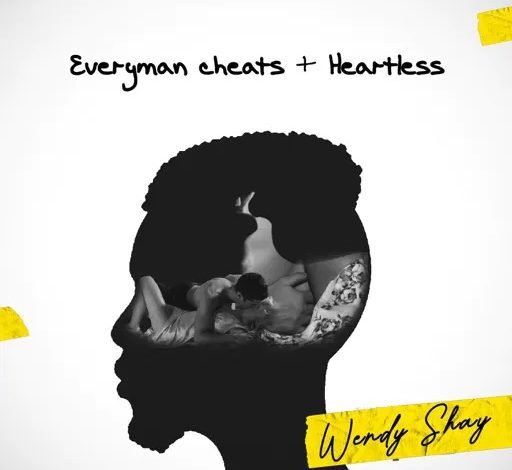 Wendy Shay, a highly-rated Ghanaian songstress, graces the stage once more with her newest mp3 single titled "Heartless." This captivating song is now available for free download and is part of her recently unveiled 2-track EP, a testament to her dedication to delivering remarkable music that resonates deeply.
"Heartless" is a musical masterpiece that showcases Wendy Shay's prowess in the industry. With her distinct voice and emotive delivery, she takes listeners on an emotional journey through the intricate landscapes of the song's lyrics. The melodies weave together seamlessly, forming a harmonious blend that is both enchanting and thought-provoking.
Included as a gem within her 2-track EP, "Heartless" serves as a reflection of Wendy Shay's artistic growth and evolution. Each note carries with it a glimpse into her creative mind, capturing the essence of her experiences and emotions. The song's poignant storytelling and Wendy Shay's vocal finesse create a musical experience that is bound to leave a lasting impact.
The decision to release "Heartless" as part of her latest EP demonstrates Wendy Shay's commitment to offering a holistic musical journey. Her ability to craft songs that resonate with audiences and evoke a range of emotions is a testament to her authenticity as an artist. Through her music, she creates a space for listeners to connect and relate.
As the melodies of "Heartless" unfold and the lyrics resonate, Wendy Shay's position as a musical powerhouse becomes even more evident. Her dedication to producing quality music that speaks to the hearts of her fans solidifies her status as a prominent figure in the Ghanaian music scene and beyond.
Listeners are invited to not only enjoy but also immerse themselves in the depth of "Heartless." The song's inclusion in her 2-track EP adds another layer of significance, as it offers a glimpse into Wendy Shay's artistic journey and her unwavering commitment to her craft. With "Heartless" and her accompanying EP, Wendy Shay continues to captivate, inspire, and enthrall her audience with her exceptional musical artistry.
Do You Wish To Upload or Promote Your Song on Our Website?. Call Us 020 531 2345 or email us at Info@hitz360.com