Sister Deborah – Ama Piano Ft. AY Poyoo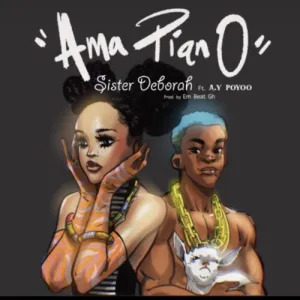 Ghana's musical landscape is once again electrified as the dynamic collaboration between songstress Sister Deborah and the irrepressible AY Poyoo gives birth to the exhilarating track titled "Ama Piano." This sonic offering, presented as a free mp3 song, ignites the senses and invites listeners to immerse themselves in a musical experience that defies convention.
Sister Deborah's distinct vocal prowess intertwines seamlessly with AY Poyoo's playful energy in "Ama Piano," resulting in a harmonious blend of talents that resonates with the soul. As the melodies unfold, the track's vibrant spirit encapsulates the essence of unity and creativity, forming a melody that's as enchanting as it is captivating.
This musical collaboration embraces the "Ama Piano" genre, weaving it into the fabric of Ghana's musical narrative. The rhythm-driven beats and infectious hooks create a sonic tapestry that's rich in texture, inviting listeners to dance to the cadence of its melody. Sister Deborah's finesse and AY Poyoo's irreverence harmonize to offer a musical journey that is both distinctive and memorable.
With "Ama Piano," Sister Deborah and AY Poyoo offer more than just a song; they provide an escape, a celebration of artistry, and a testament to the boundless creative spirit of Ghanaian music. The free mp3 download serves as a bridge between the artists and their audience, allowing their melodies to resonate far and wide.
As you immerse yourself in the enchanting melodies of "Ama Piano," be prepared to be swept away by the fusion of Sister Deborah and AY Poyoo's talents. Their collaboration showcases the power of music to transcend boundaries, evoke emotions, and create moments of pure joy. In every note and lyric, "Ama Piano" cements its place as a sonic gem that adds to the luminous legacy of Ghana's musical landscape.
Do You Wish To Upload or Promote Your Song on Our Website?. Call Us 020 531 2345 or email us at Info@hitz360.com