Reggie – Most High (Full Album)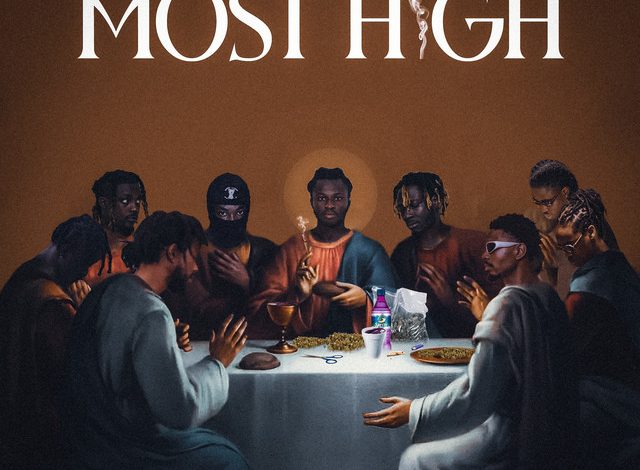 Ghanaian musician Reggie has once again captivated audiences with his highly anticipated album, "Most High." Released under the Life Living Records label, this musical masterpiece showcases Reggie's talent, versatility, and dedication to his craft. With a collection of captivating tracks that span genres and emotions, "Most High" takes listeners on a remarkable journey filled with inspiration and artistry.
Track 1: "Alhamdulillah"
The album opens with the soulful track "Alhamdulillah," setting the tone for what lies ahead. Reggie's heartfelt vocals and thoughtful lyrics create a spiritual connection, inviting listeners to reflect on gratitude and the power of faith. This song serves as a reminder of the blessings in life and the importance of acknowledging them with sincerity.
Track 2: "Makaveli" (feat. Jay Bahd, Jhorrmountain & O'Kenneth)
Reggie collaborates with a star-studded lineup in "Makaveli," a high-energy anthem that showcases his versatility and ability to seamlessly blend different musical styles. With the assistance of Jay Bahd, Jhorrmountain, and O'Kenneth, the track exudes confidence, determination, and a fearless approach to pursuing success. "Makaveli" is a testament to the power of collaboration and the magic that happens when talented artists come together.
Track 3: "Idi Amin"
With "Idi Amin," Reggie delves into historical themes, shedding light on significant moments in history and provoking thought and discussion. Through his captivating storytelling and powerful lyrics, Reggie encourages listeners to confront uncomfortable truths and learn from the past. The track serves as a reminder of the consequences of unchecked authority and the need for a critical examination of power dynamics.
Track 4: "Niggas In Paris" (feat. City Boy, O'Kenneth)
Reggie joins forces with City Boy and O'Kenneth in "Niggas In Paris," a high-octane collaboration that celebrates success, ambition, and the relentless pursuit of greatness. The artists effortlessly deliver their verses with charisma and swagger, creating an anthem that resonates with listeners. This track showcases Reggie's ability to command attention and captivate audiences with his smooth flow and magnetic presence.
Track 5: "5:55"
"5:55" takes us on a timeless journey of introspection and reflection. Reggie's introspective lyrics and emotive vocals invite listeners to contemplate the passage of time and the choices we make in life. The track's atmospheric production and haunting melodies create an immersive experience that transcends eras, leaving a lasting impression on the listener.
Track 6: "Maa Abenaa" (feat. Beeztrap KOTM, Skyface SDW, Chicogod)
Reggie collaborates with Beeztrap KOTM, Skyface SDW, and Chicogod in "Maa Abenaa," a powerful track that showcases the artists' individual talents and their collective synergy. The song exudes energy and celebrates triumphs, inspiring listeners to chase their dreams and overcome obstacles. "Maa Abenaa" is a testament to the power of unity and collaboration in creating remarkable music.
Reggie's "Most High" album is a testament to his growth as an artist and his dedication to creating music that resonates with listeners on a deep level. From soulful tracks that evoke gratitude and spiritual connection to high-energy collaborations that exude confidence and ambition, the album offers a diverse range of musical experiences. Reggie's ability to seamlessly blend genres, deliver captivating storytelling, and evoke emotions makes "Most High" a remarkable achievement in his musical journey. As fans embrace the album, let us celebrate Reggie's talent, versatility, and commitment to creating inspiring and thought-provoking music.
STREAM THE FULL ALBUM BELOW
Do You Wish To Upload or Promote Your Song on Our Website?. Call Us 020 531 2345 or email us at Info@hitz360.com