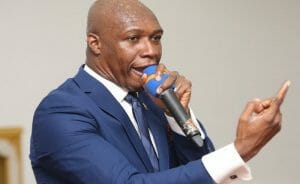 Prophet Kofi Oduro Reveals What Actually Killed Atta Mills. Prophet Kofi Oduro of Alabaster International Prayer Ministry fame has made some new claims which point to what actually caused the sudden demise of ex-president Atta Mills.
On records, the demise of Atta Mills came after he suffered throat cancer and passed away at the 37 Military Hospital while receiving medical treatment somewhere 2012.
However, Prophet Kofi Oduro for obvious reasons has linked Atta Mills' death to the conventional insult by Ghanaians against the departed ex-president in 2012.
The man of God said it was unfortunate Ghanaians couldn't recognize the God-fearing leader he was.
Kofi Oduro made these claims when he requested that his followers vote for a peace-loving presidential candidate election on December 7, he said the country needs a leader like the peace-loving Atta-Mills.
The late Atta-Mills who was described as 'Asomdwee Hene' died at the age of 68 and was buried at the Asomdwew park.
He added that Ghana needs a leader with a good character and will be faithful to its citizenry as well.
Kofi Oduro was heard saying "We need a leader like President Mills who will openly acknowledge a national week of fasting and prayer. It is just amazing that this nation, we could not recognize that we had a phenomenal leader. Ghanaians over-insulted him and the constant insults led to his death." Prophet Kofi Oduro Reveals What Actually Killed Atta Mills.