Nacee – Aseda 3 Music (Live)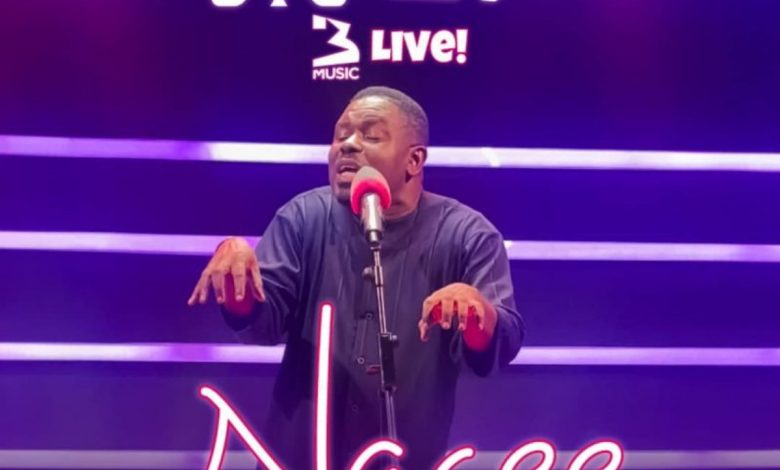 Nacee is a remarkable artist in the lively and varied world of Ghanaian gospel music. He is renowned for his exceptional talent and sincere musical expressions. Recently, Nacee delivered an enthralling live performance of his popular song, "Aseda," which once again delighted his audience. Through this moving performance, he demonstrated his remarkable abilities and unwavering commitment to conveying messages of faith, optimism, and appreciation through his music.
Nacee, whose real name is Nana Osei, has long been hailed as one of the most talented and versatile musicians in the Ghanaian gospel scene. His prowess extends beyond singing; he is also an accomplished songwriter, producer, and instrumentalist, making him a true maestro in music. With a career spanning several years, Nacee has garnered a massive following of fans who are drawn to his deeply spiritual and inspiring compositions.
"Aseda," which translates to "Thanksgiving" in the Akan language, is a testament to Nacee's ability to connect with listeners on a profound level. The song's powerful lyrics and uplifting melody resonate with people from all walks of life, touching their hearts and reminding them of the importance of gratitude in facing life's challenges.
The live performance of "Aseda" showcases Nacee's exceptional vocal range and emotive delivery. Accompanied by a talented band, the artist takes his audience on a musical journey filled with moments of reflection and celebration. The passion in Nacee's voice is palpable, as he pours his heart and soul into every note, making the performance an unforgettable experience for those fortunate enough to witness it.
Listening to Nacee's rendition of "Aseda" is akin to attending a soul-reviving worship session. The song's message, coupled with the artist's unparalleled stage presence, creates an atmosphere of spiritual connection and communal joy. Unsurprisingly, Nacee has consistently been celebrated for his ability to lead worship sessions that uplift and inspire thousands of listeners.
As fans eagerly share their thoughts on this remarkable performance, the overwhelming consensus is one of admiration and gratitude. Many express how they were moved to tears by the sheer beauty and sincerity of Nacee's live rendition. They praise his exceptional talent, noting that his music transcends cultural and religious boundaries, touching the hearts of believers and non-believers alike.
Moreover, Nacee's live performance of "Aseda" serves as a reminder of the immense impact music can have on the human spirit. In times of uncertainty and turmoil, his songs offer solace and reassurance, reminding us to be grateful for the blessings we have, regardless of life's challenges.
Nacee's live performance of "Aseda" is a testament to the power of music in connecting people, evoking emotions, and spreading messages of hope and gratitude. His talent and dedication to his craft continue to be a source of inspiration for many aspiring musicians and a source of comfort for countless listeners. As we eagerly anticipate more soul-stirring performances from Nacee, let us take a moment to appreciate the impact his music has on our lives and the lives of many around the world.
Listen to Nacee's live performance of "Aseda" and share your thoughts with us. Let the music move your soul and inspire you to embrace gratitude and hope in all aspects of life.
Do You Wish To Upload or Promote Your Song on Our Website?. Call Us 020 531 2345 or email us at Info@hitz360.com