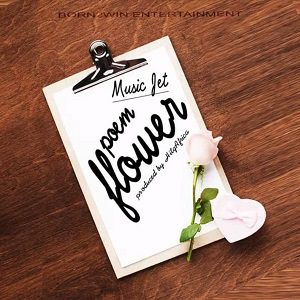 Music Jet, a fast-rising talent in the Ghanaian music scene, has released a new track titled "Poem Flower." This song showcases Music Jet's artistic prowess and unique style.
"Poem Flower" is a melodious and soulful track that combines elements of poetry and music. The song features heartfelt lyrics delivered with emotional depth, making it a captivating listening experience. Music Jet's vocal delivery is both smooth and expressive, drawing listeners into the poetic narrative of the song.
The lyrics of "Poem Flower" are likely to resonate with those who appreciate introspective and thought-provoking music. The song explores themes of love, self-discovery, and personal growth, making it a relatable and meaningful piece of art.
The instrumentation of the track is equally impressive, with a mellow and soothing melody that complements the lyrical content. Music Jet's ability to create a musical atmosphere that matches the emotional weight of the lyrics is a testament to his talent as a musician.
As a fast-rising artist, Music Jet has the potential to make a significant impact in the Ghanaian music industry. "Poem Flower" showcases his artistic vision and storytelling abilities, setting the stage for what could be a promising career in music.
Overall, "Poem Flower" by Music Jet is a beautifully crafted song that offers listeners a glimpse into the artist's world of music and poetry. With its meaningful lyrics and soulful melody, it has the potential to connect with a wide range of audiences who appreciate heartfelt and introspective music. Music Jet's future in the music industry looks promising, and this track is a strong addition to his growing body of work.
Do You Wish To Upload or Promote Your Song on Our Website?. Call Us 020 531 2345 or email us at [email protected]