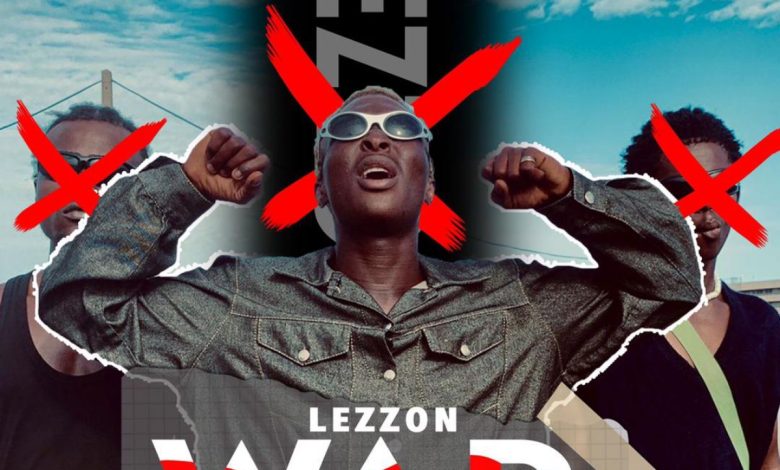 Lezzon, a talented Ghanaian artist, has recently released a powerful hip-hop song titled "War." Produced by The Way, this track serves as a motivational anthem for the streets, captivating listeners with its captivating lyrics and infectious beats. In this blog article, we will delve deeper into the essence of "War" and explore how Lezzon's music resonates with his audience.
"War" stands out as an embodiment of Lezzon's musical prowess and unique style. With his distinctive Ghanaian flair, Lezzon combines thought-provoking lyrics with a captivating flow that captures the attention of listeners from the very first verse. The track is a testament to his talent and his ability to create music that speaks to the experiences of the streets.
The production quality of "War" is exceptional, thanks to the skilled work of The Way. The beats seamlessly blend elements of hip-hop and traditional Ghanaian music, resulting in a distinctive sound that sets Lezzon apart from his contemporaries. The combination of hard-hitting instrumentals and Lezzon's commanding delivery creates an atmosphere that is both energizing and empowering.
Lezzon's lyrics in "War" reflect the challenges and struggles faced by those living in the streets. Through his words, he paints a vivid picture of the realities of life in Ghana, shedding light on the perseverance and resilience of individuals striving to overcome adversity. Lezzon's ability to convey powerful messages through his music is a testament to his artistry and his connection with his audience.
As a motivational anthem for the streets, "War" resonates deeply with listeners. The song's empowering nature serves as a rallying cry for those facing hardships, encouraging them to keep pushing forward despite the obstacles they encounter. Lezzon's uplifting words provide a source of inspiration and strength, reminding individuals that they have the power to rise above their circumstances.
To truly appreciate the impact of "War," it is essential to listen to the song firsthand. You can find the track for streaming and download Immerse yourself in Lezzon's compelling storytelling and experience the infectious energy of this motivational anthem.
In conclusion, Lezzon's "War" is a remarkable hip-hop track that showcases his talent as an artist and his ability to connect with his audience. The song's powerful lyrics, combined with The Way's exceptional production, create an atmosphere that inspires and uplifts. Through this track, Lezzon solidifies his position as a Ghanaian artist to watch, leaving listeners eagerly anticipating what he has in store for the future.
Listen and download Lezzon – "War" to experience this motivational anthem for yourself. Let the infectious beats and empowering lyrics fuel your drive as you navigate the challenges of life, just as Lezzon intended with this remarkable piece of music.
Do You Wish To Upload or Promote Your Song on Our Website?. Call Us 020 531 2345 or email us at Info@hitz360.com