Kawabanga – Stay (Akonoakono) Ft. Kojo Trilla & Medusa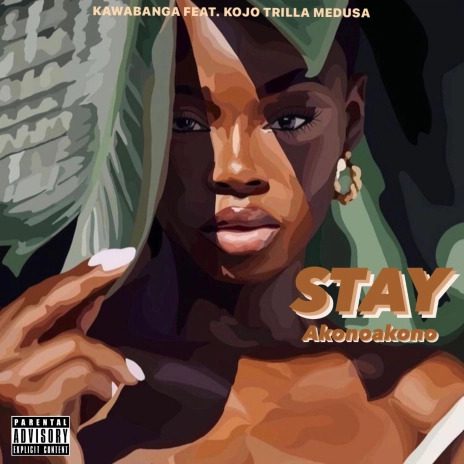 Ghanaian musician Kawabanga shares a brand new song called "Stay (Akonoakono)". The song features Kojo Trilla & Medusa.
The Ghanaian music scene is renowned for its vibrant and diverse sounds, often blending traditional elements with contemporary beats to craft a distinctive musical identity. Kawabanga has emerged as a prominent figure within this scene, consistently pushing boundaries and defying genre conventions. His ability to seamlessly fuse different musical styles has garnered him a dedicated fanbase that eagerly anticipates each new release.
"Stay (Akonoakono)" is a testament to Kawabanga's evolution as an artist. The track not only showcases his lyrical prowess but also highlights his knack for collaboration. Featuring the talents of Kojo Trilla & Medusa, the song brings together a trio of artists who each bring their unique flavor to the table. Kojo Trilla's smooth verses and Medusa's melodic hooks complement Kawabanga's distinct style, resulting in a harmonious blend that keeps listeners hooked from start to finish.
As the song unfolds, it becomes clear that "Stay (Akonoakono)" is more than just a musical composition; it's a narrative that captures emotions and experiences that are universally relatable. The lyrics delve into themes of attachment and the desire to hold onto something or someone. This sentiment is underscored by the rhythmic beats and infectious melodies that serve as the backdrop for Kawabanga and his collaborators' introspective verses.
Music has the incredible power to evoke emotions, transport us to different places, and connect us with others who share similar sentiments. "Stay (Akonoakono)" does just that by weaving a sonic tapestry that resonates on a personal level with its listeners. Whether you're swaying to the rhythm or contemplating the meaning behind the lyrics, the track offers a multi-dimensional listening experience that invites introspection.
In a world saturated with an array of musical choices, "Stay (Akonoakono)" manages to stand out. It's a reminder that music is a universal language that transcends boundaries and unites individuals from all walks of life. Kawabanga's ability to craft a song that is both catchy and thought-provoking is a testament to his artistry and his understanding of the power that music holds.
Ghanaian musician Kawabanga's latest release "Stay (Akonoakono)" featuring Kojo Trilla & Medusa is a testament to the artist's creative evolution and collaborative spirit. The song's ability to evoke emotions and create a connection with listeners is a reminder of the profound impact that music can have. As Kawabanga continues to navigate the musical landscape, we can only anticipate more captivating releases that further solidify his place in the global music scene. Listen to "Stay (Akonoakono)" and share your thoughts to be a part of the musical conversation.
Do You Wish To Upload or Promote Your Song on Our Website?. Call Us 020 531 2345 or email us at Info@hitz360.com