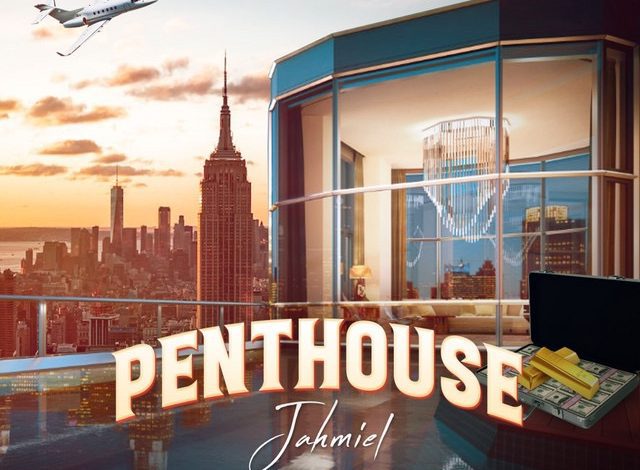 Jamaican dancehall artist Jahmiel is back with a bang, treating his fans to a fresh new track titled "Penthouse." This latest release marks the artist's first song of the month, and it's already making waves in the music industry. Produced by the talented Sweet Music Production and Quantanium Records, this track is sure to leave listeners wanting more.
"Penthouse" showcases Jahmiel's incredible talent and unique style, delivering a captivating musical experience. With his smooth vocals and infectious beats, he effortlessly captures the essence of dancehall music, drawing listeners in from the very first note. Jahmiel's ability to create catchy melodies and meaningful lyrics shines through once again in this exciting release.
The production quality of "Penthouse" is top-notch, courtesy of Sweet Music Production and Quantanium Records. These renowned producers have done an excellent job of complementing Jahmiel's style, creating a seamless blend of rhythmic elements and melodies that keep the energy high throughout the track. The collaboration between the artist and producers is truly a match made in musical heaven.
Listeners are in for a treat as they dive into the world of "Penthouse." The song's infectious rhythm and captivating lyrics make it impossible to resist moving to the beat. Whether you're a die-hard dancehall fan or someone new to the genre, this track will undoubtedly captivate your senses and leave you craving more.
As with any great piece of music, "Penthouse" leaves room for personal interpretation. Jahmiel's lyrics touch on various themes, allowing listeners to connect with the song on a deeper level. While we won't dive into the specific testament of the track, we encourage you to give it a listen and let the music speak for itself.
Jahmiel's "Penthouse" is a testament to his incredible talent and the creativity of Sweet Music Production and Quantanium Records. With its infectious beats, memorable melodies, and meaningful lyrics, this track is a must-listen for any fan of Jamaican dancehall music. So sit back, relax, and allow yourself to be captivated by the mesmerizing sounds of "Penthouse." Don't forget to share your thoughts on this latest release, as Jahmiel continues to make his mark on the music scene.
Do You Wish To Upload or Promote Your Song on Our Website?. Call Us 020 531 2345 or email us at Info@hitz360.com