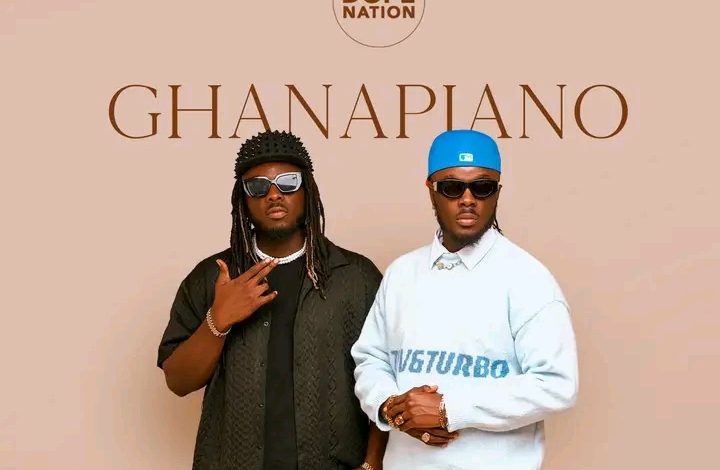 Ghanaian music duo DopeNation drops this latest song called "Odeshie". Their latest offering, a captivating single titled "Odeshie," is a testament to their musical prowess and creative innovation. This track, which is part of their recently unveiled extended play project dubbed "Ghanapiano," showcases DopeNation's ability to blend genres seamlessly while maintaining their unique identity.
"Odeshie" arrives as a fresh addition to DopeNation's already impressive catalog, characterized by their distinct fusion of Afrobeat, hip-hop, and Afro-pop influences. The duo's ability to curate a sound that resonates with diverse audiences has played a significant role in their journey to becoming multiple award-winning artists. With this new single, they continue to push boundaries and explore new sonic territories.
The "Ghanapiano" EP, from which "Odeshie" originates, is a collection that demonstrates DopeNation's dedication to musical excellence. The project is a celebration of Ghana's rich musical heritage, blended seamlessly with contemporary production techniques. Each track on the EP tells a unique story, offering listeners a glimpse into the duo's creative process and their ability to connect with the cultural roots of their homeland.
"Odeshie" itself is a vibrant composition that effortlessly marries infectious melodies with captivating lyrics. The song's production is a testament to DopeNation's commitment to pushing the envelope when it comes to crafting innovative beats. This single beckons listeners to immerse themselves in its rhythms, allowing the music to transport them to a world where genres coalesce to create something truly extraordinary.
In a digital age where music consumption is as much about the experience as it is about the sound, DopeNation recognizes the importance of engaging with their audience on multiple levels. The release of "Odeshie" comes with an invitation for fans and music enthusiasts alike to join them on a journey of discovery. By inviting listeners to share their thoughts on the new single, DopeNation fosters a sense of community and collaboration, ensuring that their music becomes more than just a passive listening experience.
As the music industry continues to evolve, artists like DopeNation serve as a beacon of creativity and innovation. Their ability to navigate the complex landscape of global music trends while staying true to their roots is a testament to their dedication and passion for the craft. "Odeshie" and the "Ghanapiano" EP stand as a testament to their evolution, showcasing their growth as artists and their commitment to pushing the boundaries of what's possible.
In conclusion, DopeNation's "Odeshie" is more than just a song; it's a musical journey that encapsulates the duo's unique blend of genres, their dedication to artistic excellence, and their desire to connect with listeners on a profound level. As they continue to make waves both locally and internationally, DopeNation's "Odeshie" and the "Ghanapiano" EP are reminders that the power of music lies in its ability to transcend borders and cultures, uniting us all through the universal language of sound.
Do You Wish To Upload or Promote Your Song on Our Website?. Call Us 020 531 2345 or email us at Info@hitz360.com