Chief One – CatWalk Ft. Black T Igwe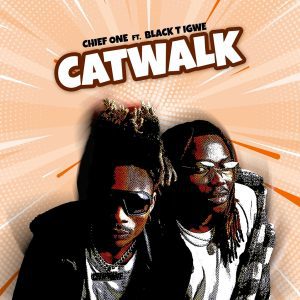 Chief One, the sensational Ghanaian recording artist, has teamed up with Black T Igwe for the highly anticipated single "Catwalk." This track is available as a free mp3 download and promises to be a hit among music enthusiasts.
"Catwalk" is a catchy and energetic song that combines elements of Afrobeat and hip-hop to create a unique and infectious sound. Chief One's distinct vocal delivery and lyrical prowess shine through in this track, making it a must-listen for fans of Ghanaian music.
The song's title, "Catwalk," suggests a sense of confidence and style, which is reflected in the upbeat and danceable rhythm. Chief One and Black T Igwe's collaboration adds a dynamic and engaging dynamic to the song, making it an enjoyable listen from start to finish.
Produced with precision and flair, "Catwalk" showcases Chief One's ability to create music that resonates with a wide audience. The song's lyrics touch on themes of self-assuredness, positivity, and living life to the fullest.
As Chief One continues to make his mark on the Ghanaian music scene, "Catwalk" is another addition to his growing catalog of hits. With its infectious melody and vibrant energy, the song is likely to find its way onto playlists and dance floors across the country.
For those looking for a feel-good and danceable track with a touch of Ghanaian flair, "Catwalk" by Chief One featuring Black T Igwe is a must-listen. Grab the free mp3 download and enjoy the vibes of this exciting collaboration between two talented artists.
Do You Wish To Upload or Promote Your Song on Our Website?. Call Us 020 531 2345 or email us at [email protected]