Ceddi – Daakyi Asem Ft. Trukin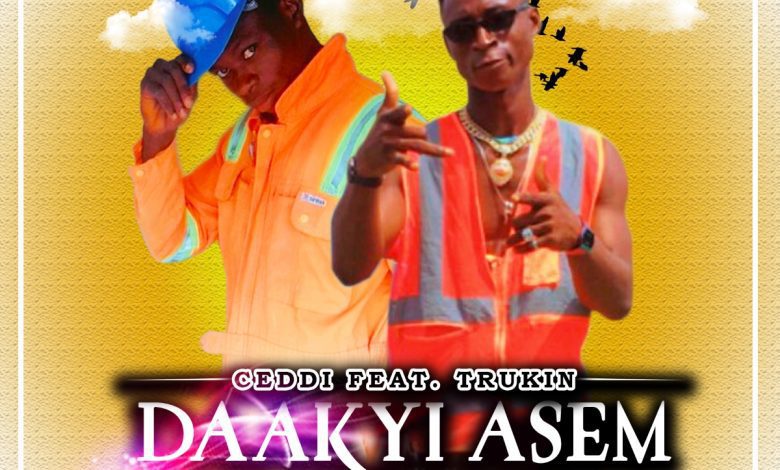 Ghanaian music scene continues to witness the emergence of exceptional talents, and Ceddi is undoubtedly one of them. With his latest release, "Daakyi Asem" featuring Trukin, Ceddi showcases his unique musical style and delivers a powerful message about the importance of preparing for the future.
Translated from the Ghanaian language to English, "Daakyi Asem" means "Because of Future." Ceddi, in an interview, reveals that the song is a personal reflection on his approach to life and his decision to prioritize the future over instant gratification. He emphasizes that he has chosen to remain focused and avoid spending money on unnecessary things, all in the pursuit of building a better future for himself.
Produced by LJ Entertainment, "Daakyi Asem" is a captivating track that blends vibrant Afrobeat rhythms with poignant lyrics. The song's infectious melodies and energetic beats create an irresistible groove that will have listeners hooked from the first note. Ceddi's smooth vocals effortlessly glide over the music, conveying both passion and conviction in his message.
Listening to "Daakyi Asem," you can't help but be drawn into Ceddi's world. His lyrics are relatable and resonate with anyone who has ever contemplated the importance of planning for the future. The song serves as a reminder that instant gratification may be tempting, but the rewards of patience and foresight are far greater.
Ceddi's talent shines brightly in "Daakyi Asem," showcasing his ability to craft meaningful lyrics that inspire and motivate. He manages to strike a perfect balance between entertainment and imparting valuable life lessons, making his music not only enjoyable but also thought-provoking.
The collaboration with Trukin adds an extra layer of dynamism to the song. Trukin's unique rap style complements Ceddi's vocals, creating a delightful synergy between the two artists. Their chemistry is evident throughout the track, enhancing its overall impact and making it a standout release in the Ghanaian music scene.
As you listen to "Daakyi Asem," take a moment to reflect on Ceddi's message. Consider the choices you make in your own life and how they align with your aspirations for the future. Are you captivated by the allure of instant gratification, or do you prioritize long-term goals and success? Ceddi's song serves as a testament to the importance of having a future-oriented mindset and the rewards it can bring.
Ceddi's "Daakyi Asem" featuring Trukin is a powerful musical offering that combines infectious rhythms, captivating melodies, and a thought-provoking message. It serves as a reminder for all of us to prioritize the future and make choices that align with our long-term goals. So, give it a listen and let the music inspire you to embark on a journey towards a brighter future.
Do You Wish To Upload or Promote Your Song on Our Website?. Call Us 020 531 2345 or email us at Info@hitz360.com