Braa Benk – Likes ft. Kwaku DMC & Jay Bahd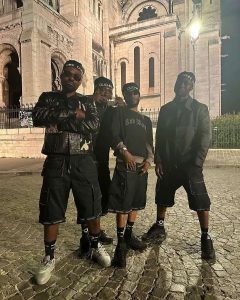 Ghanaian Asakaa rapper Braa Benk has joined forces with fellow label-mates Kwaku DMC and Jay Bahd to deliver a dynamic and high-energy track titled "Likes." This collaborative effort is a reflection of the vibrant Asakaa music scene in Ghana.
"Likes" is a catchy and engaging song that showcases the lyrical abilities of these talented artists. Asakaa music has been gaining popularity for its unique fusion of drill and hip-hop elements with Ghanaian influences, and this track is a testament to the genre's appeal.
With Braa Benk, Kwaku DMC, and Jay Bahd on the mic, "Likes" is a testament to their artistry and chemistry as collaborators. The song is likely to resonate with fans of Asakaa music and those who appreciate dynamic and energetic rap performances.
The Asakaa movement has been instrumental in introducing a fresh sound to the Ghanaian music landscape, and tracks like "Likes" only further solidify its place in the country's music culture. Asakaa artists have been creating music that reflects their experiences and speaks to a wide audience, and this song is no exception.
"Likes" by Braa Benk featuring Kwaku DMC and Jay Bahd is a testament to the creative energy and talent within the Asakaa music scene. It's a track that's sure to be enjoyed by fans of this genre and all music enthusiasts looking for something fresh and exciting. Download "Likes" to experience the artistry of these talented artists.
Do You Wish To Upload or Promote Your Song on Our Website?. Call Us 020 531 2345 or email us at [email protected]