Apple Music's Africa Now Radio With LootLove This Sunday With Mayorkun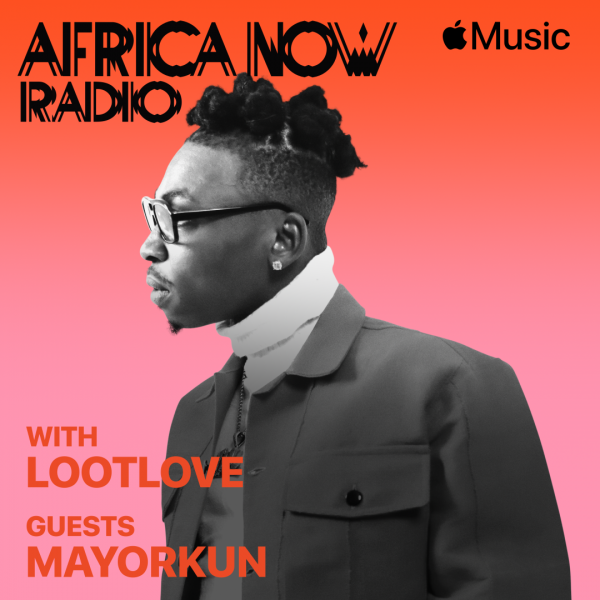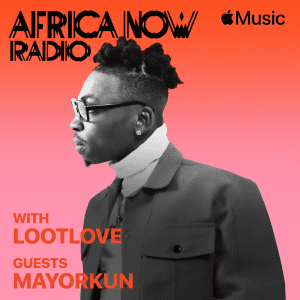 This Week's Episode Features a Conversation With Mayorkun, the 5 Hottest Tracks of the Week, Africa Rising, and LootLove's Favourite Track of the Week!
Tune in to Africa Now Radio With LootLove This Sunday, October 31st at 4pm EAT/ 1pm London / 2pm Lagos/Paris / 3pm Johannesburg / 6am LA / 9am NYC on Apple Music 1.
Cover Star Interview
Nigerian singer-songwriter Mayorkun joins LootLove via FaceTime on Apple Music 1 to talk about his latest track, "Holy Father (feat. Victony)." He also discusses his new album, Back In Office, and how it represents his evolution; his journey into amapiano and working with South African producer DJ Maphorisa; and how he feels a responsibility to be vocal on issues in Nigeria.
The Big 5
LootLove shares the 5 hottest new African tracks of the moment. This week's selection includes new tracks from Young Stunna feat. Kabza De Small & DJ Maphorisa; Msaki, Kabza De Small & Focalistic; The Cavemen; Wande Coal, and Buju.
Africa Rising
Ghanaian alté group SuperJazzClub are the latest artists featured from the Africa Rising playlist, a campaign which shines a light on the next generation of African superstars, and this week's show features their two singles "Jungle" and "Till The Morning."  Listen HERE.
Loot Loves
Each week, LootLove chooses her favorite track, taken from one of Apple Music's African playlists. This week she features South African house star Brenden Praise and his single, "Mukutsuri (feat. Mpho.Wav)", from Apple Music's Mzansi House playlist. Listen HERE—and find a roundup of all LootLove's selections on Apple Music's LootLoves playlist, HERE.
Tune in and listen to the full episode this Sunday, October 31st at 4pm EAT / 1pm London / 2pm Lagos/Paris / 3pm Johannesburg / 6am LA / 9am NYC on Apple Music 1 at apple.co/_AfricaNow
MAYORKUN ON HOW HE HAS EVOLVED AS AN ARTIST SINCE THE FIRST ALBUM AND WHETHER HE FEELS NERVOUS ABOUT HOW HIS FANS WILL REACT
I think for me, I've grown as a person, as well as being an artist. I've had to unlearn different things. I had to learn new things. These things are evident in the project. You'll figure out that this guy is really grown up from what he used to be.
First of all, I have the best fans in the whole world. Ride or die. Yes. To forever and beyond.
I didn't completely leave some songs that they'll remember my old self with. But I gave chances for experiments. It's balanced in a way.
MAYORKUN ON THE ALBUM'S COLLABORATIONS
To be honest, I was very excited when I got the call from Maphorisa. Because we've been talking about Maphorisa way before we even went to South Africa. We know so many Maphorisa songs that he probably doesn't know that we know. So when I got the call, I had to leave where I was. I went straight to the apartment. We made a smash.
I personally feel like the songs choose the artists. If you listen to the collaborations, you can figure out that they were not forced. We picked the perfect man for the job. In the song with Joeboy, I feel like nobody else would've killed it as Joeboy. The song with Flavor, I feel like nobody else would've done. The song really chose the features.
MAYORKUN ON HIS RELATIONSHIP WITH AMAPIANO
I was introduced to Amapiano last year, a little bit before the lockdown. There was this club in Lagos called Buzz Barr. Buzz Barr used to be the only club that used to play Amapiano. And at times there was no Nigerian song on that playlist. The club was popping at that time. So every time I'd go there, I'd always have a song on the set. Anytime they'd switch to Amapiano, I have no songs on the set. So there was a day I took my producer to the club and we heard… you know how Amapiano is sometimes just beaten? We heard any empty beat and I made something of it in the club that we went to make 'Of Lagos' when we got home. So that was when I started loving it. It got crazy big, I couldn't just say I wouldn't put an Amapiano song on the project. Just had to be done, one or two.
MAYORKUN ON THE RESPONSIBILITY OF NIGERIAN ARTISTS TO TALK ABOUT SOCIAL AND POLITICAL ISSUES IN THEIR COUNTRY
Before I didn't used to be expressive. I just sing about normal stuff. But on this project, there's a song called "Freedom" that I think would work for that. That was one of the reasons why I recorded that song. That was around the period of #EndSARS. I felt like we needed to be free, so I spoke about freedom metaphorically in the whole song. You'll get it if you listen to the song.