Amerado – Rap Is Still Alive Ft. Strongman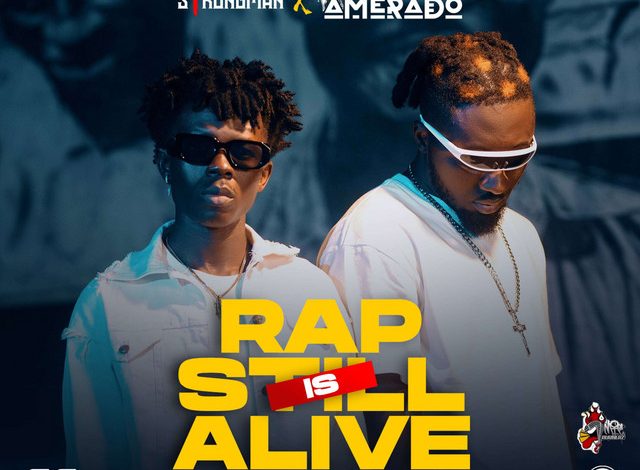 Ghanaian rap music has always been an integral part of the country's vibrant music scene. Over the years, it has produced talented artists who have captivated audiences with their lyrical prowess and unique styles. In a testament to the enduring power of Ghanaian rap, two prominent rappers, Amerado and Strongman, have joined forces to release a brand new song titled "Rap Is Still Alive," which aims to reignite the flame of rap music in Ghana.
Produced by the talented Atown TSB, "Rap Is Still Alive" showcases the incredible skill and creativity of both Amerado and Strongman. The song not only pays homage to the rich history of Ghanaian rap but also demonstrates their ability to evolve the genre and make it relevant in today's music landscape.
Listening to the track, it becomes evident that both rappers possess unmatched lyrical dexterity and a deep understanding of the art form. Amerado and Strongman effortlessly deliver their verses with a seamless flow, showcasing their distinct styles and wordplay. The collaboration between the two artists not only highlights their individual talents but also their shared passion for rap music.
"Rap Is Still Alive" serves as a reminder that despite the ever-changing nature of the music industry, rap continues to hold its ground. The song sends a powerful message to aspiring artists and rap enthusiasts, urging them to embrace the genre and its potential for self-expression and storytelling.
Ghanaian rap has always been celebrated for its ability to address social issues and shed light on the realities of everyday life. Amerado and Strongman's collaboration is no exception, as they touch upon various themes in their verses. From personal struggles to societal challenges, their lyrics resonate with listeners, provoking thought and igniting conversations.
As listeners, it is important to recognize the significance of this collaboration. Amerado and Strongman represent the future face of Ghanaian rap, carrying the torch for the next generation of talented artists. Their partnership not only elevates the status of rap music in Ghana but also paves the way for emerging artists to follow in their footsteps.
"Rap Is Still Alive" is not just a song; it is a declaration of resilience and determination. It reminds us that rap music is an ever-evolving art form that continues to captivate audiences around the world. Amerado and Strongman's collaboration serves as a testament to the enduring power of rap music and its ability to transcend boundaries.
The collaboration between Amerado and Strongman on the song "Rap Is Still Alive" is a remarkable milestone for Ghanaian rap. The track showcases their exceptional talent, unrivaled skills, and their shared commitment to keeping the genre alive and relevant. As we listen to the song, let us appreciate the artistry and passion that went into creating this musical masterpiece. The future of Ghanaian rap looks promising, and with artists like Amerado and Strongman leading the way, we can be assured that rap music will continue to thrive and captivate audiences for years to come.
Listen to "Rap Is Still Alive" below and share your thoughts with us.
Do You Wish To Upload or Promote Your Song on Our Website?. Call Us 020 531 2345 or email us at Info@hitz360.com