Album Review: Sarkodie – No Pressure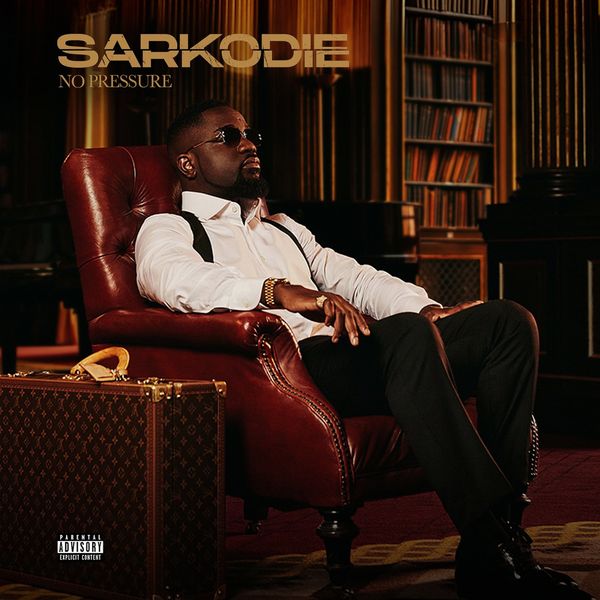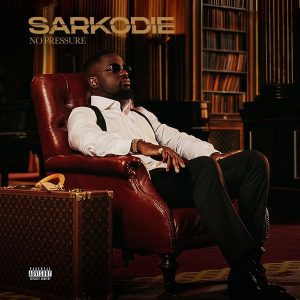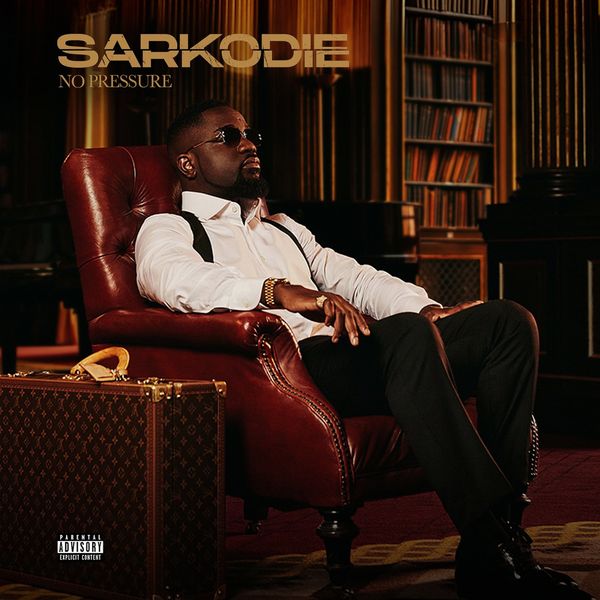 Album Review: Sarkodie – No Pressure. VIbes upon vibes and a couple of shades as well as some clap backs here and there. No Pressure is one of a kind. The elite Ghanaian rapper affirms his king status with this seventh studio album, No Pressure.
He is one of the most successful African rappers of all time. With over ten years of industry presence under his belt, there's no question about his prowess or skin in the game. Not only is he a pioneer of African hip-hop, but he's also the most decorated African rapper, having received over 100 awards from close to 200 nominations over the span of his career.
What else does Sarkodie have to prove? For someone who has reached and stayed at the pinnacle of hip-hop for more than a decade, he's done it all. But despite that, he's still embracing new growth. One can tell just by listening to his latest album, No Pressure, Sarkodie's seventh studio album, and the follow-up to 2019's Black Love which brought us some of the Ghanaian star's best music so far. King Sark may be as big as it gets, but the scope of his music is still evolving.
Sonically, No Pressure is predominantly hip-hop, with the first ten tracks offering different blends of rap topped off with a handful of afrobeat and, finally, being crowned at the end with a gospel hip-hop cut featuring Ghanaian singer MOG. As far as the features go, Sark is known for collaborating mostly with his African peers but this time around he branches out further to feature a number of guests from around the world. Wale, Vic Mensa, and Giggs, the crème de la crème of rap in America and the UK respectively all make appearances, as well as Nigeria's Oxlade, South Africa's Cassper Nyovest, and his fellow Ghanaian artists Darkovibes and Kwesi Arthur.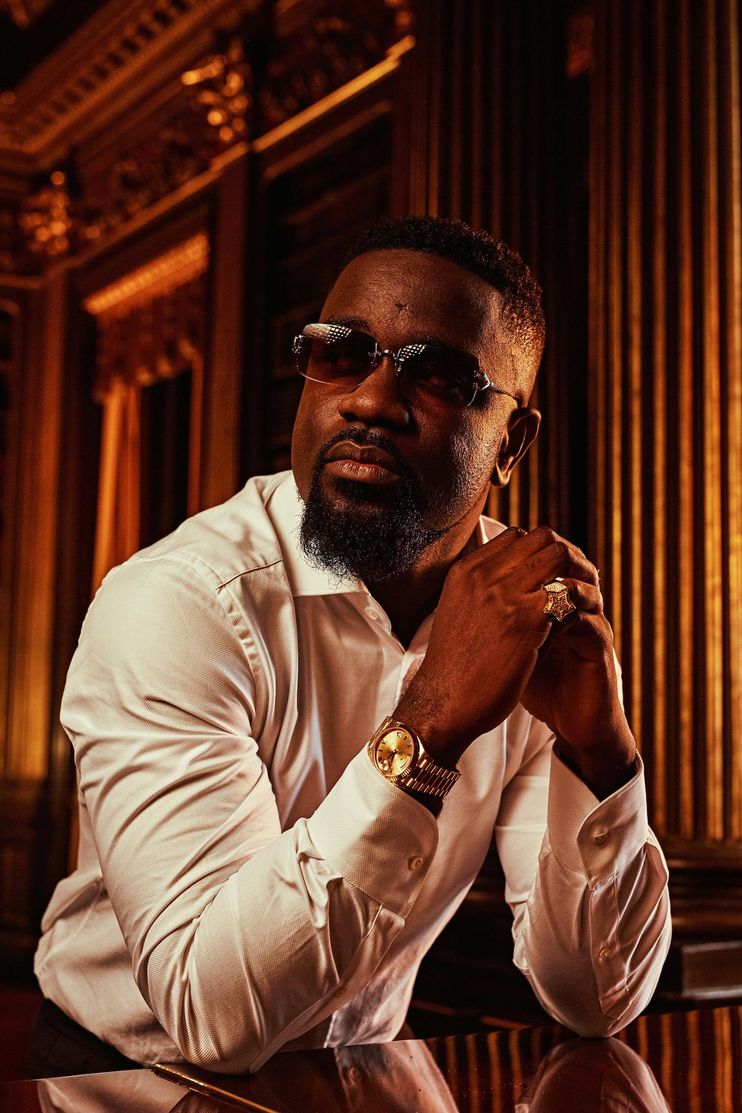 It's been a week since no pressure dropped and we are still on it. The trend and hype surrounding the album is still up like the morning sun and doesn't look like it's going down anytime soon especially after Sarkodie rolled out the music video for one of the hottest songs on the album dubbed "ROLLIES AND CIGARS". We at Hitz360 also got something to say about the album and hence we are here to present you with our take on the album.
First Let's take a look at every single detail about the album before we proceed to analyze and review every single track on the album. The production of the album was a lengthy one ad probably took years if we are to Quote some of his lyrics from the album. Production of most songs happened in 2021 while most can be dated to a year or some years ago and that's if we are to quote from the lyrics of the Intro.
The production of this album was handled with care by elites because Sarkodie felt every need to put out some quality tunes as he got his sights on greater heights. ALTRA NOVA, Da Beatfreakz, Certified Bangerz, DJ Coublon, Kayso, Kaywa, M.O.G. Beatz and Rexxie handled the album whiles Sarkodie himself and KJ Spio hopped on as the executive producers. The album was exclusively copyrighted to Sarkcess music and Eagle Plug and Under exclusive license to Ziiki Media.
The features on the album are one of a kind. For years, the fans had cried for the presence of a top-notch international act on at least one of his albums and it seems like their prayers got answered with the inclusion of some international appearances. Wale and Vic Mensa from the US and Giggs from the UK as well as Nigeria's Oxlade, South Africa's Cassper Nyovest, Tanzania's Harmonize and his fellow Ghanaian artists Darkovibes,Benerl, Medikal, MOG Music and Kwesi Arthur. Among all the features, Wale was the most anticipated as he seemed like the biggest fish on the lineup. Everyone on this lineup got something hot under their sleeves with some classic records to boast of except for Benerl who seemed like he officially made his debut on this album.
I love how y'all enjoying the #NoPressureAlbum … 😊🙏🏿 pic.twitter.com/jU4fjwEEoP

— Sarkodie (@sarkodie) August 5, 2021
Songwriter credits go out to Sarkodie and every other act featured on the album with Britsh-born Nigerian songwriter and act Moelogo getting credited with Additional Vocals. Final mixing and mastering of the album were handled By MOG Beatz who also happened to be Sarkodie's personal producer.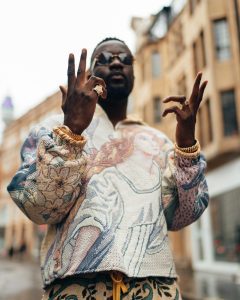 During an interview with Okay Africa, Sarkodie was asked about his new album and he had a few things to say about the album and even though it was satisfactory, we wished he could tell us more.
So, [it's called] No Pressure because I've been doing this for over ten years, so I trust the process of how I work. I'm at a point where most artists get to when they get pressure from people to do what they want them to do, and most artists fall off when they want to respond to that. So you have to diffuse the pressure that people put on us and be able to create freely and do the music that you love. That's why I named the album No Pressure because at this point I think I just have to be on cruise control.
In that same interview with Okay Africa, he was also asked about how he came up with the features and this was what he had to say;
Like I always do I just try to listen to the music. To the sounds, the tones, the mood of the music and see who suits it. So it was just as organic as it could be, you know. I didn't just put people on because they had to be on, the song has to feel like it needed a person. So I just listened to the mood of the music to choose who has to be featured on.
Sarkodie was also asked about who he enjoyed working with the most o the album and surprise names popped up. Probably far from what we could ever imagine.
Almost everyone that I had a physical studio session with. So I could say, Giggs and Kwesi Arthur. Those were the two main people I got to be in the studio with. Kwesi is like a young king from Tema in Ghana. It's interesting to look at his record, so I definitely enjoyed the whole process. Giggs is definitely my favourite MC in the UK and in my top five worldwide. It was an honour and a great feeling to know that someone that I really respect is hopping on my record. It was pure respect and vibes, and I definitely enjoyed it. And Vic Mensa as well, that was great.
When Asked About his favorite song off the album, he humbly landed on a choice which was somewhat alarming because we expected him to refrain from picking favorites.
I'll say "Anything." It's between that and "No Fugazy," but I'll give it to "Anything." The song speaks about what people do these days for clout. They want to chase trends and they want to be in the news. People just want to do anything to be known or in the news or make it. So it's quite deep. And I like the production, it suits the music type for the album. I like music that makes me be in a certain mood, that makes me feel on top of the world, so shouts to Nova — the beat is incredible and I love the concept as well.
Also when he was asked about what he wanted people's takeaway of the album to be, he gave somewhat the perfect response.
I just want people to enjoy good music and, with all the genres in the album, I want to be able to appeal to all forms of music lovers. Obviously, it's dominated by hip-hop, but I want people to listen to the project and honestly appreciate all the sounds. As far as music is concerned, it's diverse. It's just a good upgrade on what Sarkodie has built so far, showing me in a different light. So I just want people to really enjoy good music, from all the genres.
With all these said and done, we will like to go through the tracks that made the cut on the album and review them one after the other starting from the intro all the way to I'll be there.
INTRO
Like most albums, Sarkodie decided to come up with an intro that doesn't seem much like him as a host of his previous studio albums never came with an intro. Despite everything, it was also surprising to find out that, the intro didn't even appear on the lineup for most streaming platforms especially Apple music.
The Intro came to do one task which was opening the way for the other tracks that are supposed to follow up. A minute and 35 seconds of shades and apologies as well as some appreciation. whiles also revealing that the album was supposed to be released In 2020 but he had to do it this year for some reason. He reminded everyone that he can't always be available unless maybe on special occasions. Well, this goes against him though because somewhere last year he snubbed the Anual Vodafone Ghana music awards to claim a so-called united nations award which came out fake and widely got played by a con artist who later on gained the title DR. UN.
On to the next he gave us his side of the story about people bashing him for not picking up his calls anymore. He's fly and he's on top so he got to utilize who he answers to. this somewhat seemed like a reply to Edem who went out on the rapper for failing to show up at their music video shoot and later ignoring his calls. "Eii Kabutey hmm"
let's move on to the part where he made sure we accept the fact that he's never going to quit nor slow down. As time goes on, he somewhat seems like a bully in the music industry and people really wished he would hang up the mic and let someone else take over but yeah Sarkodie says unless we handcuff him because so far as he still possesses the ability to spit, that's all he can do. Also, we won't leave out the part where he said clocking a feature with him is strictly protocol and not just about how much you can pay or who you are. This is something Yemi Alade will attest to. On a more serious note, I will rewind back to last year he rounded up the #BRINGAZONTOBACK challenge. He promised to feature on the best azonto song that will be submitted.
The challenge ended when he jumped on AMG Evergreen's Yaaba which became a massive hit giving life to the career of Amg Evergreen but have you ever wondered why and how AMG Evergreen got picked out of the many? was it because he submitted the best work or was it because of his affiliation to AMG Bussiness or the fact that Criss Waddle is his boss and the fact that Criss Waddle is a good friend of Sarkodie? only judge can God Charley so let's move on to the next.
Rollies and Cigars
Well if you will ever ask anyone about the standout song on the album, there it is. Everyone got his or her fair share here besides it's the hardest Sarkodie has ever gone on a song. No sneaking here, just dishing out shades upon shades sending Santa clause running for cover.
"Obi se Kofi Taylor sɛ ne gyimie no ɛka sɛn (Ha!)
This time yɛ'a charge sɛ dzata mon forgetti Ghacem, on God"
Someone should ask Kofi Taylor about the meaning of all his nonsense? Dear Sarkodie, we can't please. Just in case you're wondering, Sarkodie is referring to controversial American-based Ghanaian blogger and political analyst Kelvin Taylor whom he pronounced Kofi Taylor. The ruckus between Sarkodie and the journalist/blogger started when the latter attacked the former over his HAPPY DAY song which indirectly throws support for President Akuffo Addo with 'Nana Toaso' phrase ahead of the 2020 December elections. For endorsing the President, Kelvyn Taylor tore the rapper apart on one of his live sessions. So Sarkodie in return gave him a piece of this hotcake because he's about to give each and every critic the Dzata treatment just like our honorable member of parliament Sam George took to social media to savagely school a host of personalities on the LGBTQ bill. Does this mean Sarkodie is giving us a trail of where he stands on the LGBTQ debate?

"Thе only nigga wey show you the way, over a decade but still I be cold
All of you rappers are lacking the key, bisa sɛ how I dey do this for long
Ten years, every time it be me, everyone else is just tagging along"
Over Here, He's telling the other rappers to be humble and ask him how he's been keeping it real for over a decade. just as the verse goes, follow me and I will make you fishers of men, Sarkodie is reminding rappers to follow him so he can show them the way instead of throwing jabs here and there and disrespecting him. It's plain and simple advice.
"Me ka me maame, m'akoma yɛ free
Nea mo ka fa me ho me te no tongues"
The rapper is comparing what haters and rivals say about him to a Christian speaking in tongues, he never understands what they are saying about him because all he got is a good heart. For as long as we may know, a lot of people including his fellow artistes have labeled him as a lot of bad things and Sarkodie doesn't seem to dig the whole perception because he's the real definition of a G. He's not even lying because the Sarkodie we know has done a lot for a lot of people as much as he could and we love him for that.
"And I'm still at the top got you niggas all vexing
Don't call me the best, point of correction there's no competition
This is not election, obia n'yɛ me size that is out of the question
Fuck all these rappers they mad 'cause I'm flexing
All that they need, Jesus' love and affection
They pray for attention but woah
They want me to stop 'cause the more that I rap I just make it so hard for them"
Sarkodie should just chill charley because Some of us are getting shaded just for calling the best. There's no competition please so next time you want to praise him, just say he's the rapper. No one is his size period. this is plain and understandable so we should be comparing him to Tupac and Eminem not M.I, Nasty c or Manifest. This came as a fair warning to Burna Boy who Considers Nasty C the best rapper in a continent where Sarkodie exists.
"Sesia no me voice yɛ equity (Now!)
My kiddy got fi' dey take loan (Ha!)
People dey pay for the 'Ha!' (Woo!)
Ebi mo de yɛ ɔmo ringtone (Now!)
Street boy from the ground up (Ah!)
Yenya no easy, we dey break bone (Yes!)
Me checki mo payslip (Now!), me tax kra yɛ mo take home (Woo!)"
Okay okay, you remember when he said HA baako y3 10k? there it goes. He's lining the life you're dreaming so better stop hating and work on yourself because his tax is your annual salary. The Ha is very legendary and if you hear it anywhere you can tell it's obidiponbidi. And for your information, the production of this song goes to Tema-based music producer Kayso.
Rollies and cigars is a perfect song to answer critics over the past couple of years and years to come. It is very personal and very hard. The last time Sarkodie went this hard was years ago on his song titled "A MAN'S WORLD"
VIBRATION
And ow that's hot. The entire song sounds like vibration. This song was recorded prior to Vic Mensa's arrival in Ghana and guess what? They cooked a classic. How does this song feel like? It feels like Sipping on coconut juice at a Miami beach and listening to an FM station dedicated to playing the rants of every hater. you don't even care cos you're too blessed.
Sarkodie just recruited Vic Mensah on this joint to remind us of some bitter reasons he's still untouchable and then he will always remain at the top no matter what and even further stressed that places, where he's stepped his feet at, are impossible dreams to every other rapper out there and the only reason rappers keep dissing him is all to get him to hit back ad grace them the opportunities to sell their records.
Vic Mensa on the other hand believes that the only perfume he uses o himself is called success and its fragrance breeds jealousy in the eyes of many. Can't even argue with the man cos he popped up at the age of 16 with a mixtape and signed to the record label of a billionaire. You know what it feels like when a billionaire puts his money on you. If you don't feel it then you are probably just a loser. Get a life G. Production credit of this song goes to ALTRAOVA.
some notable Lyrics;
"Aarhn! M'ahyɛ da na mama mo low gap (Now!)"
This is something Sarkodie said at the beginning of his first verse on this song. For a while, SARKODIE stopped releasing songs Prior to the release of this "No Pressure" album, most of his fans queried why he had gone quiet. But on the song, he reminded us by saying he intentionally gave other rappers some space, with the second line throwing more emphasis that "he did it on purpose." SARKODIE is good at starving his fans (Sarknation) for a long period before bombarding them with dope songs.
"Mahy3 da Na mama mo low gap" to wit "I intentionally gave you guys a low gap" translated from the Akan language in Ghana. Why even release songs when you got a bundle of good ones coming? Well as a king he cares about all so he gave others a chance to shine. But was it because he couldn't drop songs because of the dominance of the Asakaa wave or it was just because he was working on his album? No debates here though because by the way, The Asakaa boys are running things and pulling up greater numbers.
"I got brothers wanna see me a dead man, I feel like Mufasa & Scar"
This is a reference to the characters of the Disney movie Lion King. Mufasa and Scar were brothers but Scar was very resentful of Mufasa for essentially ruining any chance of him legitimately becoming King then succeeded in murdering Mufasa who was King. Vic compares his situation to that of Mufasa and Scar. This shouldn't even be surprising because many at times, those who wish for our downfall are probably the closest to us. Could be either a brother, a sister or even a parent. Vic reminds us that he's no different because he also got brothers who wanna see him dead.

ROUND 2
This joint with UK heavyweight Giggs was always meant to do some damages. A little something about where he's coming from and where he is as well as an insight into where he is going. Perhaps many will think Sarkodie got it easy because that's how he makes it seem but the truth be told, behind his every smile is tears and sweat of a million stories to be told. Nothing was ever easy for the most decorated rapper in Africa.
"Way back when I go broke na me hia cash na me hwɛ the deals on the table (Woo!)
Biibi se me'nkɔ gye cool block but I gotta think twice 'cause I got my own label (Yeah!)
Chale money never go be problem but ɛtor dabia the economy no be stable (Now! Woo!)"
Sarkodie started off rocking shows almost everywhere he can get heard and that was the gradual baby steps he took to get where he is today. He's got his own record label today and an untouchable fan base with one of the biggest brands in Africa. According to him, he's doing so well that the economic crisis of his country doesn't affect his fiances a single bit.
Started off broke and I swear nobody liked us
Wanna see me dead but you niggas gon' die first (Now!)
Boys bɛ pre Sark beef (Woo!) but mmrɛ no so aa na mo use ghostwriters
Did you hear the man right? Cool, he said what he said ad there's nothing you can do about it because his dominance always make others crave for someone to dismantle him and as it stands, many have tried but failed. Rappers are quick to throw shades at him but in the Humble opinion of Sarkodie, they will need a ghostwriter to even make an impression because no other rapper can match up with him.
Giggs came with the hooks and blessed us with some rich man talk to remind us all that making it is a really beautiful thing we should all aspire to do. despite having a couple of seconds on the song, he executed his part perfectly well. Production credit of this song goes to Certified Bangerz from the UK.
COACHELLA
Have you ever wondered how it feels like to put Sarkodie and Kwesi Arthur on a dog where Kwesi did the hooks whiles Sarkodie did the verses? Well, this is it. The last time the two jumped on a hip-hop banger was Grind day remix and to this day it still slaps hard except you're playing it on mute.
Coachella was the second promo single Sarkodie released from his album No Pressure. He features Ghanaian rapper, Kwesi Arthur on this up-tempo cut. Sarkodie hails his lover's 'moves' drawing comparisons with dance at the music festival Coachella. There is nothing much to talk about here charley. This song was made to be enjoyed not judged and it came with all the vibes one will need to set the mood up with his lover. This is one thing Sarkodie does best and we are glad he brought the heat up here. Step by step delivery of highly poetic bedroom vibes you can't get out of your mind.
Whiles Sarkodie heaped praises on his loved one in his verses, Kwesi Arthur went on to remind us of every reason why he has to do so. This song goes down as a personal favorite to lots of people and it is evident why Sarkodie said he enjoyed working with the young king. Production credit goes to MOG.
JAARA
Okay, This song is highly explicit and wasn't meant for single people too. How I wished I could drop laughing emojis for our heaven chasers. What do you expect when Sarkodie and Medikal jump on such an explicit song where the main motive is to appreciate the female features endowed to man by the Almighty father himself? What does having your woman next to you feels like? How does having her in your arms feel like? How special does her body feel like you jump in bed and exhibit your bedmatic skills whiles sailing through the realms of eroticism? It all looks like Sarkodie recruited the perfect candidate to help him tell the world about the joys of exploring the female body in what happens to be a sequel to his 2019 hit song with Efya Titled Saara. Wahala for who no dey explore some though.
Over here Sarkodie reminds us that he doesn't even care about her past, he's rather happy she is finally in his hands and he's glad. Medikal on the other hand reminds us that only the Lord knows the things he's about to do charley. if he doesn't impress you then you better check yourself well. Anyway, the production credit of this song goes to ALTRANOVA.
Some notable lyrics off this song are;
Who be that? Ne body no abodam, why? She dey mad?
If I no chop am pɛ she dey knack
I go knack chew am again, I be ruminant – Medikal
Obu ne mu, mebu me pa, mebu me pa
Ne to no deddy deddy (ɛdeddy deddy)
Ne fun no belly belly (ɛbelly belly)
N'akyi ayɛ sɛ beri beri, very telly
Biggie biggie, heavy heavy
Me de hyɛ asiɛ hɔ, saa na yɛ yɛ no
Gbushia me eh, saa na me pɛ no
Eduru anadwo na me nni hɔ, ne ho tɛ no
Me hyeda, me de tɛ no – Medikal
Odo, wode w'adiɛ no kum me
Me gyem'nti a dada na girl no ɔnbu me (Tom!)
Mayɛ nkɔ Kukurantumi
Sɛ w'ano ka ma no pɛ na wɔse gu me
Fa me yɛ nea wopɛ na wodɔ no ka akoma
Onim nea me pɛ, ɔde sisi me sɛ adowa
Yɛ me gyimi gyimi na mɛ sum sɛ akowa
Anadwo wi me be tua ma me sa akoa
Ah, wo bɛ te bobolebobo ay
Wo bɛ ba na yɛ sa hip-hop ay
Yɛ di nkɔra gorɔ, tsetsekule
To me bo a we wo sɛ chicken filet – Sarkodie
MARRIED TO THE GAME
This was heavy Charley. Before we even get started, Let me remind everybody that Sarkodie recruited his twin to put out this record. Cassper Nyovest is somewhat the closest thing to Sarkodie you can ever find. Both of them had a long ride coming up to become the giants they are today. Sarkodie for Ghana and Cassper for South Africa. Both are somewhat of the same status in terms of recognition, sales and awards and both are somewhat at the same financial status and I can boldly say if it was ever a time for storytimes, these two have a similar story to tell which is, from the trenches to the top.
How have these two maintained their dominance this far though? They are here to remind you on this record that, They're simply married to the game and there's no way they are ever going to take a break because this is what they have always wanted to do and it is exactly what they will always do despite the obstacles they come up against each day alongside the criticism and shades here and there.
Bibia nyɛ me hu I knew you niggas gon' sellout (Hui!)
Sɛ wo wo me'nkyɛn na wo nyɛ real a get the hell out (Yeah!)
Sarkodie over here says he's even bigger than we think and maybe the only reason we can't see it is because we are looking at his success from the wrong lenses. At his level, he just doesn't see why people should be thinking he should put the buzzing acts around the world to seal off his supremacy.

"They don't wanna give what I deserve (Yes!)
After nea mayɛ nyinaa you people got the nervе (Now!)
Mo fi sɛ mɛ falli dier you smoking on some herb (Hui!)"
When you've given it your all but people still sleep on you and refuse to accord you with the respect you deserve it hurts. Sarkodie was the very man who put Ghana on the map in terms of rap and brought the attention of foreigners to our blazing music scenes which penned the doors for many to sell themselves out on international platforms but despite all this, people don't want to credit him with the respect he deserves for this good work done.
Used to preach about the fuckin' unity (Now!) but nkɔla no disrespecti me with impunity (Ha!)
Wan' na ɛkyɛrɛ mo kwan no, wan na ɛma mo the opportunity (Yes!)
And it goes on and on again so much that the very young kings he put on started to disrespect him and do their thing with some unhealthy drama and feuds that was never going to take them anywhere. We have a name tho but let's wait. He further went on to question these very young rappers about who gave them the chance and opportunity apart from him. How can you stain the name of the very person who gave you a platform to showcase your skills to the world?
The case of Strongman and Teephlow is what comes to mind. Sarkodie put both of them on a song and let them do their thing as one people and even signed strongman to his record label where he undoubtedly had the best moments of his music career but that never seemed enough for him. He preferred to reignite his feud with Teephlow and even pick up more fights with almost everyone including leaving Sarkcess music and subtly jabbing Sarkodie. Where is the unity the king taught them?
"King Sark said that he gon' rap until he's 80 (What?)
I'ma rap until my fuckin' baby got a baby
Then I'll think about quittin', stop killin' y'all maybe, crazy
That nigga gon' post about his granddad"
Cassper Nyovest on the other hand came strapped with bars Charley. Even though he doesn't plan on quitting but at a point, he will and that point is after he welcomes his grandkids. That is no time soon but yeah he respects Sarkodies choice to stay up in the game till he is 80. All I see here is mutual respect for his brother. Aside from that he pointed out that every other rapper out there mostly in South Africa should feel troubled because only the arrival of his grandkid will make him stop killing them. The evidence is there because ever since he came up, he's been bullying them at everything, and thus message somehow goes directly to his rival AKA. Production credit of this song goes to ALTRANOVA.
ANYTHING
There is a reason why Sarkodie said this was his favorite. It's personal for him and mostly aimed at the social media keyboard gangsters, the by force celebrities and pundits as well as bloggers who will somewhat do any dumb thing to get some attention. The era of social media brings the culture of fake life and the abuse of freedom of speech. This is what Sarkodie intended to bring to light and shed a couple of advice concerning the issue.
Niggas could do anything for clout
Attention n'ba diɛ obaa yi wo blouse
You go trend, even when the shit is going south uh
Anything for the clout baby even if it is going to ruin their lives. What's the goal here tho. All this flexing and forcing everything just to get noticed is disheartening. Obidid wants to ask how far are you willing to go? Let's not forget his shoutouts to our Snapchat billionaires whose main motive is to fake it.
Boys na mo to pressure wɔ Snap
Mo de Belaire gu mo Rollie so wɔ club
I hope you making it in real life 'cause sɛ wo fake na yɛ kyi wo it's a wrap uh
Here, Sark hopes that those who flex in clubs by pouring expensive drinks on their watches are really successful in life because their reputation would be tarnished if people were to discover it's the opposite. What at all do you want to prove tho?
Try to keep it real
Yɛ w'adiɛ na forgetti how other people feel
Wo bɛ claimi Shatta, bɛsidɛn na girl no n'to wo bill
Sika competition, see the people you dey kill
The second verse is where the advice came in as the rapper gave some advice on staying out of this pressure zone and living our best lives. No pressure here Charley. ad this reminds us of a song one underground rapper called Momskid dropped a year ago also titled no pressure where he emphasized that he's seen a lot of guys flexing ad all things but none moves him because he's just living his life and that's how it should always be. Sarkodie gives similar traits of advice to what Momskid contemplated.
LISTEN: Momskid – No Pressure (Ft. DropLord)
Anything is a hard one and juiced with every element one will expect to find in a rap song. Sarkodie really flourished here and we hope he will be doing more of such because it is annoying the lengths such fake people with their fake flex pushes the youth to the hunt for shortcuts to extreme wealth. Once again, AlTRANOVA handled the production of this classic. In years to come, we will still be taking references from this song and that is on God.
FIREWORKS
This was the most anticipated song off the album and like usual, Sarkodie served it hot and saucy. The best Sarkodie is the Sarkodie who tells stories. The last time we ever had such a piece from him was his Mary album back in 2015. Who wouldn't kill to hear Sarkodie tell stories? This time around he was accompanied by top American rapper Wale with backing vocals from UK singer and songwriter Moelogo. Here is a song everyone looked forward to the moment Sarkodie dropped the cover art and tracklist for the Album and our anticipation was quenched with something glorious.
Meeting someone and falling for the person but the person is stuck in a dilemma of trust due to the experiences of past relationships is something we can all relate to. Here you have to prove to this person that things are going to be different with you and you have to keep your promise of not taking this person through the drama and trauma they already experienced. Sarkodie gave us a perfect account of such a story in the most poetic and amusing way. After listening, all you have to do is put things in order and act like a human for once if you ain't walking the path of loyalty and a beautiful union.
Moelogo gave us the perfect opening hook as Sarkodie began his first verse about how he met this lover of his lover all the way to the plans they made about marriage and finally doing it. Despite the ultimate display of love and affection Sarkodie is showing towards his lover, Her trust issues still be making the most out of her and it's something disturbing despite putting a ring on her finger and giving her his last name. What we take out of this is that whatever she went through in her past left a big wound in her heart and this wound isn't willing to heal he just ain't willing to get over it and open a new chapter to put the past aside and embrace the future ahead.
Sarkodie on the other hand is willing to prove to her that she and love again are ready to make her not just believe it but see it. This is a word to everyone out there to treat their partners good because some terrible things are once done, can never be undone and the damage it leaves behind sometimes never heals.
Wale came with his sauce as he also gave us a story opposite to what Sarkodie gave. He's given his trust and love to this very wonderful woman of his dreams but she on the other hand is giving him a billion reasons to regret this trust in her. Moelogo did his generous part but was adjourned as a backing vocalist instead of getting featured as a contributing artist. A controversy we are waiting to be cleared. Anyway, Production credit for this classic jam goes to the beat-making duo Obi 'O1' and Uche 'U1' known together as Beatfreakz.
Whipped
This someway begins part two of the No pressure album. The hip-hop songs did their part and now it was time for other genres to work their magic in our ears. As he said, he wants us to enjoy some good music from him because he owes us that. What's more beautiful than whipping with a perfect love jam especially on a hot afternoon. If it's from Sarkodie you are blessed but if it also comes with Darkovibes then oluwa ni Charley. endless vibes and something.
Sarkodie recites love messages to his love explaining to her that he got two eyes and both are on her only. Whoever this lady is trust me she's about to get locked up in the arms of Obidi for eternity. Darkovibes on the other hand pulled up with the multi-genre vibes, as usual, to give us the perfect hook to bridge the two extraordinary verses from Sarkodie. This song was made to be enjoyed and not judged and within it lies a million pickup lines you can also use on your lover to spice your romantic journey up. Production credit goes to MOG Beatz.
DESERVE MY LOVE
Another love jam to bless us and yeah it comes with another story. What is it this time? Sarkodie is here to write a couple of love letters to his lover just to remind her that among the billion ladies in the world, she's the only one who deserves all his love.
Let's take a minute, you know I'm yours
They can hate, no remorse
Baby you got it, you got the sauce
Yɛn yɛ no official 'cause I ain't taking no loss
I see the blessings, I see the flaws
Sɛ w'anfa wo dɔ no anma me a mɛgye no force
Shit is for life, no divorce
I had to put some diamonds on it just because
Wo dɔ yɛn tɔ no wɔ store
Nothing is coming between the love and admiration he's got for this lucky woman and no matter what anyone thinks he's all for her which is why he wanna make it official by wedding her and making sure the whole world gets yo know that he's tied the knot with her forever and also with a diamond ring to symbolize how special she is to him. Let's not forget the part where he swore that it's forever.
It almost seems surprising to hear Sarkodie singing his own chorus for once because he mostly recruits the finest singers to do their thing. This time around he decided to do it himself and it's somewhat evident he doesn't need someone to help him express his heartfelt love to this special person. Here's a song you can really sing to your lover as well and get her drooling all over you and that's if you feel she deserves your love that much. As usual, production credit goes to MOG Beatz.
DON'T CRY
Since we all love it when Sarkodie tells stories, here is another one dubbed Don't cry. This slow melodic tune comes with a wonderful man we have absolutely zero ideas about. The emotional attachment to this song is what makes it even better. Sarkodie and Benerl tell us the many tales of long-distance relationships and the many struggles faced whiles also giving out some tips to keep the love strong despite the distance as well as some consolation to warm our hearts.
This is for those who are far away from the love of their life. Don't cry because no matter what, I will be there for you at one point. Benerl who seemed to have made his official debut on this song showed so much potential with his soothing voice and emotionally triggered lyrics. He looks like someone we will be expecting something great from and we thank Sarkodie for introducing him to us.
Sarkodie on the other hand gave us another thrilling story about his lover's departure outside the country and the many conversations they had to keep the love brewing in the pot. He did it with so much perfection like he always does to churn out an unforgettable classic. He somewhat brought a similar aura like that of Asem and Kwabena Kwabena's Bye Bye song but just that we can't argue about who did it better.
One more notable fact we can't ignore is the fact that Sarkodie decided to deliver both verses strictly in his mother tongue which is twi. This is something he mostly doesn't do as he is fond of mixing up multiple languages but this time around, he decided to bring the Mary vibes back as he reminisces on the departure of his lover whiles Fantasizing about things he is willing to do when she returns to cover up for the times spent apart.
Sarkodie just be out here giving everyone bundles of reasons why his craftsmanship should always be respected. Only a few current rappers hold dominance in the use of the twi language and Sarkodie seems to always have a place as one of the best if not the best. I would have labeled him the best rapper when it comes to the use of twi but yeah Pure Akan is still alive. As usual, the production credit of this song goes to MOG Beatz.
I WANNA LOVE YOU
Some say love knows no bounds, some say love knows no limit and some believe love can be the opposite whiles others argues that love can be anything because nobody really knows what love is and what fuels it. Every love affair got what keeps its flame burning be it money, honesty, lies =or whatever. Over here, Sarkodie gives a clear and pictured story about himself and his lover and their lifelong journey of over 17 good years. How they have endured the good, the bad, and the ugly altogether. He narrated to us that, despite the ups and downs, this lady never left his side but rather chose to stick with him throughout all the lifelong drama.
Over 17 plus and we still here
After losing all the money girl you still there
Even if I end up in a wheelchair
I know say you never go let me down
Nea w'ayɛ a'mame no baby you deserve a crown
What goes around comes around
According to Sarkodie, this lady deserves nothing but an ultimate crown in his heart and she deserves all his love for all the love and support as well as motivation she gave him. Not everyone will be lucky to have such a woman in his arms and if you have doubts that such a woman exists, Sarkodie's very own wife Tracy Sarkcess is a perfect example of such a lady and we are obviously convinced that he took inspiration from his own life story to churn out this tune which he recruited Harmonize from Tanzania to help him whip it down.
I wanna love you all my life
I wanna hold you, hold you tight
Harmonize really worked his magic around the song as Sarkodie threw the two verses down our throats. When some are there for you this much all you have to do is appreciate her with a lifetime assurance and respect. That is all that this joint expects of us all. Production credit of these songs goes out to MOG Beatz.
NO FUGAZY
So once upon a time on Twitter, this fine lady took to her timeline to tweet that, A lot of people are dripping with body odour and it's not funny. Despite how disrespectful this sounds, she still had a point. People off-late are so focused on leaving behind an impression wherever they happen to find themselves. Taking all these flashy pictures is 5star locations to throw on the gram and give out some intriguing captions here and there. If you're not careful you might think everyone o social media is into modeling.
'No Fugazy' is the first song released from Sarkodie's seventh studio album 'No Pressure'. This song's main motive was to shut all these fake driplords up and remind them to stay in their lane with their fake costumes. Knockoffs of firebrands are the easiest things to find in the market and you might think they are original. Someone had to start throwing some light on the issue and it started with Emmanuel Sandyman popularly known as Firesticks who went for the head of celebrities who kept wearing fakes and knockoffs which are popularly referred to as "BANKU".
This song hits hard at people who patronize substandard accessories and wear fakes or knock-offs, which is reinforced by the song's title, "No Fugazy". Sarkodie raps about his well-earned wealth, which he uses to buy expensive but authentic clothing. He goes on to remind everyone to wear original or sit down somewhere. The shades down the drain of this song got some specific targets we dare not mention their names but we will. Shoutouts to Dancehall king Shatta Wale because we have lost count of how many times he's been busted wearing fakes.
You know the drip is very necessary
Anytime you pull up, you got to be scary
Sɛ'ba no shopping aa, bisa me nnipa Terry
Wo nni Gucci dough no ah, kɔ pɛ Kula Perry
Kula Perry is a Ghanaian street fashion designer who has styled many Ghanaian celebrities including Sarkodie. In line with the general sentiment on "No Fugazy", Sarkodie would rather people patronize Kula than settle for knockoffs when they can't afford Gucci. Production credits go to Nigerian artiste and music producer Rexxie.
Non Living Thing
Okay, so this is an anthem for all the guys out there who got laid on the street tendencies of women. The popular Misogyny saying is that Focus on yourself king. Why is that? Because women will show you. This is plain and simple but it seems like most people are always missing the point here. Sarkodie recruited Oxlade on this heartbreak jam to tell us the story of how a lady he met thinking they were going to have a lifetime together left him devasted with the worse heartbreak which reduced him to a non-living thing.
left devasted and unable to think straight, Oxlade whispers to us in the perception of himself question why she had to do him this dirty before Sarkodie set in to give us details of the whole issue starting from their early days all the way to the current state of affairs. In the representation, He threw light on his first similar experience and how he never learnt from it and partially blames himself for all of it whiles breaking it all down and shifting the agenda on the biased treatment of the male in society.
Mmaa bɛ cheati but bɛɛma it's not allowed
I swear to God sɛ bɛɛma bia was born faithful until the first female suddenly broke a vow
He went on to stress about giving the woman in question the very much respect she is to e accorded because he was raised well but it seems like she wasn't cut for that. All of this love, affection and respect he showered on this woman despite his financial struggles was nothing to write home about after this same woman met some old rich man ad decided to take the path of gold-digging by leaving him to rot with all his frustrations and heartbreak.
Wei mo nyinaa besi dɛn na boys nnyɛ fraud
Ɛba no tackle tackle kra mɛ pushi drug
Sika yɛ sika, legitimate anaa sɛ blood
Na me fi sɛ we go ride until the end
Nanso all along you dey pretend
Damn, I guess I lost a friend
Thought I got it figured, there's a lot I need to learn
Now that she's out of his grasp due to his poor financial status, he finally understands that money is very necessary for all things and he finally understands why the youth are all into fraud. To his realization, money is money no matter its source and one must find it at all costs or his life will forever be a misery. If he had money, there was no way Alahji would have claimed his lover. This is a dog for us the youth and teens coming up. In all things, focus on money. If her name isn't bag, don't chase her. Production credits go to Nigerian sound engineer and record producer DJ Coublon.
I'll Be There
Well, Sarkodie dropping a gospel themed song shouldn't surprise you because it is something he mostly does and since we haven't really caught much of this kid in a long while he may be decided to put one on the No pressure album especially as the last song to thankfully round the whole project up in praises and adoration of the almighty for all that he's done for him.
Accompanying Sarkodie is award-winning Gospel act MOG Music who is undoubtedly the hottest gospel act in Ghana at the moment with perfect and soothing vocals which won him the best male vocalist twice in a row at the Ghana music awards. Sarkodie got every reason to be thankful for his life, his career, and his family. Some years back, he escaped a near-fatal accident and since then we always knew he owed the good lord on the joint as a token of appreciation for all the goodwill and prosperity.
Escaping an accident somewhat brought him closer to God ad reminded him that there was a greater power backing him and his many endeavors in life. With all this said he doesn't need a reason to thank his maker because he knows perfectly well he set him up on this path to achieve greater heights. We won't say much about this because it is highly anointed. He says, whatever you need, wherever you're, call on me and I will be there for you Amen. Production credits of this song go to Kaywa.
OVERALL REVIEW
The No Pressure album came with a bang but the question still remains where it stands among Sarkodie's catalog of albums, is it the best or the worst. We can't call it the best nor can we dare classify it as the worse. No pressure is a decent album you can't skip a single song but with all honesty, it doesn't come near the likes of Mary and Black Love. We can classify it as the third-best Sarkodie studio album out of the six.
This absolutely enjoyed the most anticipation and hype and stood its ground to take control of Social media trends but we honestly can't say the same for its patronage. The first-week projection of streams and sales is nothing to write home about especially with the massive hype it generated. Either way, the day ain't over yet and we are confident it will turn around and pull the numbers it's destined for.
One perfect thing about this album is that every single feature was exactly what was deserved. Sarkodie undoubtedly got an eye for selecting who to put on a song and this album is a perfect representation of this attribute of his. Everyone featured played their part perfectly well except for Giggs. No offense but he didn't deserve a spot on the lineup because we barely saw what he brought to the table. It will be understandable to say his presence boosts the value of the album but at the same time, he turned out a liability here.
With everyone executing his part perfectly, we will give heads up to Darkovibes as the ultimate standout feature for working his magic on that Whipped song. Next to him is MOG music for also delivering a perfect blend with a circular artiste. Perhaps I'll be there will be suitable for plays everywhere music can be played. Notable mentions to Benerl for captivating our hearts with somewhat his debut and we will be expecting something from him soon else we might mount a demonstration against him.
Overall, No pressure is the best album so far this year and we are hoping it turns out the best throughout that's if any other artiste fails to raise the bar higher than Sarkodie did. We will be expecting nice music videos for every single song here and we will urge all to continue streaming as we enter the second week of the album's release. Our honest rating of the album is that it is an okay album for us and somewhat leveled up our expectations. NO PRESSURE is a solid 7/10 Album.
We are hoping the next time Sarkodie comes with another album, he raises the bar higher. Thank you for reading.
Sarkodie – No Pressure Album Review was exclusively carried out by the entire Hitz360.com editorial team. We consider this a solid 7/10.
Do You Wish To Upload or Promote Your Song on Our Website?. Call Us 020 531 2345 or email us at [email protected]