Tommy Lee Sparta – Guzu Bounce Ft. Ding Dong & Dinesty King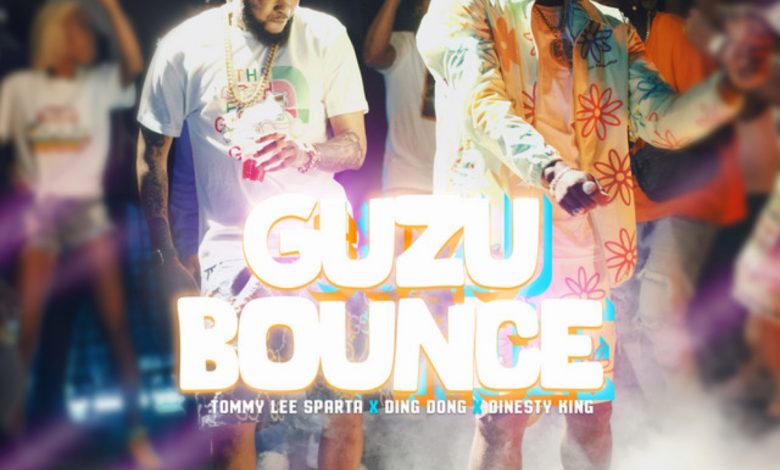 In the vibrant world of Jamaican dancehall music, the names Tommy Lee Sparta, Ding Dong, and Dinesty King command attention and respect. These talented artists have recently come together to create an enthralling new track titled "Guzu Bounce," produced by Dinesty King himself.
"Guzu Bounce" marks an exciting collaboration that showcases the unique styles and talents of each artist. Tommy Lee Sparta, known for his dynamic vocals and electrifying stage presence, brings his signature flair to the song. Ding Dong, on the other hand, is celebrated for his energetic dance moves and infectious rhythms. With Dinesty King's production expertise, the trio aims to create a track that will undoubtedly make waves in the music industry.
This collaboration holds significant meaning for each artist involved. For Tommy Lee Sparta, "Guzu Bounce" follows the release of his previous hit single, "Energy." With his new song, he continues to push the boundaries of his creativity and mesmerize audiences with his unmatched musical prowess. Likewise, Ding Dong, a seasoned performer, and crowd favorite, brings his infectious energy and charm to the track, elevating its overall appeal.
As the mastermind behind the production of "Guzu Bounce," Dinesty King demonstrates his versatility and skill as a producer. Having worked with numerous notable artists in the past, Dinesty King is known for his ability to create innovative sounds that resonate with listeners. Through his collaboration with Tommy Lee Sparta and Ding Dong, he strives to deliver an immersive auditory experience that will leave a lasting impression on fans worldwide.
It's essential to highlight the significance of this collaboration in the broader context of Jamaican dancehall music. Dancehall has a rich history and cultural influence, and it continues to evolve with each passing generation. Collaborations like "Guzu Bounce" showcase the genre's ability to adapt and embrace new sounds and styles while maintaining its authentic essence.
"Guzu Bounce" is a powerful demonstration of the enduring popularity of dancehall music and its ability to unite artists from different backgrounds. Through their collaboration, Tommy Lee Sparta, Ding Dong, and Dinesty King create a seamless fusion of their individual talents, resulting in a song that promises to captivate listeners and set dancefloors ablaze.
We invite you to listen to "Guzu Bounce" below and immerse yourself in the infectious rhythms and vibrant energy that these talented artists bring to the table. Feel free to share your thoughts and let us know how this collaboration resonates with you. Dancehall enthusiasts and music lovers alike are in for a treat with this exhilarating track.
Do You Wish To Upload or Promote Your Song on Our Website?. Call Us 020 531 2345 or email us at Info@hitz360.com