Sarkodie – Try Me (Yvonne Nelson Reply)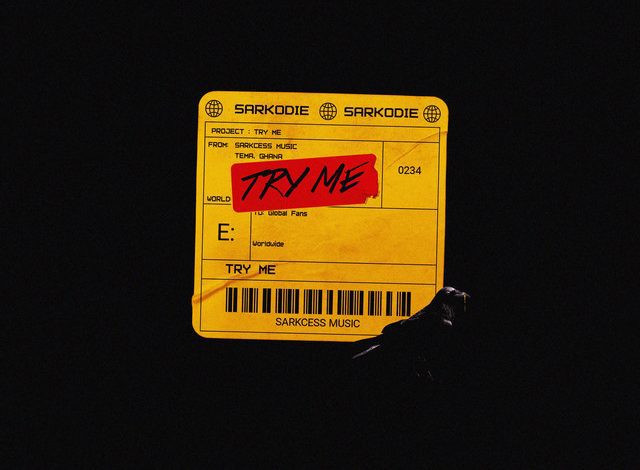 Ghanaian rapper Sarkodie has recently made a much-anticipated return to the music scene with his latest release, a song titled "Try Me." After a considerable break from releasing new music, fans of the artist were thrilled to hear his distinctive voice once again. Produced by MOG Beatz, this track showcases Sarkodie's lyrical prowess and musical versatility.
The title of the song, "Try Me," has caught the attention of many, sparking speculation about its meaning. Some believe that it could be a direct response to Ghanaian actress Yvonne Nelson, who recently published a book titled "I am Not Yvonne Nelson." In her book, Nelson made allegations against Sarkodie, claiming that he had coerced her into having an abortion back in 2010. While this connection is purely speculative, the title certainly adds an intriguing layer to the narrative surrounding the song.
"Try Me" is a captivating piece that exemplifies Sarkodie's signature style. The song blends elements of hip-hop and Afrobeat, resulting in a dynamic and infectious sound. With his smooth delivery and thought-provoking lyrics, Sarkodie effortlessly commands the attention of his listeners. The track serves as a testament to his immense talent and ability to connect with his audience.
Produced by the talented MOG Beatz, the song's production is top-notch. The infectious beats, catchy melodies, and skillful arrangement create the perfect backdrop for Sarkodie's powerful verses. MOG Beatz's contribution to the song adds an extra layer of depth and ensures a memorable listening experience.
"Try Me" is a track that demands to be shared. Sarkodie's long absence from the music scene has only amplified the excitement surrounding this release, making it a highly anticipated moment for his fans. The song showcases his growth as an artist and his ability to captivate audiences with his unique blend of storytelling and musicality.
As fans eagerly delve into the world of "Try Me," it is important to appreciate the artistry and creativity that Sarkodie brings to the table. The song serves as a reminder of his significance in the Ghanaian music industry and beyond. Sarkodie's ability to consistently deliver quality music is a testament to his dedication and passion for his craft.
Sarkodie's latest release, "Try Me," marks his return to the music scene after a notable hiatus. Produced by MOG Beatz, this song is a captivating and powerful piece that showcases Sarkodie's musical prowess. While the title of the song adds an intriguing layer to its narrative, it is important to focus on the artistry and talent exhibited by the artist. "Try Me" serves as a reminder of Sarkodie's significance in the music industry and his ability to captivate audiences with his unique style. Listen to the song, enjoy the beats, and share it with fellow music enthusiasts who appreciate the magic that Sarkodie brings to his craft.
Do You Wish To Upload or Promote Your Song on Our Website?. Call Us 020 531 2345 or email us at Info@hitz360.com