Obrafuor Vs Lord Kenya Is The Greatest Beef In Ghana Music History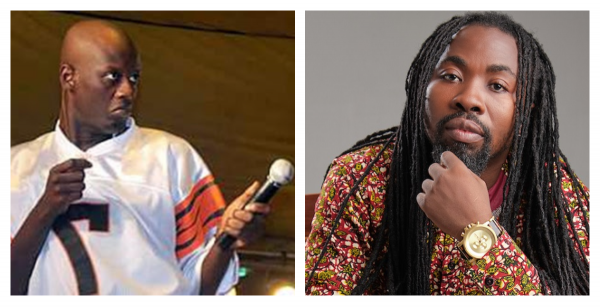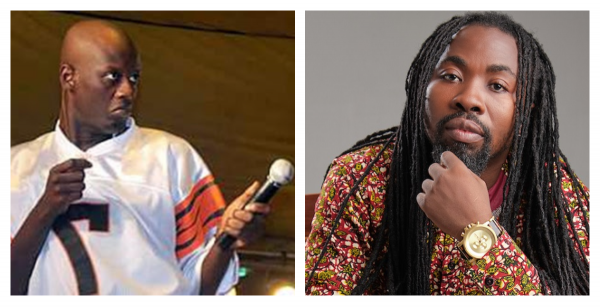 Obrafuor Vrs Lord Kenya Is The Greatest Beef In Ghana Music History. Whenever the discussion is about music beef and feuds we will be quick to point out which was the best in accordance with how much that particular feud or beef thrilled us. Many will point out the likes of Sarkodie vs Manifest or perhaps Yaa Pono vs Shatta Wale or Maybe Shatta Wale vs Samini.
The list might be endless but I won't take out the fact that we rate these feuds so highly because we got to witness them to our understanding. Way before this new era feuds lived the mighty old school feuds which happened whiles we were probably in diapers eating sand or perhaps not matured enough to decipher what was happening around us.
I won't waste much time taking you through the many that happened way back but I will walk us through the most vital which goes down as the greatest the Ghana music scenes have ever witnessed. Ladies and Gentlemen, the music scenes were the world of Lord Kenya and Obrafuor whiles we were but natives willing to get thrilled. Their feud was nothing we have ever seen before and I doubt we will ever do.
For almost two decades, none of the pair came out to narrate how their feud started but in an interview with hitz FM on the daybreak show with Andy Dosty, Obrafuor revealed that he wasn't happy about Lord Kenya calling himself the original rap heavyweight after he Obrafour was ordained with the title.
So the genesis of this feud was legit unlike those of today which likey springs out of nowhere. Lord Kenya who was of equal skill as Obrafour found every fault in the latter claiming to be the heavyweight so had to remind the Rap Sofo that the title wasn't a family totem he could get up and claim just like that. It sounded like "well if you want the title then you have to go through me first cos currently I see no one fit to lace my shoes". Lord Kenya encoded the whole message into songs like "ENYOM NO" and "BABY NAYOKA".
Obrafour who wasn't pleased with jabs thrown at him had to do something about it and the results came out a classic. When Obrafour is going to war, he prepares very extensively. He goes into battles to mutilate his rivals. As a reputed rapper whose eloquence and mastery of the Twi language is as impeccable as a seasoned linguist, he chooses his words with care; each lyric carved to pierce the heart and body of his enemy, one line at a time. Obrafour does not attack you with aggression. He strikes with a calm disposition, like a kung-fu master fighting his best student. This demeanor feeds into the popular trope that, reserved individuals could be mean when pushed to the wall.
In 2001, Obrafour released his album ''Asem Sebe'', an eleven-track album on the Bonsu Music Label. "Asem Sebe" was worked on by a host of producers including Edward "Hammer" Osei* (Last 2), Zapp Mallet, David Bolton, Nashe "The Dollarman''. The album boasted a lot of hit songs like ''Who Born You By Mistake', ''Maame', 'Okukuseku', 'Akwantuni', 'Enye Nyame A', 'Bra Be Hw3'. This was released at a period when the rivalry between Obrafour and Lord Kenya was intensifying. Whereas a song like 'Who Born You By Mistake'' was aimed at Lord Kenya, the sublime shots were general in scope. That is, the shots were not linear or directed towards one person. It was presented as a hydra-headed shot at everyone. (Check production credit HERE)
However, that was not the case with ''Asem Sebe'' which was a direct attack on Lord Kenya. The lyrics of the song were fiery, very pointed, and of course, solid. Going to war, sometimes requires the help of an ally. Obrafour found that in Scooby Selah (of the TH4 Kwagees). It is said that the original song had verses from all the members of TH4Kwages. However, Obrafour kept that of Scooby Selah. The feature validated Scooby's own talent as a rapper. Scooby Selah, along with his TH4 Kwagees crew had put out their debut album, "Taxi Driver", with the lead single " Nana Esi" eliciting great reviews. It was, therefore unsurprising to have Scooby run shotgun with Obrafour.
The beats served by legendary producer Zapp Mallet for the song were quintessentially hip hop: it was hard-hitting and sounded aggressive. Scooby Selah opened the song with a verse that was unapologetically warlike. The concept of the song took the form of a court trial where a culprit is having his 'crimes' read to him at a public court. Scooby's opening lines: "Abusua enfr3 yie" (to wit, all those who have gathered here) is a common refrain used when people assemble to discuss an issue.
The 'crimes' of the accused included illegally occupying his throne even though the rightful occupant is around; parading himself as a 'champion atta' (the untouchable), announcing himself as the greatest rapper around.
Rapping in Fante (spoken Takoradi Fante), Scooby Selah played the role of a linguist who prepared the way for Obrafour to hand down his verdict. It's rare to find a guest outshines Obrafour on a record – let alone his own songs. It has happened twice in his career. The first was on ''Asem Sebe'', and on 'Oye Ohene', where a young Tinny took the spotlight. Scooby on ''Asem Sebe'' came very well prepared to make his 1 minute, 18 seconds appearance a memorable one. Not only did he succeed in that respect, but he also out-rapped Obrafour, making him one of the few rappers to do so.
The aggressive tone of Scooby was replaced with Obrafour's calm delivery on the second verse. For Obrafour, ''Asem Sebe'' was his chance to reiterate his credentials as the best rapper: one who has seen enough bullshit that nothing scares him. He tackled those who questioned his 'inadequacy' in English; reminding them of the richness of the Twi language. After a series of proverb-filled renditions, Obrafour closed up his verse with the words: ''I no want talk chaw' (I've said enough). A very majestic ending.
'Asem Sebe' was one of the standouts of an album that celebrated mothers (Maame), praised God (Eny3 Nyame A), outlined the trails of the sojourner (Akwantuni), Friendship (Okukuseku and Twe Ho Wo).
20 years since he emerged on the music scene, Obrafour continues to be an active participant within the space. Unlike most of his compatriots, his star power and relevance have not diminished. He's a sought-after rapper. The veteran has dropped a few singles and blessed other peoples' records with timeless hooks. If one is to make a call based on the activities of Obrafour from last year, we might be fortunate to have an album from him this year – something many are looking forward to hearing. Playing his role as the conscience of society, Obrafour knows when to be a pacifist and when to pull the sword off its sheath and head to the battlefield.
Lord Kenya on the other hand quit the game and went into the work of God. He had an encounter with the Holy Spirit on 28 October 2010 and has not looked back ever since. He is the leader of the Face of Grace Covenant Temple at Ahodwo in Kumasi. He launched his Gospel album 'Christlife' in 2011. He has given up the rights to his hiplife albums and has no interest in their royalties. The switch was not easy in the beginning, especially with his financial status but he was happy with his new life because it would save his soul.
Do You Wish To Upload or Promote Your Song on Our Website?. Call Us 020 531 2345 or email us at [email protected]