Naira Marley – Coming ft. Busiswa (Prod. by Rexxie)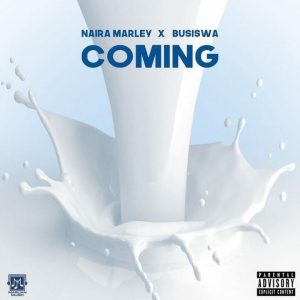 Nigerian gifted singer and Marlian Music pioneer, Naira Marley teams up with South African wordsmith songstress, Busiswa on this massive joint tagged "Coming" The song got production preference from Rexxie. Naira Marley is a singer and songwriter from Nigeria. He is best known as the president of his contentious fan base, the "Marlians." His collaborative effort with South African singer-songwriter and poet Busiswa is one of the best records trending in Africa now.
Naira Marley Coming – Official Music Video.
Naira Marley finally releases the video for his explosive hit 'Coming,' which features South African Queen Busiswa, after much anticipation. The video is already over 1.7 million views on YouTube.
Download below
Lyrics
Haibo
Nang'u Busiswa
Naira Marley a'a seh
Nigeria wo Jamaica
Africa continental
Busiswa de de
Mo tin wa e tey tey (Yo)
Mo fe de de de
Jekin de de de (Yo)
Busiswa de de
Mo tin wa e tey tey (Yo)
Mo fe de de de (Yo Rexxie pon this one)
Jekin de de
They go sucking, fuckin', orgasm, vagasm
Shiverin', cummin', touchin', kissin'
In the rain, in the sun
Upstairs, downstairs
In the car, bedroom
Sittin' room, boom boom
I am coming (ohhh)
I am coming (ohhh)
I am coming (ohhh)
I'm coming
I'm coming (ohhh)
I'm coming (ohhh)
I'm coming (ohhh)
I'm coming
Sporlin, missionary (oh-yoi)
Doggy style, cowgirl (oh-yoi)
Climb on top, or should I come on top? (oh-yoi)
Sloppy top, don't stop (oh-yoi)
I'm coming (are you coming?)
I am coming (are you coming?)
I am coming (are you coming?)
I am coming (are you coming?)
I am coming (are you coming?)
I am coming (are you coming?)
I am coming (are you coming?)
I am coming
I am coming
When I push it in
All in, my thing, hard thing
Oh-ohh, ayy, oh-ohh
She say oh-ohh (oh-ohh)
Ayy-ayy (ayy-ayy)
Oh-ohh (oh-ohh)
Ayy-ayy (ayy-ayy)
We've been smokin', drinkin'
Loving, loving, loving, loving, loving
We've been smokin' and drinkin' and lovin'
Good Loving, loving, loving, good loving
Une glow
Uvele endodeni
Ndode-de-de-de
Ndode-de-de-de
Hey, une glow (une glow)
Uvele endodeni (endodeni)
Ndode-de-de-de (ndode-de-de-de)
Ndode-de-de-de (ndode-de-de-de)
Hey, indode-de-de-de
Ndode kuvele
Ndode ivele kudeni
Uvele endodeni
Indoda embhedeni
Indoda injeng'etheni
Muthi wakwaha for life
Muthi wakwa mai
Gat this wet ass puxxy
My name is Busie
I keep you busy
Eh is all a hustle
Busiswa de de (ndim lo)
Mo tin wa e tey tey (yea')
Mo fe de de de
Jekin de de de
Busiswa de de
Mo tin wa e tey tey
Mo fe de de de
Jekin de de
Yebo
Mo fe de de de
Mo fe de de de (hello)
Mo fe de de de
Mo fe de de de (hello)
Mo fe de de de
Mo fe de de de (hello)
Mo fe de de de
Mo fe de de de (hello)
South Africa stand up
Nigeria stand up (Yo)
Stand up, Marlian stand up
Stand up, South Africa stand up (Yo)
Nigeria stand up (Yo Rexxie pon this one)
Marlian stand up
Songwriters: Naira Marley
Do You Wish To Upload or Promote Your Song on Our Website?. Call Us 020 531 2345 or email us at [email protected]