Frank Naro – Ye Gyina Mu (We Still Dey) Ft. Amerado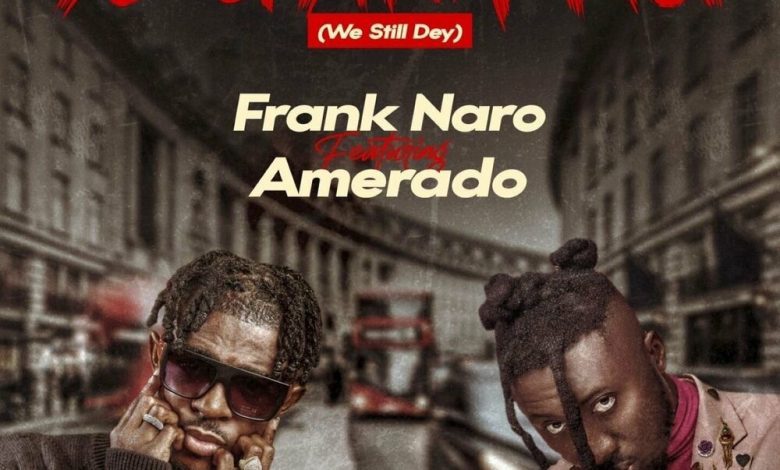 Ghanaian musician, Frank Naro, has once again proven his musical prowess with the release of his latest track, "Ye Gyina Mu," featuring the talented rapper, Amerado. The captivating song, which translates to "We Still Dey," is a heartfelt and rhythmic masterpiece that promises to resonate with fans and music enthusiasts alike.
Frank Naro's decision to collaborate with Amerado has proven to be a stroke of genius, as their combined artistry and unique styles blend seamlessly in "Ye Gyina Mu." The song's melodic flow and engaging lyrics highlight the duo's musical chemistry, captivating listeners from the first note to the last.
In "Ye Gyina Mu," Frank Naro expresses a powerful message of resilience, emphasizing the strength to endure and persevere through life's challenges. The lyrics showcase the undying spirit of the Ghanaian people, demonstrating their determination to face obstacles head-on while maintaining hope for a brighter future.
The song's beat is a fusion of contemporary Afrobeat and traditional Ghanaian rhythms, providing an irresistible groove that compels listeners to dance along. It's no surprise that "Ye Gyina Mu" has been rapidly gaining popularity in Ghana and beyond, with fans praising its catchy tune and heartfelt message.
As the first release of the month, "Ye Gyina Mu" sets the bar high for Frank Naro's future endeavors, leaving fans eagerly anticipating what other musical gems he has in store. The artist's consistent ability to create meaningful and entertaining music has solidified his position as one of Ghana's most respected and beloved musicians.
For those who haven't yet had the pleasure of listening to "Ye Gyina Mu," the track is available on various streaming platforms, offering fans the opportunity to connect with its powerful message and captivating soundscape. Frank Naro and Amerado's collaboration is undoubtedly a highlight of the Ghanaian music scene, underscoring the depth and diversity of talent within the country's vibrant musical landscape.
The release of "Ye Gyina Mu" not only reinforces Frank Naro's musical prowess but also serves as a testament to the continued growth and evolution of Ghanaian music on the global stage. By blending tradition with modernity and storytelling with catchy rhythms, Frank Naro and Amerado have succeeded in creating a song that bridges generations and cultures, appealing to a broad and diverse audience.
"Ye Gyina Mu" is a musical triumph that showcases Frank Naro and Amerado's exceptional talents and their shared commitment to producing music that uplifts, inspires, and unites people. As fans continue to listen and share their thoughts on the song, it is evident that "Ye Gyina Mu" will leave a lasting impact on the hearts of music enthusiasts worldwide, solidifying its place as one of the standout tracks in Ghanaian music history. So, let the rhythms of "Ye Gyina Mu" take you on a journey of hope and resilience – a reminder that, indeed, "We Still Dey."
Do You Wish To Upload or Promote Your Song on Our Website?. Call Us 020 531 2345 or email us at Info@hitz360.com