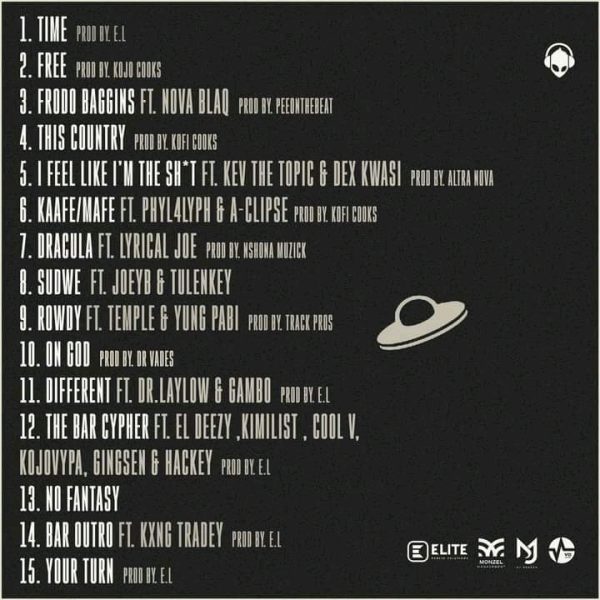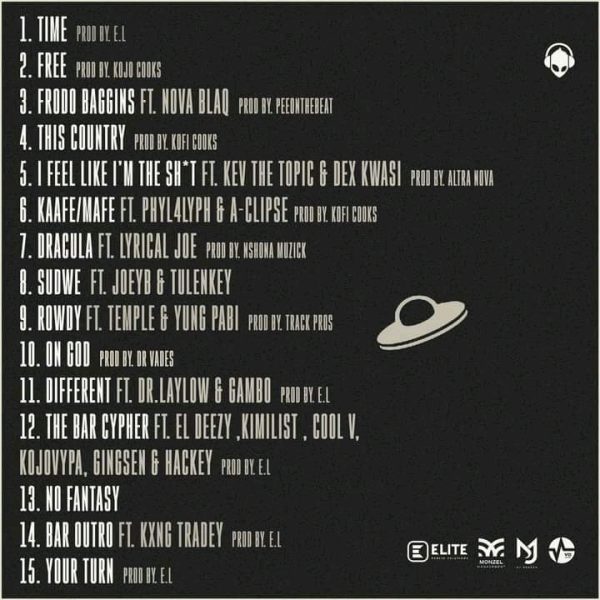 Ghanaian award-winning rapper, E.L has released his much-anticipated project dubbed "BAR 16" album.
Consequently, "BAR 16" album is a 15-tracks project that had a guest appearance from Kev The Topic, Dex Kwasi, Phyl4lyph, A-Clipse, Lyrical Joe, Joey B, Tulenkey, Temple, Yung Pabi, Dr. Laylow, Gambo, EL Deezy, Kimilist, Cool V, Kojo Vypa, Gingsen, Hackey and Kxng Tradey.
"BAR 16" album guarantees production assistance from PeeOnTheBeat, Nshona Muzick, Altra Nova and others.
BAR 16 Tracklist Below;
1. E.L – TimeDOWNLOAD MP3
2. E.L – FreeDOWNLOAD MP3
3. E.L – Frodo Baggins ft. Nova BlaqDOWNLOAD MP3
4. E.L – This CountryDOWNLOAD MP3
5. E.L – I Feel Like I'm The Shit ft. Kev The Topic & Dex KwasiDOWNLOAD MP3
6. E.L – Kaafemafe ft. Phyl4lyph & A-ClipseDOWNLOAD MP3
7. E.L – Dracula ft. Lyrical JoeDOWNLOAD MP3
8. E.L – Sudwe ft. Joey B & TulenkeyDOWNLOAD MP3
9. E.L – Rowdy ft. Temple & Yung PabiDOWNLOAD MP3
10. E.L – On GodDOWNLOAD MP3
11. E.L – Different ft. Dr Laylow & GamboDOWNLOAD MP3
12. E.L – The Bar Cypher ft. El Deezy, Kimilist, Kojo Vypa, Cool V, Gingsen & HackeyDOWNLOAD MP3
13. E.L – No FantasyDOWNLOAD MP3
14. E.L – Bar Outro ft. Kxng TradeyDOWNLOAD MP3
15. E.L – Your TurnDOWNLOAD MP3