DJ Skratchez Ft. DJ Pancake – Party Pressure (Mixtape Vol 1)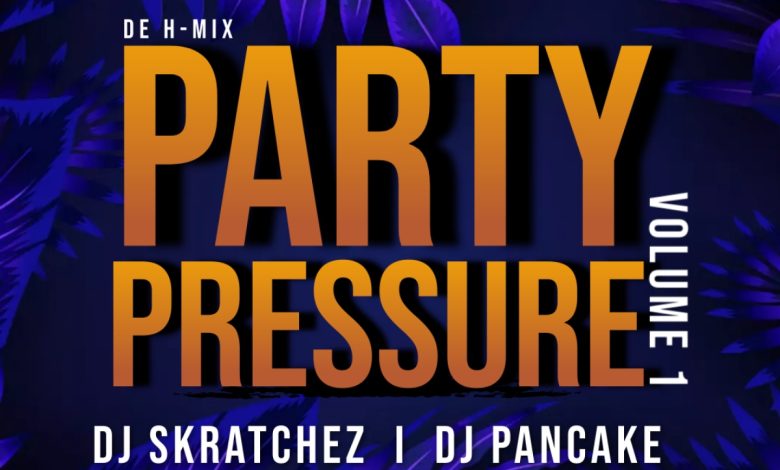 DJ Skratchez and DJ Pancake, who have joined forces to create an explosive mix titled "Party Pressure." This mix is a high-octane musical journey that will undoubtedly set dance floors ablaze and keep partygoers on their feet all night long.
DJ Skratchez and DJ Pancake are no strangers to the music scene, and their individual prowess as disc jockeys has garnered them a loyal following of music enthusiasts. Now, with their powers combined, they are set to deliver an unforgettable experience that promises to push the boundaries of what a party mix can be.
"Party Pressure" is a sonic masterpiece that showcases the exceptional skills and artistry of both DJs. From the very first beat, the mix wastes no time in establishing its infectious energy, drawing listeners into a world of pulsating rhythms and electrifying melodies.
What sets this mix apart is the seamless integration of various music genres. DJ Skratchez and DJ Pancake fearlessly blend chart-topping hits, classic anthems, and underground gems, creating a unique sonic tapestry that appeals to a diverse audience. It's this ability to cater to different musical tastes that makes "Party Pressure" a surefire hit at any event.
Moreover, the chemistry between the two DJs is evident throughout the mix. Their intuitive understanding of each other's styles allows them to effortlessly build on each other's selections, creating an exhilarating back-and-forth that keeps the energy levels soaring.
"Party Pressure" is more than just a mix; it's an experience that transports listeners to a euphoric state of mind. The pulsating beats, infectious hooks, and well-timed drops ensure that the party never stops, leaving partygoers captivated by the infectious energy that DJ Skratchez and DJ Pancake bring to the turntables.
As the mix progresses, it becomes evident that DJ Skratchez and DJ Pancake have carefully crafted a sonic journey with a well-thought-out flow. The mix builds up to climactic moments, where the party pressure reaches its peak, only to smoothly transition into moments of groovy respite, allowing dancers to catch their breath before being drawn back into the dance floor frenzy.
"Party Pressure" is a testament to the power of collaboration in the world of music. DJ Skratchez and DJ Pancake's electrifying mix showcases not only their individual talents as disc jockeys but also their ability to create something truly special when working together. For music lovers and party enthusiasts alike, "Party Pressure" promises an adrenaline-pumping, soul-igniting experience that will leave a lasting impression and have them eagerly awaiting the next collaboration between these two extraordinary DJs.
Do You Wish To Upload or Promote Your Song on Our Website?. Call Us 020 531 2345 or email us at Info@hitz360.com