Braa Benk – I'm Cool Ft. Asakaa All Stars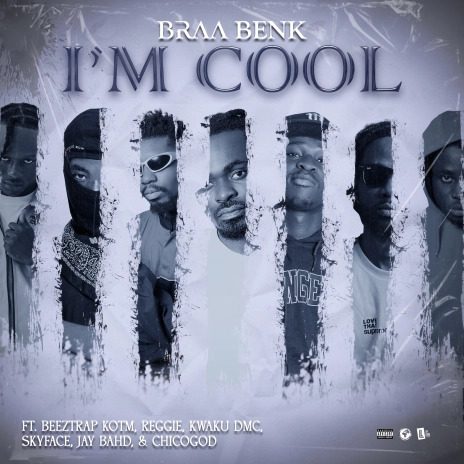 "I'm Cool" by Braa Benk featuring Jay Bahd, Reggie, Kwaku DMC, Skyface SDW, Beeztrap KOTM, and Chicogod is a vibrant and energetic Asakaa or Drill track that showcases the talents of Ghanaian artists. The song combines elements of both genres, creating a unique and infectious sound.
From the moment the song starts, the pulsating beats and catchy melodies instantly grab your attention. The artists deliver their verses with confidence and skill, demonstrating their lyrical prowess and distinct styles. Each artist brings their own flavor to the track, adding to the overall dynamic and collaborative nature of the song.
The production is top-notch, with a polished sound that enhances the overall listening experience. The instrumental blends traditional Asakaa elements with hard-hitting Drill influences, creating a perfect backdrop for the artists to showcase their flows and delivery.
"I'm Cool" is a testament to the growing popularity of the Asakaa and Drill genres in Ghana. The song captures the essence of the genres, with its infectious energy and powerful performances. Whether you're a fan of Asakaa, Drill, or just looking for a high-energy track to enjoy, "I'm Cool" delivers on all fronts.
For those interested in downloading the Asakaa mp3, it is possible to download it from hitz360.
Overall, "I'm Cool" is a standout track that showcases the talent and creativity of Ghanaian artists in the Asakaa and Drill genres. It's an exciting and memorable song that will leave you wanting more.