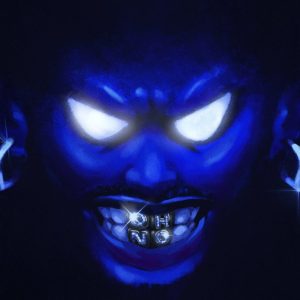 Introducing the electrifying Ghanaian sensation, Black Sherif, as he unveils his latest masterpiece, "Oh NO," a track that aims to ignite inspiration and uplift the souls of its listeners. Produced by the talented Samsney, this song delves deep into the artist's personal struggles, showcasing his unwavering resilience and unyielding determination in the face of life's challenges.
Now, let's dive into the captivating lyrics that may have left you puzzled. Allow me to decode them for you right here:
Right from the start of "OH NO" by Black Sherif, he boldly declares, "Trapping, that's my settings, me and broski dem finessing." Here, Black Sherif reveals that he has been honing his craft, his music, throughout his entire life. The term "trapping" symbolizes his dedication and commitment to his artistry.
Moving on, another line goes, "Y3 sh3 sum mu searching, I don't speak, I just be working (working, working)." In this verse, Black Sherif expresses that he and his comrades have been tirelessly searching in the shadows, silently working towards their goals. They let their actions speak louder than words.
"I know that's a blessing 'cause these boys outside be talking (be talking, and talking)." These words signify that Black Sherif's life has been blessed, and those who are unaware of his secret endeavors will continue to chatter away. Their words hold no weight in the face of his blessings.
Now, let's dive into the chorus, where Black Sherif repeatedly mentions, "Kwaku mensesa da o, No mensesa da o, Oh no menni choice." This emotionally charged verse reveals that what he is doing, his music, is the only path he has chosen. He has no other choice but to stay true to his passion, no matter the obstacles that come his way.
This incredible new song by Black Sherif was skill Black Sherif's powerful chorus in his latest song showcases his unwavering commitment to his music. By repeatedly mentioning "Kwaku mensesa da o, No mensesa da o, Oh no menni choice," he emphasizes that his chosen path is not just a hobby or a fleeting interest, but a deep-rooted passion that defines his existence. Despite the challenges and hurdles that may arise, Black Sherif remains determined to stay true to his art, making his music an integral part of his identity.
Do You Wish To Upload or Promote Your Song on Our Website?. Call Us 020 531 2345 or email us at [email protected]