Apple Music's Africa Now Radio with LootLove this Sunday with Adekunle Gold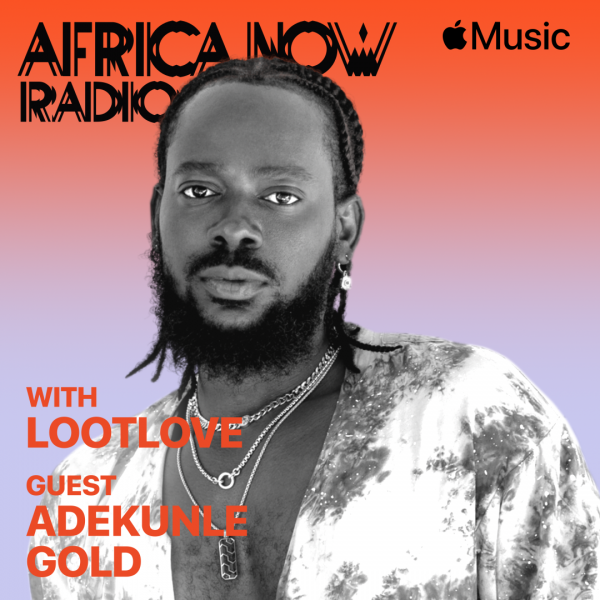 This Week's Episode Features a Conversation With Adekunle Gold, the 5 Hottest Tracks of the Week, Africa Rising and LootLove's Favourite Track of the Week!
Tune in to Africa Now Radio With LootLove This Sunday, February 6th at 2p London / 3p Lagos/Paris / 4p Johannesburg / 5p EAT / 6a LA / 9a NYC on Apple Music 1
Cover Star Interview
Prolific Nigerian singer-songwriter Adekunle Gold joins LootLove via FaceTime on Apple Music 1 to talk about his latest track, "One Woman (feat. Ty Dolla $ign)." He also discusses his album, 'Catch Me If You Can,' available in Spatial Audio, working without creative limitations, his newfound fearlessness in connecting with other artists, and his plans for a major tour later this year.
The Big 5
LootLove shares the 5 hottest new African tracks of the moment. This week's selection includes new tracks from Jux & Gyakie; Reekado Banks feat. Fireboy DML; CKay; Mr JazziQ & M.J feat. Mellow & Sleazy and Djy Ma'Ten; and Okamalumkoolkat feat. Derbra Nist.
Africa Rising 
South African R&B artist and producer Kudz is the latest artist featured from the Africa Rising playlist, a campaign that shines a light on the next generation of African superstars, and this week's show features his two singles, the Elliie collab, "Be Okay (feat. Fdeezus)" and the G.M.I Venus collab, "Best Friend (feat. Jvsn)," from his album, From the Heart. Listen to these tracks in Spatial Audio HERE.
Loot Loves
Each week, LootLove chooses her favorite track, taken from one of Apple Music's African playlists. This week she features South African alt-R&B singer-songwriter Filah Lah Lah and her single "Knuckle Head/Some Day," from Apple Music's ALT-R&B playlist. Listen HERE—and find a roundup of all LootLove's selections on Apple Music's LootLoves playlist, HERE.
Tune in and listen to the full episode this Sunday, February 6th at 2p London / 3p Lagos/Paris / 4p Johannesburg / 5p EAT / 6a LA / 9a NYC on Apple Music 1 at apple.co/_AfricaNow
Adekunle Gold on his album title 'Catch Me if You Can'
That's the title of a song that I wrote, and that's really what inspired the album. What I was saying on the song was basically like a recap of my journey. I was reflecting, and I was saying in the song "I've never seen a greater miracle than myself".
'Catch Me If You Can'… you know I'm the man, you know where to find me, catch me if you can. It's also like level four of my game – just think of it as a game, you're playing an adventure game. There's level one, two, three and [then] it's four. This is four, it's my fourth studio album. A lot has changed – I've grown, my sound has grown as well – so it's a whole new level. Catch me if you can!
Adekunle Gold on securing album collaborations via DM
Everyone on this project, I reached out to them. I'm always in DMs, I send them. Fatoumata [Diawara], I sent the DM. Lucky Daye, when I wrote to him, I sent him a DM. He responded really fast, like 24 hours, and also he sent his verse back while he was on holiday apparently, so it was a great experience working with everybody.
I got in the studio with Ty Dolla $ign… that man can sing. He can sing! Such a professional.
Adekunle Gold on growing international attention
I feel like the world is a bit late on African music because our sound has always been the best, you know what I mean? The music has always been beautiful. With the internet and everything, it's definitely made it much easier to… you know you release a song today, and then next minute it's everywhere so it's such a good time to be an artist now. Making great music as well.
Do You Wish To Upload or Promote Your Song on Our Website?. Call Us 020 531 2345 or email us at [email protected]