4kings – Greater Than Ft. Kwame Yogot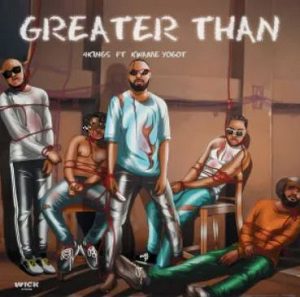 The Ghanaian music scene is always full of surprises, and sometimes, it's the unexpected collaborations that catch our attention the most. One such collaboration that has recently made waves in the industry is "Greater Than" by 4Kings featuring Kwame Yogot. What makes this track even more intriguing is that the artists involved are not the actual King Promise, Medikal, Mr Drew, and Kuami Eugene, but rather their lookalikes. This unexpected twist adds an element of curiosity and excitement to the project, making "Greater Than" a must-listen for music enthusiasts.
From the moment you press play on "Greater Than," you're immediately captivated by the melodic and catchy intro. The collaboration kicks off with 4Kings, a group of artists who bear an uncanny resemblance to some of Ghana's most prominent stars – King Promise, Medikal, Mr Drew, and Kuami Eugene. This unique concept instantly piques the curiosity of listeners, as they eagerly anticipate what this unconventional collaboration has in store for them.
Do You Wish To Upload or Promote Your Song on Our Website?. Call Us 020 531 2345 or email us at Info@hitz360.com