Vybz Kartel – The King & The Prince Ft. Skillibeng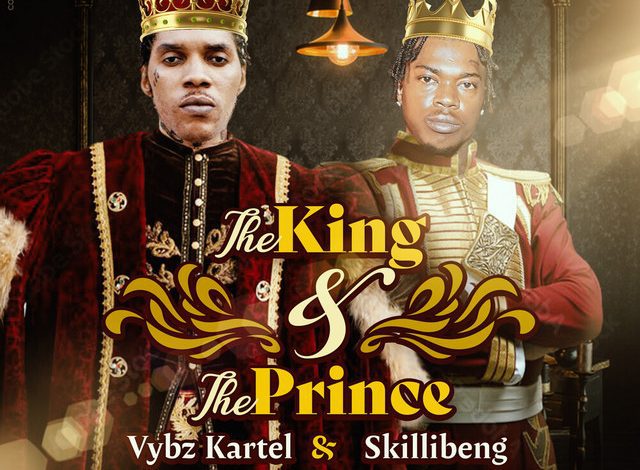 Jamaica's Vybz Kartel, known as the "Worl' Boss" and one of the most prominent figures in the dancehall genre, has teamed up with the rising star Skillibeng for a new hit, "The King & The Prince." Released by Vybz Kartel Muzik, the song has been making waves in the dancehall community and beyond, showcasing the talents of both artists and their ability to fuse traditional and modern dancehall sounds.
As a Jamaican artist, Vybz Kartel has been at the forefront of the dancehall scene for over two decades, with a string of hits that have garnered him international acclaim. He is known for his distinctive voice, unique flow, and powerful lyrics, which often touch on social and political issues. Skillibeng, on the other hand, is a young artist who has been making a name for himself in the dancehall world with his fresh sound and energetic performances.
"The King & The Prince" showcases both artists' strengths, with Vybz Kartel taking on the role of the king and Skillibeng as the prince. The song opens with a catchy hook and a driving beat, setting the stage for Vybz Kartel's commanding presence on the track. His lyrics speak to his status as a dancehall icon.
Skillibeng's verse follows, displaying his dynamic flow and unique style. He pays tribute to Vybz Kartel and his influence on the dancehall scene, while also asserting his own place in the genre.
The song's production is top-notch, with Vybz Kartel Muzik delivering a modern, bass-heavy sound that is sure to get dancehall fans moving.
As one of the latest dancehall songs to hit the scene, "The King & The Prince" has already garnered a lot of attention, with fans praising the collaboration between Vybz Kartel and Skillibeng. The song is a testament to the ongoing evolution of the dancehall genre, with established artists like Vybz Kartel passing the torch to the next generation of talent.
"The King & The Prince" is a dynamic dancehall collaboration that showcases the talents of both Vybz Kartel and Skillibeng. With its catchy hook, powerful lyrics, and top-notch production, the song is sure to be a hit among dancehall fans and beyond. As the genre continues to evolve, collaborations like this one are a testament to the ongoing vibrancy and creativity of Jamaican music.
Do You Wish To Upload or Promote Your Song on Our Website?. Call Us 020 531 2345 or email us at Info@hitz360.com