Nxwrth – Burn Ft. RJZ, Spacely & Shy Kuu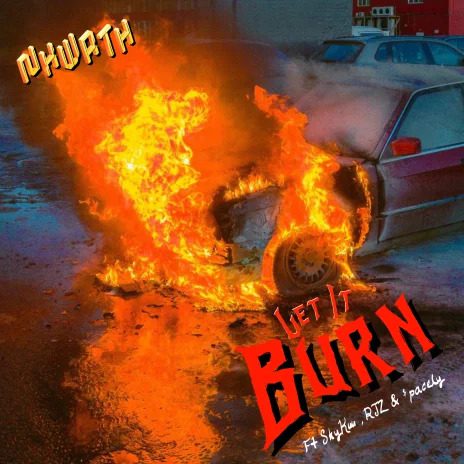 Nxwrth is a talented Ghanaian record producer and a prominent member of the acclaimed music collective, La Meme Gang. Known for his unique sound and innovative approach to music production, Nxwrth has consistently delivered outstanding work that has captivated audiences both in Ghana and beyond. One of his notable releases is the hit song "Burn," featuring RJZ, Spacely, and Shy Kuu. This collaboration showcases the remarkable talent and creative synergy among these Ghanaian artists, making it a must-listen for fans of Afrobeat and hip-hop.
The song "Burn" is a vibrant fusion of Afrobeat and rap, combining infectious rhythms, melodic hooks, and insightful lyricism. Nxwrth's production sets the tone with its infectious energy and rich layers of instrumentation. The track opens with a catchy and pulsating beat that immediately grabs the listener's attention. As the song progresses, the artists' distinctive vocal performances come to the forefront, adding depth and personality to the composition.
RJZ, Spacely, and Shy Kuu, each known for their unique styles and lyrical prowess, contribute their individual talents to "Burn." RJZ's smooth and melodic delivery sets the mood, drawing listeners in with his captivating flow. Spacely's energetic and dynamic verses inject a burst of adrenaline into the song, showcasing his versatility as an artist. Shy Kuu adds a touch of soulfulness to the track with his soul-stirring vocals, elevating the overall musical experience.
Beyond its infectious sound, "Burn" also carries a deeper message. The song explores themes of ambition, resilience, and the pursuit of success in the face of obstacles. The artists' lyrics reflect their personal journeys and the determination required to overcome challenges and reach their goals. This introspective approach adds a layer of depth to the song, resonating with listeners on a deeper emotional level.
Furthermore, the collaboration between Nxwrth, RJZ, Spacely, and Shy Kuu demonstrates the power of collective creativity. By combining their unique strengths and talents, these artists create a synergy that amplifies the impact of their music. The chemistry between them is evident, resulting in a seamless and cohesive track that showcases their individual artistry while also highlighting the strength of their collaboration.
Do You Wish To Upload or Promote Your Song on Our Website?. Call Us 020 531 2345 or email us at Info@hitz360.com