Nobby Singh – You Will Know (Afro Mix) Ft. Medikal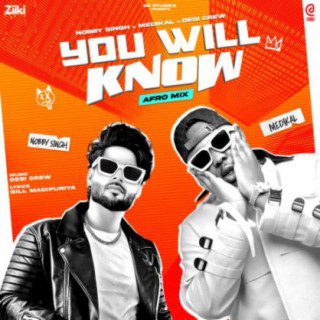 Nobby Singh, the multi-talented Indian singer, has once again mesmerized audiences with his latest release, "You Will Know (Afro Mix)." This time, he collaborates with the award-winning Ghanaian rapper, Medikal, to create a track that is sure to leave a lasting impression.
The song effortlessly blends Indian and African influences, resulting in a unique and enthralling sound that transcends cultural boundaries. Nobby Singh's soulful vocals perfectly complement Medikal's fiery rap verses, creating a harmonious balance between the two artists.
"You Will Know (Afro Mix)" is a testament to the power of collaboration in music. Nobby Singh and Medikal bring their talents to the table, fusing their respective styles to create a track greater than the sum of its parts. The synergy between the artists is palpable, and it shines through in the energy and dynamism of the song.
Listeners are immediately drawn in by the infectious rhythm and catchy melodies of "You Will Know (Afro Mix)." The song's vibrant production combines traditional Indian and African instrumentation with modern beats, resulting in a truly immersive musical experience. It's a reflection of Nobby Singh's versatility as an artist that he can seamlessly blend these diverse musical elements into a cohesive and captivating track.
Nobby Singh's vocals are a standout feature of the song. His smooth and emotive delivery brings the lyrics to life, evoking a range of emotions in the listener. Whether he's singing in Hindi, English, or a combination of both, Nobby Singh's vocal prowess is undeniable. His ability to convey emotion through his voice is remarkable and adds an extra layer of depth to "You Will Know (Afro Mix)."
Medikal's rap verses inject powerful energy into the song. His confident and rapid-fire delivery showcases his lyrical prowess and adds a dynamic edge to the track. Medikal's verses are filled with clever wordplay and infectious rhymes, further elevating the overall quality of the song.
"You Will Know (Afro Mix)" is a song that demands to be heard. It is a testament to the power of collaboration and the ability of music to transcend cultural boundaries. Nobby Singh and Medikal have created a track that is not only musically impressive but also emotionally resonant. It's a song that will leave you wanting more and eagerly anticipating future collaborations with these talented artists.
So, don't miss out on this mesmerizing musical journey. Listen to "You Will Know (Afro Mix)" by Nobby Singh featuring Medikal, and let the infectious rhythms and soulful melodies transport you to a world where music knows no boundaries. Download and share your thoughts on this exceptional collaboration, and get ready to be enthralled by the undeniable talent of these two incredible artists.
Do You Wish To Upload or Promote Your Song on Our Website?. Call Us 020 531 2345 or email us at Info@hitz360.com