DopeNation – Check My Zingo (Remix) Ft. Sarkodie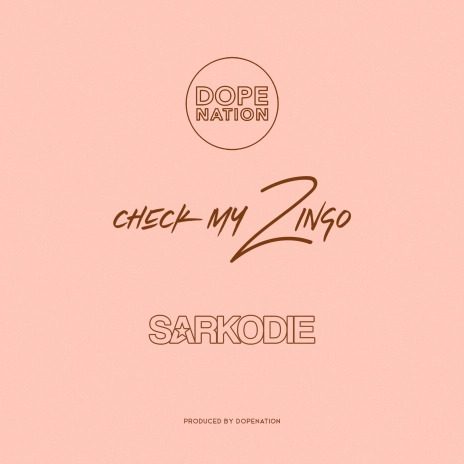 Ghana's dynamic and multi-talented music duo, DopeNation, has once again left music enthusiasts in awe with the release of the highly anticipated remix of their hit single, "Check My Zingo," featuring none other than the renowned rapper, Sarkodie.
The original version of "Check My Zingo" had already gained massive popularity, propelling DopeNation to new heights in the Ghanaian music scene. Now, with the addition of Sarkodie's signature style and lyrical prowess, the remix promises to be an even bigger sensation.
DopeNation, comprising of twin brothers Micheal Boafo, popularly known as B2, and Tony Boafo, known as Twist, have consistently displayed their talent for crafting infectious beats and catchy melodies. Their unique blend of Afrobeat, hip-hop, and highlife influences has won them numerous awards and a dedicated fan base.
On the other hand, Sarkodie, born Michael Owusu Addo, is undeniably one of Africa's most celebrated and respected rappers. With his exceptional storytelling ability and smooth delivery, Sarkodie has solidified his position as a trailblazer in the African music industry.
The collaboration between DopeNation and Sarkodie has been met with much excitement among fans and music enthusiasts alike. "Check My Zingo" remix holds the promise of an unforgettable musical experience, combining the duo's distinct sound and Sarkodie's commanding presence on the mic.
DopeNation's decision to team up with Sarkodie demonstrates their commitment to pushing the boundaries of their music. They have consistently shown a willingness to experiment with various sounds and genres, and this remix is a testament to their growth as artists.
The music industry in Ghana has been witnessing a surge in creativity and originality, with artists exploring new avenues and garnering international recognition. DopeNation's collaboration with Sarkodie exemplifies the spirit of unity and mutual support that thrives within the Ghanaian music scene.
As fans eagerly listen to the "Check My Zingo" remix, social media platforms have been buzzing with positive reactions. Listeners have praised DopeNation and Sarkodie for delivering a collaboration that surpasses expectations and elevates the song to a whole new level.
DopeNation's latest offering, the "Check My Zingo" remix featuring Sarkodie, is a celebration of Ghanaian musical talent at its finest. With their infectious energy and Sarkodie's lyrical prowess, the song is poised to become a chart-topper and further solidify the duo's position as music industry trailblazers.
We invite you to listen to the "Check My Zingo" remix and share your thoughts on this extraordinary collaboration. As DopeNation continues to leave an indelible mark on the music world, we can only anticipate more groundbreaking work from this gifted duo in the future.
Do You Wish To Upload or Promote Your Song on Our Website?. Call Us 020 531 2345 or email us at Info@hitz360.com