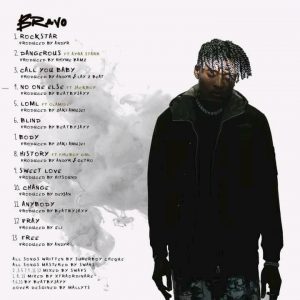 Nigerian veteran singer and songwriter, Cheque has finally released his long-awaited sophomore project dubbed "Brave" album.
The project had guest appearances from the likes of Olamide, Fireboy DML, Ayra Starr and Jackboy who give the project a boast.
"Bravo" album has production credits from Andyr, Beats By Jayy, Run Check, Zaki and others. In addition, "Bravo" album serves as a follow-up to his 'Razor' EP.
Bravo Album Tracks List Below:
1. Cheque – RockstarDOWNLOAD MP3
2. Cheque – Dangerous ft. Ayra StarrDOWNLOAD MP3
3. Cheque – Call Me BabyDOWNLOAD MP3
4. Cheque – No One Else ft. JackboyDOWNLOAD MP3
5. Cheque – LOML ft. OlamideDOWNLOAD MP3
6. Cheque – BlindDOWNLOAD MP3
7. Cheque – BodyDOWNLOAD MP3
8. Cheque – History ft. Fireboy DMLDOWNLOAD MP3
9. Cheque – Sweet LoveDOWNLOAD MP3
10. Cheque – ChangeDOWNLOAD MP3
11. Cheque – AnybodyDOWNLOAD MP3
12. Cheque – PrayDOWNLOAD MP3
13. Cheque – FreeDOWNLOAD MP3